Just like that, the Vegas Golden Knights have taken care of business on home ice and jumped out to a commanding 2-0 series lead over the Florida Panthers in the Stanley Cup Final. While Florida's performance to date might seem like a jarring departure from the club that entered the Final having won 11 of their past 12 playoff games, the one-sided nature of the first two games (Vegas has outscored Florida 12-4) fits their respective regular season status.
This was, after all, a battle of the Golden Knights, the best team in the Western Conference, against the Panthers, the No. 8 seed whose 92 regular season points represented the fewest of any playoff qualifier. As we all know, Vegas held steady through the West while Florida has shocked the hockey world with upsets over the 135-point Boston Bruins, 111-point Toronto Maple Leafs and 113-point Carolina Hurricanes en route to the Cup Final.
In that sense, seeing the favored Golden Knights thrive while the Panthers' Cinderella postseason strikes midnight isn't all that surprising. In hindsight, what has been a little eye-opening is the amount of advanced Conn Smythe buzz centered around Florida's Matthew Tkachuk and Sergei Bobrovsky. There's no question that both have had incredible postseasons and been instrumental to their miracle run, but where is the same discussion for the team that is actually expected to win the Cup?

Sure, we have seen players from the losing side of the Cup Final still earn the award for the playoff MVP, the last of which went to Jean-Sébastien Giguère of the Anaheim Ducks in 2003. More often, however, to the winner go the spoils. With Vegas halfway to their first championship in franchise history, here are the main Conn Smythe candidates from the club currently looking poised to win it all.
Jack Eichel
In search of a deserving Conn Smythe candidate for Vegas, there's no better place to start than the team's best player. Competing in his first career postseason, Jack Eichel has been a scoresheet mainstay while doing many of the small things needed to help his team win.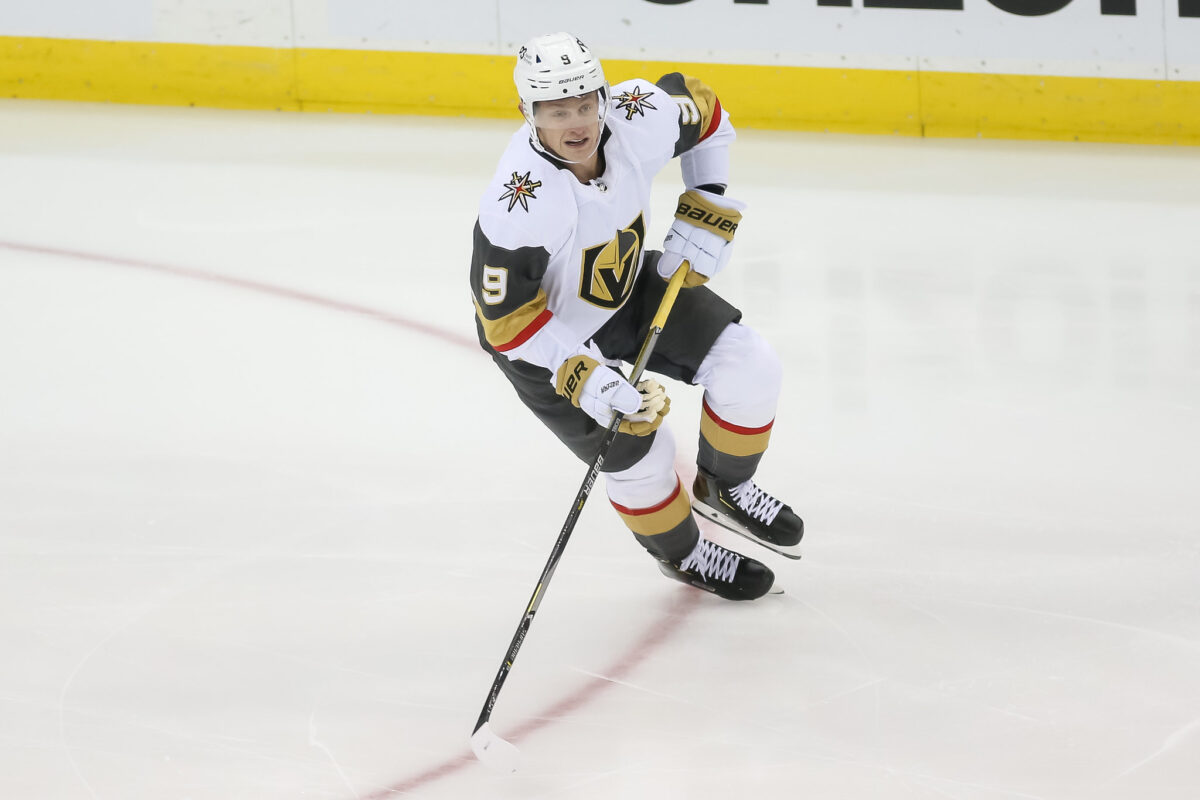 Eichel's playoff debut has produced a team-leading 23 points, including a league-best 17 assists. Game 2 saw him overcome an injury scare following a massive open ice hit from Tkachuk en route to a three-point performance, his sixth multi-point effort of the postseason. Beyond just the scoring numbers, his multi-faceted contributions include 23 blocked shots, 22 hits and countless heady plays to create chances.
Jonathan Marchessault
As the team's No. 1 center, Eichel has anchored the club's highly potent top line – but he is hardly the only player responsible for the line's success. Linemate Jonathan Marchessault sits just one point behind Eichel while playing the same 19 games. Where Eichel has collected most of his points through assists, Marchessault ranks second league-wide with 12 playoff goals, including three over the first two games of the Final.
---
Latest News & Highlights
---
While fans at T-Mobile Arena have enjoyed watching Eichel reward the organization's major gamble on him with a standout postseason debut, Marchessault's success has brought particular joy to the fan base given his status as a Vegas original. With a three-point effort of his own in Game 2, the 32-year-old now has four points in the opening two games against Florida, the team that allowed him to be snatched up by the Golden Knights in the 2017 Expansion Draft.
You Might Also Like
Adin Hill
In what has been an unprecedented year of goaltending turmoil for Vegas, how fitting would it be to have Adin Hill win the Conn Smythe? Acquired in light of pre-season injuries to Robin Lehner and Laurent Brossoit, Hill has always been a second, third, or even fourth option in net until an injury to Brossoit in Game 3 of the club's second round series against Edmonton thrust the 27-year-old into the spotlight.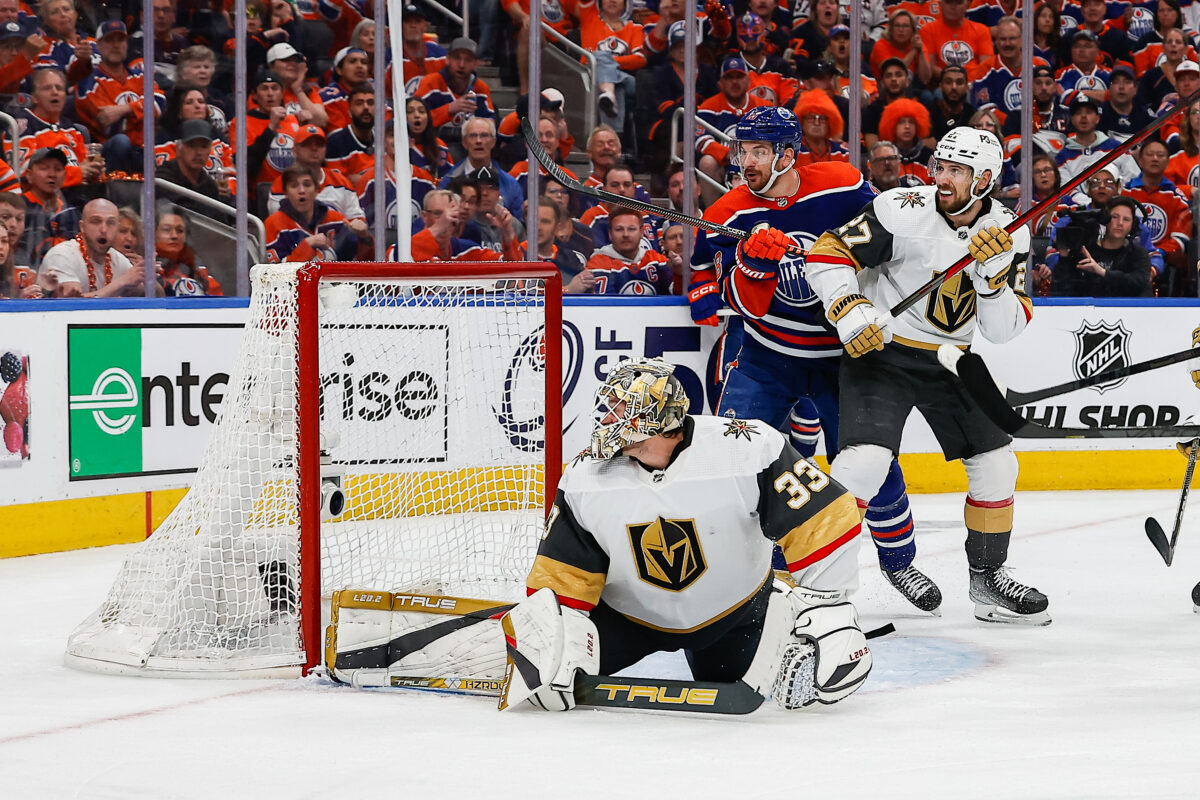 To his credit, Hill has not backed down from the daunting challenge. He blanked the Oilers in his first full game since taking the reins and has carried that momentum forward, recording another shutout while winning nine of 12 games since thanks to a sparkling .937 save percentage and a 2.06 goals-against average. Even if the pending unrestricted free agent does not re-sign this summer, he will always be remembered for his mind-boggling stick save in Game 1 of the Stanley Cup Final.
Alex Pietrangelo
Players like Victor Hedman (2020 winner) and Cale Makar (2022) have set a recent trend toward Conn Smythe-winning blue liners. Can Alex Pietrangelo follow suit? He received a handful of second-place votes when he captained the St. Louis Blues to their 2019 Cup win and continues to play a similarly critical role as the minutes-logging No. 1 defenseman. The point totals may be down (19 in the Blues' playoff run compared to nine this postseason), but his role as a sturdy, reliable eraser remains unchanged.
Through two games, Pietrangelo has served as one of the predominant forces that has stymied Tkachuk, holding him to just a goal but, more importantly, frustrating him to the tune of 36 penalty minutes and a minus-1 plus/minus. Ironically, the 33-year-old previously counted Matthew's dad, Keith, as one of his teammates. If Pietrangelo can continue to hold the Panthers' superstar at bay, what now seems like long shot Conn Smythe odds could quickly improve.
As they make their way to Sunrise, Florida, the Golden Knights still have two big victories standing between them and the Cup. If their dominant showing against the Panthers continues, however, any Conn Smythe Trophy discussions will quickly shift away from Tkachuk and Bobrovsky to some of Vegas' well-deserving candidates.