Every offseason there seems to be one storyline that catches most of the attention in Edmonton. Fans get all worked up about a trade or a free agent coming to the city, one that could make all the difference and put the Edmonton Oilers over the hump. This summer, it appears the drama is going to surround goaltender Carter Hart, who is rumored to be on the trade block after the Philadelphia Flyers made a big trade on Tuesday.

Landing netminder Cal Petersen in a three-team deal between the Los Angeles Kings and Columbus Blue Jackets, the Flyers might have one too many expensive netminders and a report from TSN's Darren Dreger suggests the organization is listening to offers on Hart and fielding calls on the sometimes-brilliant backstop.
Unfortunately, like in seasons past, this story isn't likely to end up with the player joining the team.
Carter Hart Is a Nice Idea for the Oilers
To land a local kid (Sherwood Park) who is young enough to be part of the core group of Oilers stars is intriguing. And, when you factor in that Hart made his NHL debut with a .917 save percentage at just 20 years old, there's a lot to like there. As his career has continued, he's run into hurdles on a less-than-reliable Flyers team but he has continued to remain in the conversation as a netminder who can be a difference-maker when put on a solid roster.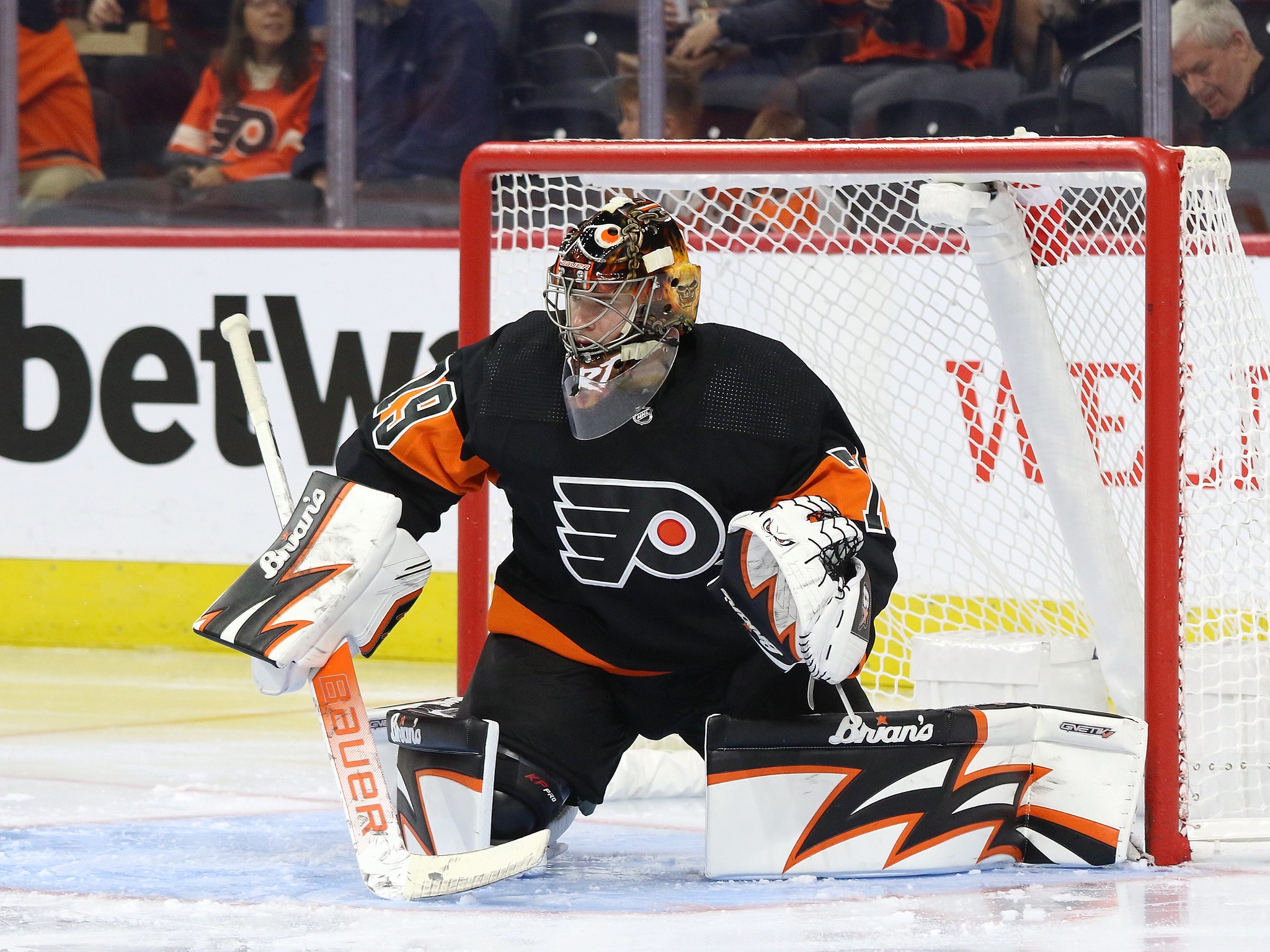 Hart is coming upon the final season of the three-year, bridge contract with the Flyers and he'll be a restricted free agent upon the conclusion of that contract. If he's keen on being an Oiler, perhaps the team can lock him into a fair contract before he's eligible to hit the open market as an unrestricted free agent.
He doesn't have trade protection, so the Flyers can theoretically trade him anywhere.
The Oilers Have Their Goaltending Tandem
As nice an idea as Hart might be, the Oilers would have to work some magic to find the space to make a Hart-to-Edmonton deal work. To call it a long shot might be too generous.
The idea being spread around social media is that the Oilers might dump Jack Campbell's contract and upgrade their goaltending by adding Hart. It's a thought-provoking idea that isn't probable if for no other reason than general manager Ken Holland — with a blockbuster Vezina-caliber goalie being the exception — seems to be content with his goaltending tandem. Admittedly, Holland is aware that Campbell didn't have the kind of season he'd like in his first campaign with the team, but Holland noted in his post-season media avail that goaltenders often have a bumpy first year as they get acquainted with their new teams. History shows the second season dramatically improves and he expects Campbell to bounce back.
---
Latest News & Highlight
---
So too, the Oilers just invested in the development of Stuart Skinner and they expect him to be a candidate for the starting position next season. Having won the job this year and becoming a Calder Trophy nominee, Skinner proved he's a solid bet for the next three seasons and he's not going anywhere.
Campbell's Contract Isn't Easy To Dump… Even if the Oilers Wanted To
The Flyers grabbing Petersen has fans in Edmonton wondering if dumping Campbell's contract becomes plausible. Considering how much Petersen's game fell off a cliff this season, the theory is that anyone can be traded with the right sweetener. That said, considering what the Kings had to give up to make this deal work, his contract is not nearly as iffy as Campbell's.
Related: Grading Blockbuster 3-Team Trade Involving Flyers' Provorov
Along with a serviceable defenseman and a prospect, the Kings gave up a 2023 1st round pick (No. 22) and a second-rounder in 2024. This was for two seasons with Petersen under contract. Campbell is locked in for four more at the same price of $5 million. With Petersen on the roster, the Flyers don't need another $5 million goalie. So too, asking a team to take on that contract would be asking a team to take on twice the commitment for a goalie who is three years younger. The sweetener would need to be a first-rounder and likely a prospect and it seems unlikely Holland uses his first-round pick when that chip could be used for other things.
Would the Oilers Stunt Skinner's Development for Hart?
It's important to remember that adding a high-level and potentially high-priced goalie stunts Skinner's development. If it was Connor Hellebuyck and the Oilers could re-sign him at a fair price, that would be one thing. Hart is not Hellebuyck.
When it comes to Hart, the ceiling appears to be high, but there have been setbacks. Not only that, but if he comes in and has an outstanding season, he'll expect to be paid and the Oilers wouldn't likely have room for Hart's new contract and Skinners if they committed to extending Hart. His $3.79 million contract is a solid value bet now, but where do the Oilers go from there?
This isn't to say this kind of deal is impossible. Should Holland get creative, there's a way to make it work. At the same time, it might be prudent for fans not to get too excited about the idea.