With Devan Dubnyk sitting top three league-wide in save percentage, goals-against average, shutouts and wins it might not be instantly obvious the Wild have an issue in net. As a team they have the second-best even-strength save percentage and Dubnyk has played 77 percent of the games. The problem can't be that big.
Yet, it's nonetheless true. The Wild haven't been able to depend on Darcy Kuemper. He had an outstanding run starting in January of 2014 and has been competent in fits and starts ever since. This season, he's allowed three or more goals in nine of 12 appearances.
The issue isn't because they need someone to take the load off Dubnyk. With a better backup, it's not certain Dubnyk would have more rest. Things are good when he's in net and he appears to thrive on playing a lot of minutes. However, with the playoffs approaching and a Wild berth all but assured, they need insurance.
Having a reliable backup is a big deal in the postseason even if you have a great starter. Every goaltender weathers streaks, slumps and injuries. Having someone you trust to take a crucial start can be the difference between being a footnote and making a run.
http://gty.im/477622776
Backups in the Postseason
It shouldn't require too many examples to show second fiddle can be an x-factor, but it's worth noting just how important that role can be.
While it's arguable what his standing was at different points of last season, Matt Murray was the backup goaltender when the puck dropped in October. By April, he was one of Pittsburgh's most important players as they made their run to the Cup. Additionally, the Penguins made it to the Eastern Conference Final in 2013 and it was Tomas Vokoun, not Marc-Andre Fleury, who took the majority of the starts that postseason.
Things didn't turn out quite as well for the Lightning in 2016, but they made it to the Eastern Conference Final and needed a combination of Ben Bishop and Andrei Vasilevskiy to make it work. Vasilevskiy had the lesser save percentage of the two with a .925. Having a reliable backup made the run possible.
Or how about the 2015 postseason? Corey Crawford struggled in the first round, allowing nine goals in his first two games. Scott Darling had to take over against the Predators. If he doesn't play well there, the Blackhawks don't win the Cup, even though Crawford came back and regained his lost mojo.
At the opposite end, the Blues made it to the Western Conference Final last year. But Brian Elliott wasn't getting the job done with an .841 save percentage in his last three appearances, all against the Sharks in the Western Conference Final. They turned to a backup in Jake Allen and he turned in two subpar performances before the Blues were eliminated.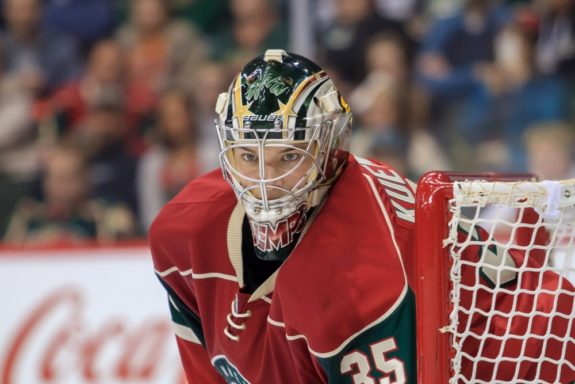 Mr. Darcy
This isn't to say Kuemper's career is unsalvageable at age 26 or that he's a miserable goaltender. But the Wild need to look long and hard at whether they're comfortable tossing the team on his shoulders should injury or unexpected slump hit Dubnyk. With how well the Wild are playing, they should look at it as a year where they can go all the way.
In 12 starts, Kuemper has a .904 all-situation save percentage. Of the 53 goaltenders who have played at least 500 minutes this season, Kuemper's .911 even-strength save percentage ranks 44th.
It's actually a maddening situation. There are aspects of Kuemper's game that are easy to like. At times, he's solid number two. His high-danger save percentage of .807 ranks 25th among all goalies. That's a starting goaltender quality number. On the other hand, when you watch him play a soft goal feels inevitable and it plays out in his low-danger save percentage ranking 49th of 53 goaltenders. (That's not a starting caliber figure.)
But all of these numbers are over this season's small sample. And that's part of the frustration. Even if you believe things look positive in the long-term (which isn't an easy case to make), what he's done this season isn't inspiring and the Wild look like a team that has a chance this year.
His resurgence isn't something you want to bet the postseason on when his even-strength save percentage of .913 ranks 56th of the 60 goaltenders who have played at least 2,000 minutes over the last three seasons. Even if his high-danger save percentage over the last three years ranks 35th, it's hard to say you think a team led by Kuemper is going to be hoisting the Cup in June.
The team undoubtedly hopes Dubnyk will be their guy until June, but the unexpected always happens — as the Wild know all too well (John Curry… Ilya Bryzgalov…) — and it might be time to explore an affordable upgrade for the net. Until then, he's getting chances to prove he can be a rock for the Wild, but after a start against Chicago where middling goaltending might have been the difference between a win and a loss, it may be worth seeing what prices look like from teams selling off spare parts.
Stats courtesy Corsica.