While there are millions of hockey fans internationally, there is a clear disconnect with fans of the NHL and the various other leagues around the world. Leagues like the KHL in Russia, Liiga in Finland and the SHL in Sweden, among others, boast some of the best talents in the entire world. Still, it's not hard to understand why most NHL fans fail to feel a connection to players in those leagues. The cultural differences between the leagues and the inherent disconnect with the players will forever maintain the gap between NHL fans and international leagues.
But what about more local leagues?
When looking at hockey fans today, everybody is interested in watching players before they are stars. Every single fan of the NHL knew who Connor McDavid was before he was drafted. Similarly, they knew who Jack Eichel was, and even Auston Matthews – the latter two having played in college hockey and in Switzerland in their draft years respectively. Breaking down fanbases even further, and it's clear that one local league that fails to get the exposure it deserves is the National Women's Hockey League (NWHL). With teams in Boston, New York (New Jersey), Buffalo, and Connecticut, the league has produced some of the most talented hockey players on the planet – though the coverage has been minimal at best.
Still, the NWHL has been running strong during its second season. Rather than feeling discouraged, the players of the league have made a conscious effort to continue growing the game, however possible. Hockey isn't just a sport for men, despite the fact that the coverage of the sport might indicate this to be the case. One player who's done her part to help build exposure for the NWHL and women's hockey at-large is Anya Battaglino.
Who is Anya Battaglino?
Battaglino is a professional hockey player for the NWHL's Connecticut Whale. Prior to playing in the NWHL, however, Battaglino found herself playing hockey at Boston University with the Terriers during the 2010-11 and 2011-12 seasons. The Waltham, Massachusetts-native played in 19 games over two seasons with BU before getting her first opportunity in professional hockey in the CWHL. Battaglino joined the Boston Blades in the 2012-13 season and skated in two seasons with the club, playing in 21 games and capturing the Clarkson Cup in 2012-13 against the Montreal Stars. She also was on the losing side when competing for the Clarkson Cup the following season in a 1-0 overtime loss to the Toronto Furies.
How Did She Get Her Start in Hockey?
"A lot of players start, they have an older sibling who plays. My brother is four years older (than me) so when I was younger, I would always follow him around (wherever he would go)," Battaglino said. "My mother put my brother into a sport and the second I saw him doing it I thought 'I've got to do this too, and I've got to do it better.' It was that classic sibling mentality – I had to work with him in the garage and break holes into our garage door, and it was always about spending time with my brother."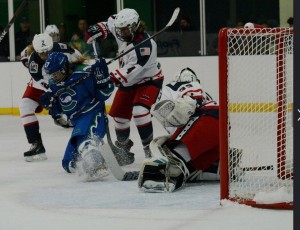 Growing up in the Boston area, however, was also a big factor in Anya's connection to the game of hockey. It all started from a really young age too, as she would spend time at the Walter Brown Arena which used to be the Boston University men's hockey rink.
"I saw a lot of Boston Bruins games as a kid, but it was the NCAA scene that [I really loved]. That whole Boston University and Boston College rivalry," Battaglino described. "Jerry York is the coach of Boston College and was a good friend of my father. We'd have joking moments where I was a BU fan and I'd say 'Go Terriers' when we'd go out to dinner. Getting to go to Boston University at the end of it all was huge because when I was in high school, the BU women's program was just getting started and it was so young."
The Courtney Kennedy Effect
As is often the case, there was one individual who really stood out and helped motivate Battaglino to get her start. That one person for Anya, was Courtney Kennedy, the coach of the BC women's team.
"When she was playing at the rink for the USA, she was one of the first people to say 'Hey, if you want to play, you can.'" Battaglino said.
Though she wasn't a Pittsburgh Penguins fan, Mario Lemieux was one of the players that Battaglino would watch while growing up. The magic he would produce on the ice – the immense skill he displayed. It was the same with Pavel Datsyuk. Those were the types of players that Battaglino would watch growing up. When modeling her game, however, it was after the Courtney Kennedys of the world.
"I was always looking at players and was obsessed with how they were able to play the sport. I was much more of a Ray Bourque," said Battaglino. "I've had an opportunity to meet Bourque many times because he's such a huge Boston guy – but seeing him play, I would say 'that's me.' I became obsessed with watching players like Lemieux because that wasn't my role – I would think 'I can't wait to have a player like that on my team because that's not me, that's not my role.'"
The Joy of Winning and the Pains of Losing
When playing a sport, there are peaks and valleys that players will feel. Whether it's the thrill of winning or the sinking feeling of losing – it simply comes with the territory. When playing with the Boston Blades, Battaglino was fortunate to win the Clarkson Cup in her first season.
"We won, which was an amazing feeling – an all-time high [against the Montreal Stars]," she recalled. "Then it all happened to go down with Kessler in Toronto [the following season]. She's such a good goalie and we were hard pressed to find a way to score on her. Having that raising-the-cup moment and then watching someone else raise it – that's how my college days went as well."
"In my freshman year, we made it to the Frozen Four and we didn't win – we lost to Wisconsin. And I remember thinking 'I'll never feel that way again. I'm going to do everything in my power to never feel that again.' And then that second Clarkson Cup was one of those gut-wrenching feelings."
Then, an opportunity arose. An opportunity for Battaglino, and an opportunity for women's hockey as a whole. The National Women's Hockey League formed, with its inaugural season coming during the 2015-16 league year. Battaglino and many others from the CWHL joined the newly formed league with an eye to the future. The NWHL was the next step in growing professional women's hockey – an opportunity that players like Battaglino simply weren't going to pass up.
Joining the NWHL
After growing up in Massachusetts and spending so much time in the city of Boston – watching Bruins games, watching the NCAA games and eventually playing in them with Boston University and moving on to the Boston Blades of the CWHL, it was time for a change for Battaglino.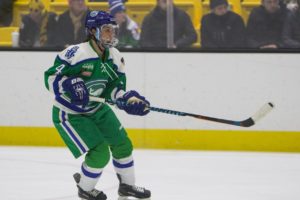 "I needed something different because I was so in Boston –  I grew up there, went to college there, I played pro there," she explained. "I had never experienced anything else and this league (the NWHL) gave me a chance to wear the coolest jersey I ever had in my life, but also have that experience to branch out and have that home with hockey and still feel like I had my roots, family and friends."
"That hockey community is so welcoming. I moved there, and I was able to find a job, have a house full of teammates, and a league that really appreciated what I did. Moving to Connecticut has probably been one of the best decisions I've made in my entire life. I love Boston, but moving away and getting this new perspective was huge."
It was eye-opening for Battaglino. Growing up in Boston, she was able to see so many women play the sport and advocate for it whereas other places didn't offer the same luxury.
"Connecticut is probably going to be better off for having the NWHL involved in their grassroots for women," she said. "How many more women are going to play and get involved because they met me? I hope it's a lot, and that's an experience that I'm glad to be a part of."
Role as the NWHLPA Director
With an eye towards growing the sport and growing the league at-large, Battaglino saw another opportunity.  When she isn't on the ice defending against opposing teams' forwards, she's working in her new role as the director of the NWHLPA. The former director, Erica Lawler, stepped down from the role to gain a different perspective. Already sitting on the NWHLPA, Battaglino kept pushing for a new director to be named. With the full support of the NWHLPA behind her, Battaglino was named the new director, which gave her new responsibilities but also a new, extended reach.
Honored and humbled to be appointed the Director of the @NWHL Players Association. There's a lot of work to do, but I am ready. #NeverHearNo pic.twitter.com/cTPbb22nl4

— Anya Packer (@battaglinoa) February 2, 2017
"The NWHLPA director sits on the board of directors with Dani Rylan (the commissioner of the NWHL) and the general managers to make decisions and navigate the waters. With that, my role is to connect the voice of the NWHLPA and the decisions they make. The teams report to the NWHLPA, the NWHLPA reports to me, and I'm the voice for them. My whole job is opening the lines of communication," she said. "As we navigate forward, having a strong operating system that has a chain of command, that has a message, that has all of the structure that the league is trying to put in place – putting me in this role gives them another foundation point for that."
While the role is good to help grow the league, Battaglino is also using it to help in other ways as well.
Using Her New Role to Help Grow the Sport
As was the case in her exposure to the sport, sometimes it just takes one person to make a difference. With this new role, Battaglino has an opportunity to play the role that Courtney Kennedy did in her life, to the lives of others.
"When it comes to being the Courtney Kennedy in someone else's life, having a role up at the top like this allows me to advocate for the little guys. The little guys who need to have their voices heard to help spread the game and expand it."
For Battaglino, it was about spreading that same message that Kennedy told her – not taking 'no' for an answer, moving past the typical barriers that may arise and refusing to stop. It's about instilling hope in the little guy who may not think they have an opportunity, whether that be due to a gender barrier, a sex barrier, or even a race barrier.
"I'm excited to meet fans. Whether they are more artistic and draw these really cool pictures of us, or take pictures, or make signs. Even if they want to just come to the games and watch us and talk to us about sports – it's for everyone. Sports aren't just for athletes, they're for everybody. I think that's where the NWHL really shines.
NWHL All-Star Game
The NWHL All-Star Game will consist of two teams facing off captained by New York Riveters forward Amanda Kessel (who's brother Phil gave an endorsement to the NWHL All-Star Game), and Buffalo Beauts forward Kelley Steadman. The teams were drafted by their respective captains weeks ago, and the lineups can be seen below:
Team Kessel
Forwards:
Harrison Browne, Meghan Duggan, Zoe Hickel, Amanda Kessel, Hilary Knight, Rebecca Russo, Kelli Stack, Dana Trivigno
Defense:
Kacey Bellamy, Megan Bozek, Courtney Burke, Gigi Marvin
Goaltenders:
Brittany Ott, Nicole Stock
Team Steadman
Forwards
Kelly Babstock, Corinne Buie, Alex Carpenter, Shiann Darkangelo, Brianna Decker, Madison Packer, Haley Skarupa, Kelley Steadman
Defense:
Blake Bolden, Kaleigh Fratkin, Emily Pfalzer, Ashley Johnston
Goaltenders:
Katie Fitzgerald, Brianne McLaughlin
Make-Up of the Weekend
The All-Star festivities will take place on Feb. 11 and 12. The Saturday will hold a sold-out NWHL All-Star Girls Hockey Clinic in the morning, with the NWHL Skills Showdown taking place at 4:00 pm EST. The Skills Showdown will include a fastest-skater competition, a fastest-goalie challenge, a hardest shot contest, shooting accuracy contest, breakaway challenge, and rapid-fire shootout challenge.
Hey Pittsburgh! Who's ready to finally see the #BestKessel?

Get all your #NWHLAllStarGame tickets and info at https://t.co/jhQEiL4fi9! pic.twitter.com/LMQVW69ZXh

— NWHL (@NWHL) February 9, 2017
"It's good to show the fact that our players aren't just good at hockey, but they're skilled athletes," Battaglino said. "Sometimes the most skilled athletes aren't the highest point earners in the league. Sometimes, they've just got this crazy sick skill and they can do that better than anyone else."
On Sunday, the actual all-star game will take place at 3:00 pm EST. It will consist of two 25-minute periods with one 18-minute intermission. The game will be played 4-on-4, and all the tickets were available online with no walk-up due to the high demand. The game is just about sold out, which is a testament to the hard work that the players and the league itself are putting forward to growing their brand and women's hockey on a larger scale. Following the game, there will be an autograph session for fans as well.
Support from Pittsburgh
There were concerns from people about the NWHL going out-of-market to Pittsburgh for their all-star game. Still, the league was able to put together a sold-out event that allowed people who may not usually get the opportunity to see the NWHL and the responses have been humbling.
"The help of the Pittsburgh Penguins has been invaluable. Feeling that support from their staff within that great organization has been huge. It's been so refreshing seeing a community step up and say 'this is coming to our area and we couldn't be more excited'."
"With the strength and growth of women's hockey in the Pittsburgh area, it was a natural best fit to put something there," Battaglino described. "There were talks about potentially having an expansion to Pittsburgh. Having the opportunity to expand with the all-star game and bring that out-of-market, and bring that to an NHL rink, that was a home run. We didn't have to expand too far, or too fast, but we can also reach out there and create a touchpoint and grow that fanbase as well."
With the connection of the Kessel family and the support of the Penguins organization, the support has been plentiful. The Penguins have helped spread the exposure for the game, which has been huge for the NWHL in its quest to grow their fanbase and reach.
For Anya Battaglino, this journey isn't just about herself. Getting the opportunity to play hockey at its highest level is something to be proud of, but that isn't her end-goal. Making a difference and making an impact – that's the battle that Battaglino is fighting every day with the help of her peers in the NWHL.
"We need to as a unit, find a way to connect with people that's deeper than ourselves."