Arizona Coyotes' captain Shane Doan was never one to back away from a crisp forecheck or creating space in front of opposing goalies. Yet, this venture into the known and unknown seems a bit more taxing.
Here at the trade deadline (Wednesday, 3 PM, ET), Doan is wrestling with his own hockey mortality. With the Winnipeg/Phoenix/Arizona franchise for the past 20 years, Doan, who became a bedrock in his adapted desert home and the face of the franchise, could be on the move.
At first, pundits thought Doan would remain within the franchise until the day he hangs up his skates. Now, he's waived a no-trade clause in his contract and could be moved to a team with Stanley Cup potential.
The closest Doan reached to the kissing hockey's holy grail was participating the Western Conference semi-final playoff round in 2012. Defeated by the Los Angeles Kings in five games during that series, the Kings went on to capture their first of two Cups within a three-year period.
While the Coyotes are clearly sellers, and having dealt defenseman Michael Stone and center Martin Hanzal in recent days, rumors abound that Doan and/or right wing Radim Vrbata would be next. Clearly, the reality of sellers seems to weight heavily on the shoulders of those directly affected.
"Yeah, it was not an easy day for everybody in the room or on the team.," Vrbata told The Hockey Writers after Sunday's win over the Buffalo Sabres. "We talked about it before that we still have to play the game. We need to show up and have good effort. Even thought we were down two goals we stayed with it, came back and got a win."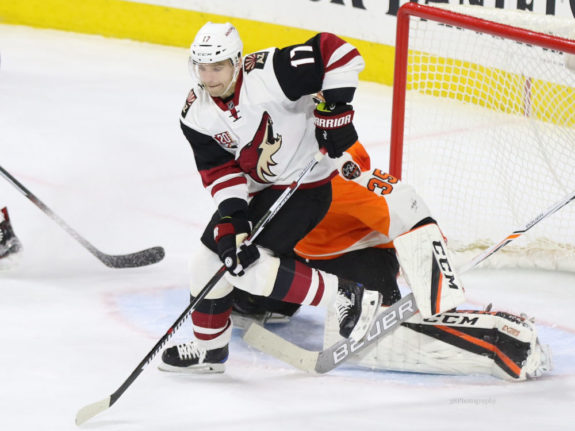 Doan's Value
For Doan, the bubble is not the best place to reside these days. While his name is out there, the issue remains his worth.
With only five goals in 62 games this season and at 40-years-old, Doan's value on the ice has clearly diminished. Yet, his leadership skills and motivation in the dressing room are nearly unparalleled among NHL captains. For that reason, Doan remains attractive to clubs dreaming to skate with the Cup this spring.
"Whenever you're a seller it makes it way more difficult," Doan told ESPN before Tuesday's 4-1 loss at Boston "Over the years, losing guys that you're close with always makes it tough. Yeah, there's frustration. I'm a pretty big fan of Martin Hanzal, and Ryan White came in and was a great guy in our room, and as one of the veteran guys it's always fun to have those people in the room. Sometimes, as a player, you appreciate things so much that when you lose them it makes it tough."
If Doan is not moved by the trade deadline, he will likely finish an illustrious career with the same franchise. While that would be novel in today's professional sports environment, Doan's career would be far less than complete.