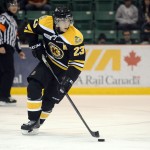 Doug Gilmour is in his first term as the General Manager of the Kingston Frontenacs. He became the GM in April, and currently faces his biggest challenge: to trade the team's franchise player, Ryan Spooner, or not.
The Frontenacs are a rebuilding team this season. The average age is 18 years old, and the team's season record is 7-18-2; which is second last overall in the Ontario Hockey League.  From top to bottom, this is a young and inexperienced team. Gilmour is a rookie GM, and Todd Gill, is a rookie Head Coach, and only one player, (Spooner) from last years top ten scorers is back. Gone is team Captain Taylor Doherty, and star defender Erik Gudbranson, to name a few.
It makes sense for Gilmour to trade Spooner soon to add younger future stars, and more draft picks. Given Spooner's play, he could put a contending team over the top, and make a contender a favorite to win it all, and even be a challenger for the Memorial Cup. Such a trade should provide Gilmour with a significant package in return.
Gilmour's first significant move was to draft his former NHL teammate Tie Domi's son, Max Domi, at last summer's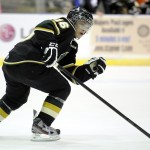 priority draft. Max Domi was selected eighth overall by Kingston, one spot ahead of London. Domi had been threatening to play this year in the United States Hockey League, or NCAA, and stated that the only OHL team he would play for was the London Knights.  Domi's refusal to report to Kingston's training camp resulted in Kingston being awarded a compensatory first-round pick in next year's first round, thus giving Gilmour two first round picks. Gilmour then traded Domi to London, giving London the eighth and ninth over-all selections for the draft in exchange for three second-round picks from the Knights, two coming in 2012, the other in 2015.
Gilmour now has two first round and two second round picks in the upcoming draft. A Spooner trade would give the Frontenacs an embarrassment of riches in terms of draft picks.
Trading Spooner would not only help Kingston in the rebuild, it would also help Spooner's career. Having the opportunity to play with more talented teammates would no doubt result in inflated stats for Spooner individually. Kingston will not qualify for the playoffs this year. Trading Spooner to a contender, would allow him to show he can perform under pressure and in the clutch in the playoffs, and possibly even in the Memorial Cup.
After last season's early playoff exit, Spooner joined fellow Bruins prospect, Jared Knight, to finish the season in Providence, the AHL affiliate for the Boston Bruins. In three games, Spooner scored two goals and had three points. He turns 20 in January, and is more likely to play either in the NHL, or the AHL, rather than return to Major Junior as an overage player.
"Next year I'll have the chance to go to Providence," Spooner said to the Hockey Journal. "I'm pretty excited about that. Obviously, my goal will be to make the NHL, but if not, the chance to be on that team and in that system, helped me a lot in terms of what to expect."
Spooner was recently selected as one of the players for Team Canada's World Junior Evaluation Camp.  This Saturday he will be off to Calgary, and if selected to make the team will be absent from the Frontenacs line up until the end of the Tournament early in the New Year. It is very probable that Spooner makes the team and therefore, Kingston would be without their star player for a significant period of time. If traded, this Friday's home game against the Brampton Battalion may be his last for the Front's.
Not everyone wants to see Spooner traded however. Head Coach Todd Gill, spoke to Pat Kennedy of the Kingston Whig about the possibility of the rest of the season with out Spooner.
"Spoons is a game breaker and has been awesome for us. He deserves a chance to play with a contending team. But that's up to our GM. Dougie (Gilmour) will do his due diligence and we'll go from there. I hope we have him all year", said Gill
Originally drafted by the Peterborough Petes, Spooner had requested to be traded and was subsequently dealt to Kingston. Despite his previous trade request, and reports he is asking to be traded again, Spooner says he is happy in Kingston and wants to help this team win.
Another factor weighing on Gilmour's decision must be the fans. Yesterday's unannounced attendance was officially listed as a generous 2,045. The fact is, given Kingston's record the only reason fans have to go see a game is to watch Spooner, or the visiting team!
"The fans have been patient" said Gill "but they also want to see some wins" he added.
Time will tell as Gilmour looks to the future and the necessary rebuilding. Will he decide to deal Spooner away as most expect, or hold on to him? Regardless, either Friday evenings game, or the last regular season game, or somewhere in between, Spooner's days in Kingston are over soon.