Without question, Brian Burke's 3 years in Toronto has seen a number of players shipped out of town. The moves seem to have paid dividends in 2011-12, as the Leafs find themselves in a top-8 spot 25 games into the season. Currently 46 former Maple Leafs or farmhands toiling on NHL teams or in their systems.
In Anaheim, 3 former Leafs seem burdened with expectations borne of trade or contract. Jason Blake went out with a wrist injury 3 games into the season. He was expected to provide some offence on the second line. Despite a good work ethic, Blake labors under a big contract that rewarded his 40-goal season, a level he's never come close to repeating. Niklas Hagman was picked off waivers from Calgary where he languished. He won't score as he did with Dallas and Toronto, but he could be an effective piece on a team that's been sliding. Similarly, Francois Beauchemin plays well enough as a top-4 defender, although he's something of a disappointment considering the 2 players he was traded for (Lupul and Gardiner) are surprising with their performances in Toronto.
Tuukka Rask is again serving as backup to Tim Thomas after having won a Stanley Cup with the Bruins. He's got nice numbers, currently 4-3-1 with a 2.09 GAA and a .924 sv%, most recently beating the team that traded him for Andrew Raycroft. He still makes Leaf fans wonder what may have been.
Down the QEW, the Sabres have former Leaf first-rounder Brad Boyes on IR. Boyes provides a little offensive punch, though his numbers have steadily declined since his breakout 43 goals of 2007-08. He's really no longer the sniper he seemed to evolve into with St. Louis.
Fans in Calgary have likely seen all the ex-Leafs they'll ever want to. Matt Stajan has been an incredible disappointment, signing a huge contract and posting only 4 assists and a -4 in 19 games this season. He makes $3.5M per year on a 4 year contract extension, complete with NTC/NMC protection, and has been a healthy scratch at least 4 times this season. The only other former Leaf in Calgary is Lee Stempniak, who has contributed 6 goals so far, on pace for his usual 15-20 goals, decent enough for some 3rd line scoring.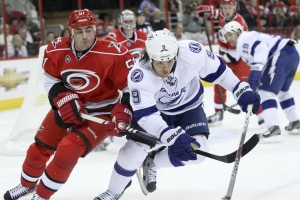 Carolina seemed to be 'Leafs South' with 5 former Buds on the NHL roster. Tim Brent provides adequate 4th line minutes as he did in Toronto, while Jay Harrison has carved a spot as a regular blueliner, something he couldn't do with the Leafs. Jiri Tlusty looks as though he may yet be a top-6 type, though he is still more a 3rd liner with this year's Canes. Unfortunately, former Leaf mainstays Alex Ponikarovsky and Tomas Kaberle have been major disappointments as free agent signings, likely key contributors to the firing of one-time Leaf coach Paul Maurice. Poni has 6 goals but is -7, while Kabby is a -14 with only 5 assists after signing a 3 year deal worth more than $12M. Once the most prized asset on Toronto's roster, rumors have started that Kaberle could soon find himself in the AHL.
The Blackhawks have a decent forward in Vik Stalberg, who provides some offense behind a very deep forward group, and get decent toughness from Jamal Mayers who appears to still have some gas left in the tank. Important for Chicago is that they also have Chris DiDomenico and Philippe Paradis (from the Versteeg trade), as well as former Leaf draft pick Jimmy Hayes in their system.
In Colorado, JS Giguere has been reborn in a backup role, with a 4-3-0 record but sporting a fairly sparkling 1.85GAA and a .924sv% with a shutout.
Another former Leaf netminder, Andrew Raycroft, has fared slightly worse in Dallas, going 2-6-0 so far backing up Kari Lehtonen, with a fairly bloated 3.19GAA.
It appears Ian White has finally found a home on the Red Wing defence after bouncing from Calgary to Carolina to San Jose. He's put up 11 points and a +13 while playing over 22 minutes a game, solidly in the top-4 on Detroit's blueline. Cup-of-coffee Leafs Fabian Brunnstrom, Joey MacDonald and Garnet Exelby play for the AHL affiliate Griffins, with Brunnstrom having been called up for a few games already this season.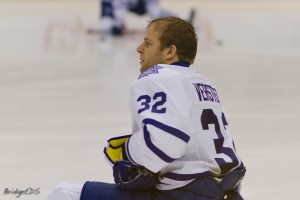 Kris Versteeg is a house on fire for reborn Florida. His 26 points in 28 games comes as a small surprise for a guy who has skills, but is already in his 5th NHL organization at age 25. His 12 goals are tied for the team lead and he is a key part of the Panthers's early success. One-time backup Scott Clemmensen has won both his games for Florida, one by shutout.
Hal Gill toils as a 3/4 defender with Montreal, where his size and veteran experience prove an asset to a team that has had blueline problems in the past.
Having released Brett Lebda, Nashville has only Robert Slaney remaining from the deal that sent Cody Franson and Matthew Lombardi to Toronto. Slaney has split time between Nashville's AHL and ECHL affiliates.
John Mitchell is getting some time with the Rangers recently, and has 3 points in 5 games. He may get a chance to stick. Andre Deveaux, Kris Newbury and Brendan Bell are farmhands in the Ranger system while Anton Stralman has played a single game after signing as a free agent.
Thirty-seven-year-old Steve Sullivan still has some jump, now playing meaningful minutes and potting 12 points so far as a Penguin bottom-6 forward.
The Phoenix system is where Justin Pogge has landed, though his well down their depth chart and unlikely to see any NHL action.
Pavel Kubina has returned to Tampa, though he's slid down the depth chart somewhat and now plays a little under 18 minutes a game. He may not be playing the hard minutes, but he has maintained an even rating. Dominic Moore maintains his reputation as a decent grinding forward who chips in from time to time with a goal.
St. Louis is more than happy to employ 2 former Leaf first rounders, Alex Steen and Carlo Colaiacovo. Steen leads his team in points and sports a +12, and has turned into a very decent NHL top-6 forward. Colaiacovo had played over 65 games and posted about 30 points in each of the last 3 seasons, but is currently on IR and has missed about half of the team's games this year.
The Caps have 2 former Marlies, Christian Hanson and Danny Richmond, playing with Hershey this season.
Nik Antropov, Kyle Wellwood and Tim Stapleton have been major contributors with the Jets this year. Wellwood has 17 points, Antropov 15, and Stapleton has chipped in with 7 points, despite playing only about 8 minutes a game.
My thanks to @JeffShibleyTHW, @andrewhirsh and @TomUrtzNYR for providing insight into the teams they cover.
A graphic designer and production artist by trade, Mark is a long-time hockey fan. He was a Maple Leafs contributor to TheHockeyWriters.com for over 2 years, and has written for other websites. You can follow him on Twitter @MarkAscione