The Windsor Spitfires are finding that, despite early-season success, rebuilds aren't always easy. A few bright spots in November, however, have kept playoff hopes alive in the Rose City.
The Spitfires started the season 9-5-1-0 but hit an inconsistent streak in November with a record below .500. It's not what you want to see, however, it's part of the rebuilding process. While the overall team play hasn't been at a steady level, several players have stepped up to take control. Three players, in particular, excelled in November and showed that, even with a rebuild, the future looks good.
Here are the Spitfires' Three Stars for November.
3rd Star: Daniel D'Amico
While the point producers tend to get the spotlight, sometimes the workhorses are the unsung heroes.
Case in point – Spitfires' rookie forward Daniel D'Amico. Drafted in the sixth-round by the Spitfires in the 2017 OHL Draft, D'Amico came advertised as a tenacious forward who could do a bit of everything. After 18 points and 40 PIM in 32 games for the Toronto Marlboros in 2016-17, D'Amico has been nothing short of a waterbug on the ice for the Spitfires.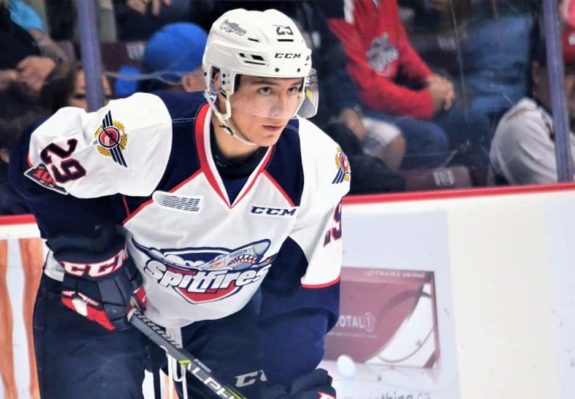 Listed at 5'9" 165lbs, he has used his speed and aggression to frustrate opponents on the forecheck and has started putting up the points, too. His three points in six games in November wouldn't move many needles, but it's showing a steady progression for the youngster. He has become a bright spot and you can always tell when he's on the ice because something is happening. This month, he showed he's the real deal and one to watch for.
An injury against Owen Sound on November 16 cut his month short but there's little doubt it has just fired him up even more. This is the type of player you want in a rebuild and fans can expect a lot more from him as the season progresses.
2nd Star: Aaron Luchuk
Aaron Luchuk has been Mr. Everything to the Spitfires. His path to date is almost perfect – drafted, a year in Junior B to hone his skills and then continuous improvement every season in the league.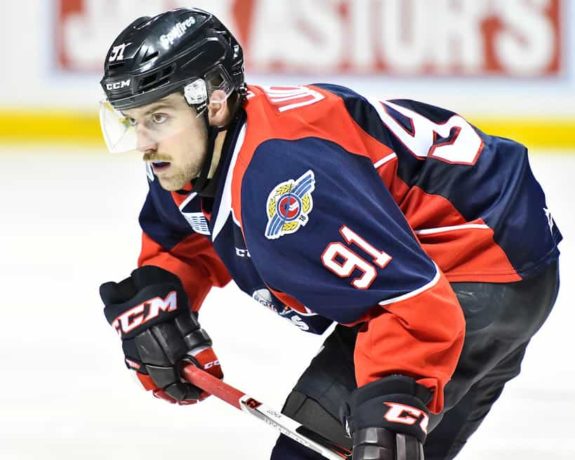 Luchuk started the season on fire and hasn't slowed down for a second in November. In nine games, he has seven goals and seven assists, giving him 22 goals and 42 points in 24 games this season. He also leads the league in faceoffs won with 370 for the season (58.5 percent). His November faceoff percentage is right there at 56.8 percent.
As Aaron Luchuk has gone this month, so have the Spitfires. It doesn't slow him down, either, and that's key for the Spitfires. The more he plays, the better he becomes. That's crucial for the team, not only because it helps them prior to the deadline, but it could also create an interesting trade value before the mid-January deadline.
1st Star: Logan Brown
When the Ottawa Senators returned Logan Brown to the Spitfires in late October, nobody knew what to expect from him.
Brown was coming off of a 2016-17 season that wasn't what most had hoped for. While he had 40 points in 35 games, it was his 33 games missed and inconsistent play when he was in the lineup that led to criticism.
Upon his return to the Spitfires, though, Brown has done nothing but silence those critics. In November, Brown has teamed up with Luchuk to form a dynamic one-two punch. He has eight goals and six assists in nine games, and his worth ethic has people turning heads. He uses his 6'6" 215lb frame every game, creating chances down low and refusing to give up the puck.
Check out this hat-trick from Brown during a game on Nov. 11 against Kitchener:
A healthy, determined Brown is something the Spitfires could certainly use. Like Luchuk, his value has gone up this season and he could fetch something big come the trade deadline.
For now, though, Brown continues to show why he was an NHL first-round pick in 2016 and his play in November has earned him the first star of the month.