The 2017-18 Windsor Spitfires season is ready to start and it's the beginning of a new era in the Rose City.
At the end of May, the Spitfires were parading the 2017 Memorial Cup down Ouellette Avenue in front of tens-of-thousands of fans. Now, as they get ready to open the season at home against the Saginaw Spirit on Thursday, there's a new, eager roster waiting. Despite multiple graduates, a handful of returning veterans join young, hungry players as they begin the next steps towards a future Memorial Cup.
It Starts In Net
One of the biggest returnees takes his rightful place in the crease. After being drafted in the third round of this June's NHL draft by the Vancouver Canucks, Michael DiPietro returns to the Spitfires ready to lead the young squad.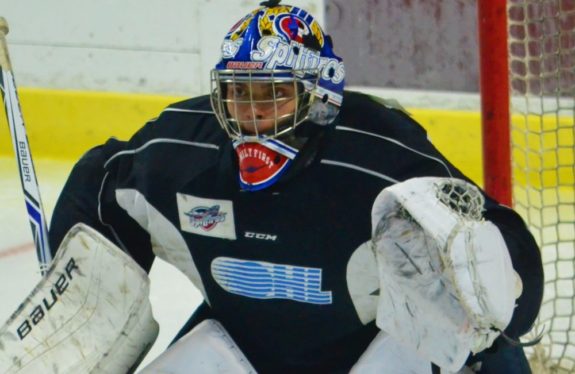 DiPietro came to Windsor in the 2015 OHL Draft, grabbed the starters role early and never let go. He quickly became a fan favourite for his acrobatic saves and cool demeanor in net. Last season, he put up record numbers and elevated his game even more in the Memorial Cup – 2.00 GAA and save percentage of .920. He was named the Memorial Cup MVP for his efforts.
He returns to his crease this season looking to give the Spitfires any wins that he can. It's not going to be as easy with a younger defence but that's never stopped DiPietro. He's all about challenges and this is just another step towards glory.
Backing up DiPietro has become a battle between two 18-year-old goaltenders – Brock Baier and Lucas Patton.
Baier was Windsor's 10th round pick in 2016 and is considered a high-end prospect. He spent the 2016-17 season with Listowel Jr B where he sported a 2.03 GAA and save percentage of .933. The 6'4" 210lb goaltender was named the GOJHL Midwestern Rookie of the Year.
Patton, 18, was a free agent invitee to the Spitfires' 2016 Training Camp and he signed before the season started. He played the entire season with Chatham Jr B with a GAA of 3.56 and save percentage of .902.
While the Spitfires are young, with DiPietro, Baier and Patton in net, the team is sure to be in the game every night.
Budding Blue Line Brings Belief
The team lost a lot on the back-end from graduation. Gone are veterans Jalen Chatfield, Sean Day and Mikhail Sergachev to the pros. They also dealt 6'7″ 230lb Logan Stanley to Kitchener. It's a young but eager defensive group.
It's led by overager Austin McEneny, who came from Quebec as a free agent last summer. He brings a calm presence to the group. McEneny is joined by veterans Tyler Nother and Connor Corcoran. Nother lets his actions speak for themselves, while Corcoran is a young defenceman itching to take the next step.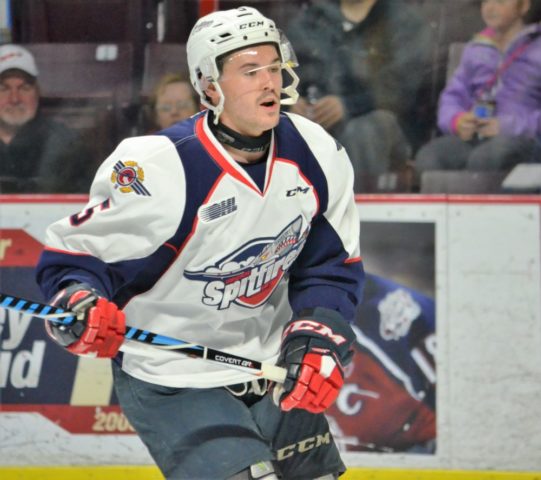 Then, there's Lev Starikov, the Spitfires' second-round pick in the 2017 CHL Import Draft. The 6'7″ 200lb defenceman is a smooth skater who can do a bit of everything on the ice. Expect him to be a fan favourite.
Finally, three draft picks – two from 2017 and one from 2015 – round out the group. Thomas Stevenson was the club's 10th round pick in 2015 and is ready for the OHL. Louka Henault and Nathan Staios are both high picks from the 2017 draft. The diminutive Staios is an elite offensive talent, while Henault has a high ceiling and will provide much-needed depth.
It's certainly a young group and an inexperienced one. However, they're eager to learn and have three solid veterans leading the way. This is what junior hockey is all about – starting young, learning and creating a group that grows together.
Fresh Faces Up Front
Like the defence, the forward units look much different.
The team loses a lot of firepower up front with the graduation of players such as Jeremiah Addison, Julius Nattinen and Cristiano DiGiacinto. They do have potential, though, and it starts with the veterans.
They're led by fourth-year forward, and new captain, Aaron Luchuk who is coming off back-to-back 25+ goal seasons. He also scored the Memorial Cup winner in May. Also returning is third-year forward Luke Boka who was named an assistant captain last week. Boka broke out with 28 points last season.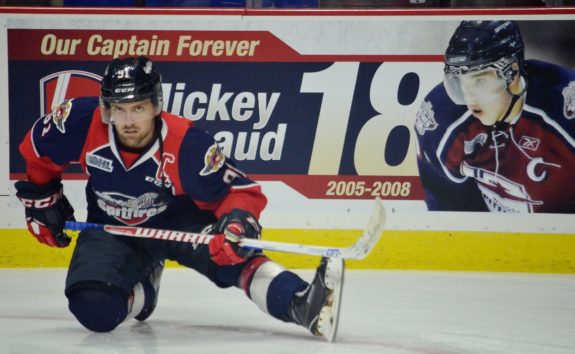 Also returning are second-year forwards Cole Purboo and Tyler Angle. After limited ice last year, they're ready to show what they can do during the rebuild.
General manager Warren Rychel was busy making moves, too. He brought in highly-touted youngster Mathew MacDougall from Barrie after a 20-goal season with St. Andrew's College. Rychel also signed forwards Igor Larionov, Joseph Mizzi and Jake Smith. All three bring offence and CHL experience to this young group.
Finally, the team has Daniel D'Amico and Kirill Kozhevnikov from the 2017 OHL Draft and 2017 CHL Import Draft, respectively. D'Amico was the club's sixth-round pick in the OHL draft and will be brought along slowly. Kozhevnikov was the first-round pick in the CHL draft and is expected to be an offensive producer.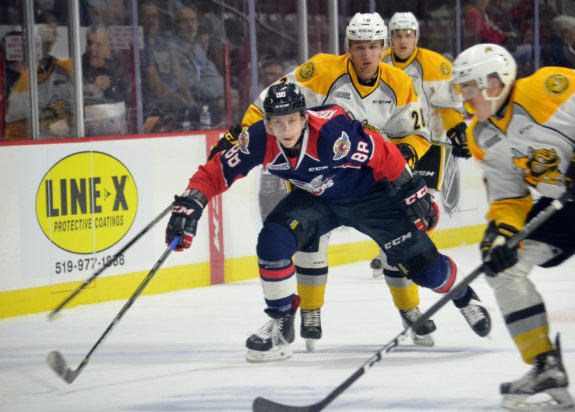 Two forwards are missing from the group – Gabriel Vilardi and Logan Brown. Vilardi was the LA Kings' first-round pick this year and has been out with an injury. Brown was the Ottawa Senator's first-round pick in 2016 and will likely be given an extended look by the club. Both forwards could return to Windsor but their timetable is up in the air.
Patience is Required
Last season, everyone knew the Spitfires would be going for it all. They were the Memorial Cup hosts and every move was made with the end goal of hoisting the trophy. Mission accomplished.
Now, though, comes the short-term pain. The potential is there, but it's not going to be easy. We've seen what the OHL's Western Conference can do and it's far from forgiving. With several teams – Owen Sound, London, Kitchener and Sault Ste Marie, for example – looking to make a run this season, Windsor could slide to the back of the pack. The playoffs might be tough to come by.
Part of junior hockey, though, is watching a young team build together and grow together. The Spitfires have their Memorial Cup and now the process starts all over again. Some nights are going to be longer, while other nights will show flashes of greatness. Every night should be entertaining, though.
While they lost head coach Rocky Thompson to the AHL in the off-season, new head coach Trevor Letowski and his fellow bench bosses will have these kids working their skates off.
This is a club you're going to be proud of. It'll take time for the wins to come but it's a process that's well worth it.
It all begins on Thursday night as the Spitfires take on the Saginaw Spirit at the WFCU Centre. Come be a part of the start of the new era.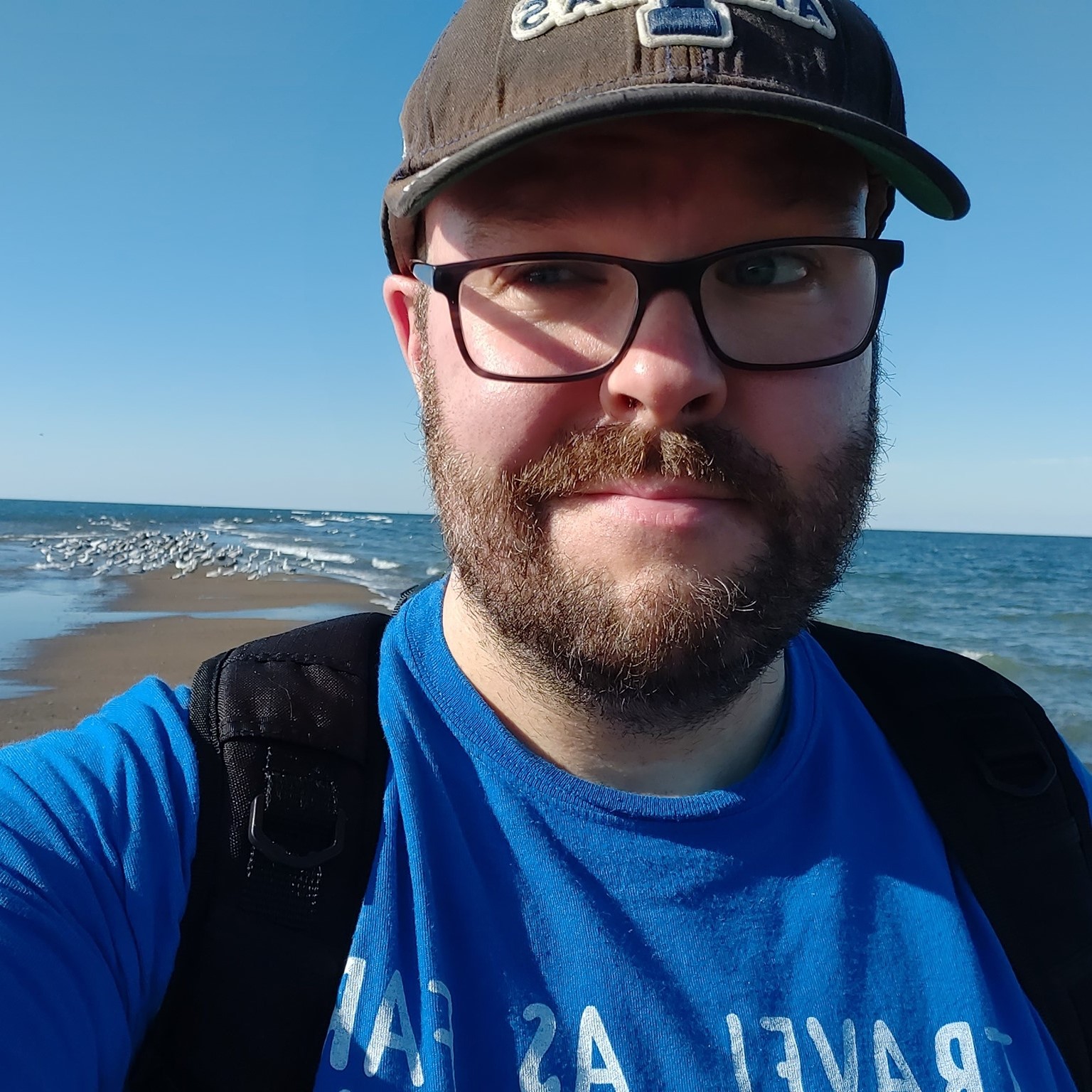 I'm a resident of Windsor, ON and a graduate of St Clair College Journalism and New Media program as well as the University of Windsor Communication, Media, and Film program. I've been a junior hockey fan (specifically the Windsor Spitfires) for 30-years and have written about/photographed junior hockey since about 2005.