As the Ontario Hockey League (OHL) gets ready for their 2022-23 Championship Series, the Windsor Spitfires are busy looking towards the 2023-24 season. It's not the offseason that anyone expected, but there are still multiple stories to keep our eyes on.
The plan was seemingly simple — build a club that could win Game 7 of the OHL Championship. After getting to that prestigious moment in 2022 and losing, they wanted redemption. General manager Bill Bowler went for broke at the January trade deadline in hopes of success. It didn't happen, though, and the club instead made history by getting swept in the first round. However, while it's frustrating, it brings us to the summer and a lot of work for Bowler. This will be a new challenge for him as the club heads into a potential rebuild era. Here are three stories to keep a watch for as the summer unfolds.
3 Stories to Watch This Summer
3. Veteran Trade Watch
When Bowler went all-in at the January trade deadline, it meant a veteran-filled roster. At the time, it was tough to argue a team that included captain Matthew Maggio (New York Islanders), Brett Harrison (Boston Bruins), Shane Wright (Seattle Kraken), and 49-goal scorer forward Alex Christopoulos, to name a few. However, four months later and things are looking vastly different.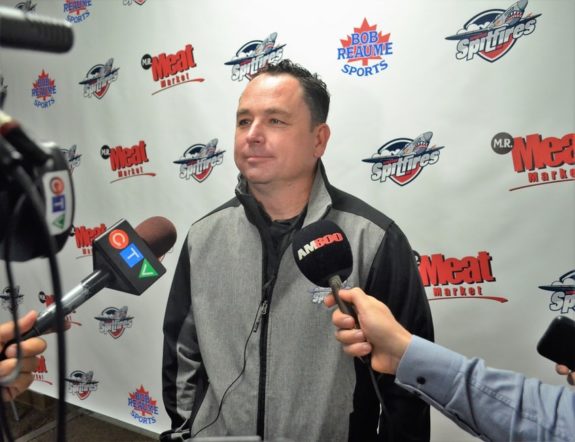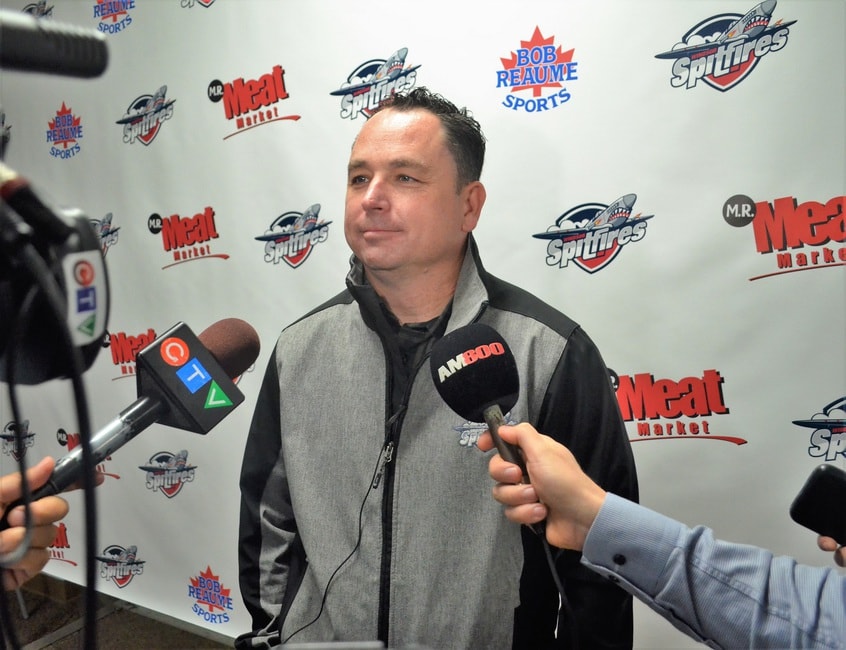 Maggio, 20, Harrison, 19, and Wright, 19, have all graduated and moved on to their respective systems. However, there are still numerous veterans to keep an eye on.
The club comes into 2023-24 with potentially six overage (20-year-old) players and another six 19-year-olds. They can only dress three 20-year-olds in any given game next season, which makes the offseason difficult. Some of them, along with the 19-year-olds, are going to become trade chips. The question is who goes and who stays? Do you trade Christopoulos, 20, at his highest value or does he return to become a leader? Do you trade a 19-year-old who has more eligibility or do you keep them for the same reason?
It's a tricky balance as the team wants to be competitive every season. However, with limited picks until 2026, they have to find a way to get the best bang for their buck. Bowler has to figure out which players would bring the most value while still maintaining the impressive locker room culture they've developed as well as keeping them competitive on the ice.
I will dig more into the overage possibilities later in May, but this is a situation that's going to be watched closely as the summer rolls along.
2. 2023 OHL Draft Pick Signings
With heavy veteran graduation, a rebuild/reload is in store with the youth taking over. In late April, the Spitfires were a part of the 2023 OHL Draft and Under-18 Draft and those are about to become significant puzzle pieces moving forward.
In his multiple deadline moves, Bowler shipped out nearly two dozen picks through 2026, leaving him with no picks in the second, third, or fourth rounds this season. However, that just meant he had to make the most of what he had. His first three picks included 6-foot-4, 175-pound forward Jack Nesbitt, 6-foot-1, 165-pound defenceman Adrian Manzo, and 6-foot-5, 200-pound defenceman Michael Lavigne. In the Under-18 Draft, he took 6-foot-3, 205-pound defenceman Evan Hjelholt, plus two local talents. All of the picks in the two drafts attended the club's 2023 Draft Orientation Day at the WFCU Centre on Saturday, May 6.
A major focus this summer will be getting the new picks signed. While there aren't roster spots for everyone, getting ink to paper will at least ensure a commitment to the future, whether it's with the Spitfires or in Junior B. The club saw five picks from the 2022 OHL Draft get ice time last season, which was a strong look at the future. Continuing to build the foundation this summer will go a long way to 2023-24 and beyond.
1. Bowler's Activity at 2023 CHL Import Draft
On top of the OHL Draft and Under-18 Draft, the Canadian Hockey League (CHL) holds its annual Import Draft every season. This season's draft is on Wednesday, July 5 at 11 a.m. and the Spitfires have picks 52 and 112. Each club has two slots for players who don't reside in Canada or the United States, but that creates a tough situation for Bowler.
Coming into the offseason, they have their two slots taken with 20-year-old defenceman Daniil Sobolev, who is from Russia, and 19-year-old defenceman Rodwin Dionicio, who was born in New Jersey but moved to Switzerland when he was young. Both would play big roles with the Spitfires should they return.
Related: OHL: Spitfires Get Castle and Dionicio From IceDGgs Before Deadline
---
Latest News & Highlights
---
Dionicio had a breakout second half with 43 points in 33 games for the Spitfires, also showing a physical side they could really use. He's one of the 19-year-olds who could bring a lot in a trade but is he more valuable to the Spitfires? There isn't an easy answer.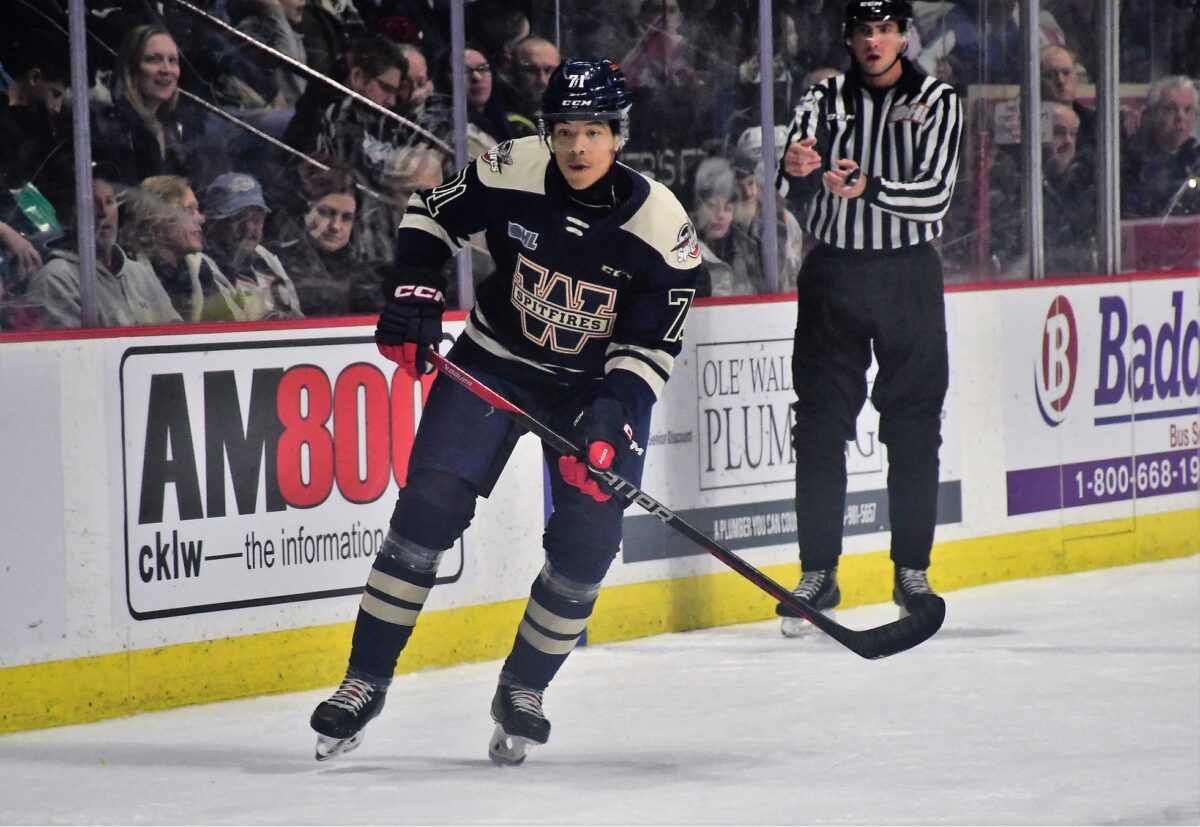 Sobolev is also a tricky situation. The Montreal Canadiens' 2021 fifth-rounder has yet to sign with them. Given he's 20 and would be entering his overage season in the OHL, a signing means he would head straight to their farm system. If he doesn't sign, he could return to the Spitfires, see a trade to another OHL club, or possibly even head back to Russia. It's clearly a tough decision for everyone.
While the club was hoping to spend the summer celebrating a title, they're still going to be busy. This is a roster that needs to be overhauled and the next few months could prove vital in continuing into the new era. These three stories should be at the forefront as we head into 2023-24.
---
---