The Red Wings are sending seven players to compete in the eight-team 2016 World Cup of Hockey in Toronto. The series "Wings at the World Cup" will feature each of those players and the impact they will have on their respective teams as well as chronicle that player's history of international play.
Representing Team Russia, Alexey Marchenko is the only Red Wings defenseman competing at the World Cup. Similarly, Petr Mrazek playing for Team Czech Republic is the only Wings goalie present at the tournament. These two players are some of the youngest on the Wings' roster and their respective international teams.
Alexey Marchenko: Team Russia
Marchenko is the youngest member of Team Russia's defensive corps and could find himself on the third pair of defensemen. Two Montreal Canadiens, Alexei Emelin, and Andrei Markov, should be Russia's top pair and Dmitry Kulikov could make up the second pairing with Dmitry Orlov. If that were the case, Marchenko would find himself in a limited role with Nikita Zaitsev on the third pairing.
That role seems fitting, as Marchenko filled that need for the Wings through much of the 2015-16 season.
Marchenko has been a steady contributor through much of his young career. Not one to produce a ton offensively but he also limits the opponents scoring chances. He's what you would consider the definition of a stay-at-home defenseman.
His numbers in international play reflect his steadiness on the blue line.
International Play
Twice he played for Russia's U-17 team at the World Hockey Challenge in 2008 and 2009, appearing in 10 games and scoring one goal and four points. Marchenko wouldn't represent Team Russia again until 2016 when he competed in the World Championships for the first time.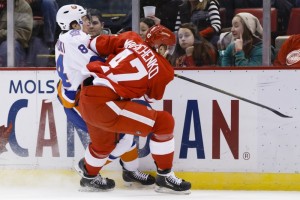 At the World Championships, which took place in Russia, Marchenko was one of four Russian defensemen to play in all 10 tournament games, as he recorded one goal and three points with a plus-12 rating. Russia defeated USA 7-2 in the consolation game to earn bronze and Marchenko will look to build off that success at the World Cup.
Team Russia is a steady mix of promising prospects, prime players, and aging veterans. Will players like 37-year-old Markov and Pavel Datsyuk, 38-years-old, have enough left in the tank for a tournament run? Is there enough puck to go around for superstars like Evgeni Malkin, Alex Ovechkin, and Vladimir Tarasenko? And can young players like Marchenko fill necessary roles for a team to have success?
The World Cup will reveal just what kind of role is expected of the young Wings defenseman.
Petr Mrazek: Team Czech Republic
Mrazek is the youngest, least experienced goaltender on the Czech roster, competing with veterans Michal Neuvirth and Ondrej Pavelec.
Wings fans are extremely high on the young star's future in Detroit. Mrazek has flashed, dazzled and impressed in big moments early in his career. However, in the larger perspective, Mrazek hasn't accomplished much yet. He did sign a two-year, $8 million contract over the offseason and should take the reigns as starting goalie in Hockeytown. But if Mrazek is unable to beat out his countrymen Neuvirth and Pavelec for the starting role at the World Cup, it will be a telling indication of how he matches up to other goalies around the league.
International Play
At just 24-years-old, much of Mrazek's international experience consists of World Junior action. He's had impressive tournaments for the Czech Republic U-17 team posting a 0.86 goals-against average and .973 save percentage in five games during 2009. He followed that up with a 2.00 GAA and .938 save percentage in 2010 for the U-18 team.
His most memorable international experience was in 2012, when Mrazek posted a 2.49 GAA and .928 save percentage, including a 52-save effort in a 5-2 win over Team USA and a shutout over Denmark in pool play. He then stopped 43 saves against Russia, only to fall 2-1 in overtime of the quarterfinals.
While World Juniors is important, players are still young and developing. Game action at the World Championships and especially the Olympic level would be a more telling display of how NHL players match up going into the World Cup.
If Mrazek earns the starting job for the Czechs, it would be his first real taste of international action at a professional level. In fact, he's only appeared in one game at the 2012 IIHF World Championships as the Czech's third-string goalie.
Seeing the Wings' young goaltender play behind a different squad for a large sample of games will be a great litmus test to see how Mrazek sizes up to other NHL netminders. The first challenge will be can he win the starting job outright, competing against Pavelec and Neuvirth. The second challenge will be whether or not he can have success in the tournament, playing against the game's best at the World Cup.
---
The Hockey Writers coverage of the World Cup of Hockey 2016 is being brought to you by PrimeSport, the official Fan Travel & Hospitality Package Partner of the World Cup of Hockey 2016.