Let's get one thing straight: there is no goaltending controversy in Winnipeg… at least not when it comes to their starter.
Connor Hellebuyck is the Jets' undisputed number-one netminder. The 25-year-old is coming off a sparkling season and entering 2018-19 with a new lucrative yet team-friendly deal. In 2017-18, he notched a career-high 44 wins and six shutouts, posted a .924 save percentage (SV%), a goals-against average (GAA) of 2.36, and was nominated for the Vezina Trophy — an award he should have won. He did all that despite beginning the season as Steve Mason's backup.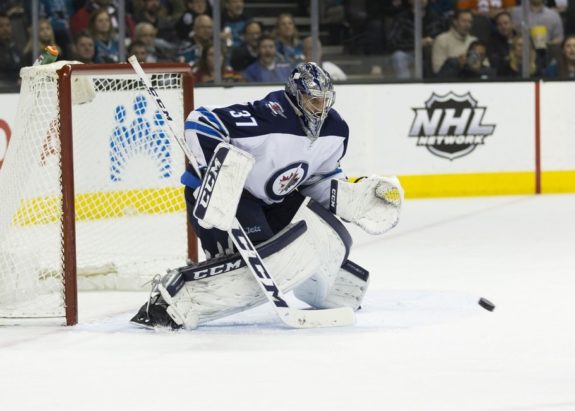 But wait a second. Mason, from whom Hellebuyck stole the job after his turbulent start to 2017-18 and subsequent injury woes is gone. So is Michael Hutchinson. That's where the controversy — or better put, the clash — comes in. The role of Hellebuyck's backup is wide open and there are two inexperienced yet intriguing candidates looking to fill that role: Eric Comrie and Laurent Brossoit. Going into training camp, expect the battle of the backups to be close, keen, and competitive.
Eric Comrie: The Inside Man
Comrie, 23, was chosen 59th overall by the Jets in the 2013 NHL Entry Draft and has spent the last three seasons with the Manitoba Moose.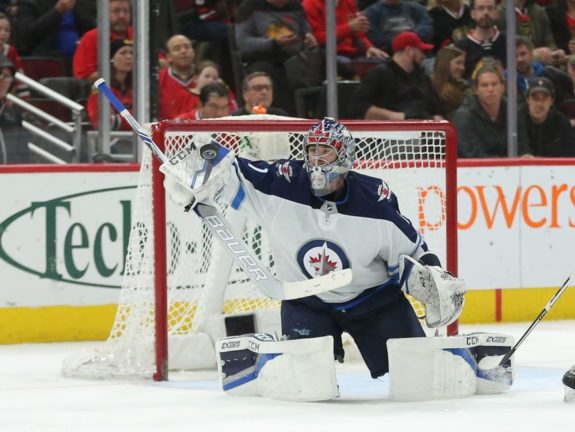 Comrie's career AHL numbers — 136 games, 52-67-16 record, 2.95 GAA, and .908 SV% — don't give an accurate reflection of his play. Two of his three campaigns were spent with defensively porous, transient Moose squads that finished second-last in the Central Division, and he was given next to no support and peppered with shots.
His 2017-18 numbers — an 18-13-3 record, 2.58 GAA, and .916 SV% — were achieved with a much better Moose squad that finished 16 games above .500 and are more indicative of his skills.
Comrie's been recalled a number of times by the Jets, especially last year. However, he has made just four NHL starts, three of which came last year, and no relief appearances. In his four starts, he has a 2-2 record, a 4.00 GAA, and .880 SV%.
Laurent Brossoit: The Fresh Blood
For a fleeting moment it looked like the Jets had swung the door wide open for Comrie to claim the backup role by default after they dealt Mason to the Montreal Canadiens in a cap-clearing move on the eve of free agent frenzy. However, they shut the door the next day when they inked free agent goalie Laurent Brossoit.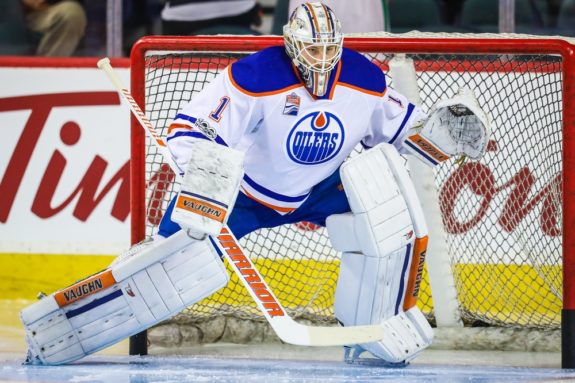 Brossoit, 25, was drafted by the Calgary Flames 164th overall in the 2011 NHL Entry Draft, but has spent almost his entire five-year career in the Edmonton Oilers organization. He's appeared in NHL games in four different seasons and in AHL games in all five — his AHL experience was mainly with the Oklahoma City Barons and the Bakersfield Condors. In 144 career AHL games, he boasts a 69-55-14 record,  a 2.71 GAA, and a .913 SV%.
Brossoit has more NHL experience than Comrie. His longest NHL stint was last year with the disappointing Oilers, when he appeared in 14 games, mostly before Christmas. In 28 career NHL games, comprised of 20 starts and eight relief appearances, he has a 7-13-2 record with a 2.97 GAA and .897 SV%.
Who Has the Inside Track?
With the Jets' looming cap crunch that will manifest itself fully after next season, Brossoit's low price tag ($650,000) was a big reason for this acquisition but makes the backup position more in flux than if the Jets had signed a more experienced free agent netminder such as Carter Hutton or Anton Khudobin.
Brossoit signing means Eric Comrie has a good opportunity to snap up the backup role at this point. Things could change from now until then, but that's the scenery at the moment.

— Scott Billeck (@ScottBilleck) July 1, 2018
If one has a leg up on the other, it's not immediately apparent. It's a wide-open battle with no clear front-runner. One could view the Brossoit signing as an indicator the Jets don't have faith in Comrie's skill set and are skeptical of his NHL readiness.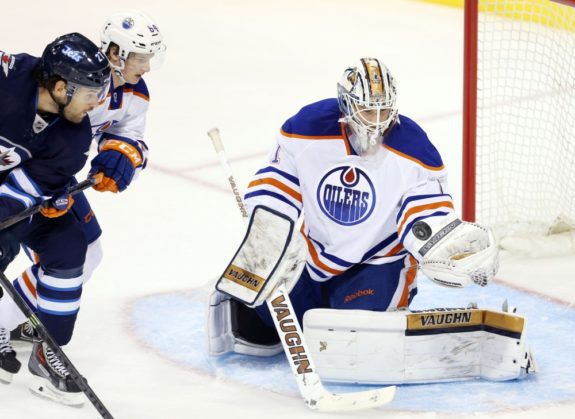 Conversely, one could view the signing as an insurance policy in case injuries crop up in the crease like they did last year, with Broissoit being the equivalent of Hutchinson and Comrie being the equivalent of Mason. Furthermore, one could view the signing as a way to push and challenge Comrie as competition begets quality or at least that's the idea.
In Consideration of Comrie
Jets fans are tough on Comrie, perhaps tougher on him than any other Jets prospect. Reddit and other online forums are rife with comments that the Jets should write the 23-year-old goaltender off. Online pundits criticize his size, positioning, and NHL performances, and in some cases have called him a bust and a flop.
Like any criticism from a passionate fan base, some is legitimate and some is over-the-top. There are a lot of knee-jerk reactions from those basing their observations only on Comrie's four shaky NHL starts and not the full breadth of his career. While it's true his big-league performances thus far haven't inspired much confidence, four games is a microscopic sample size. It's tough to draw any firm conclusions about his readiness for the backup role from 240 minutes.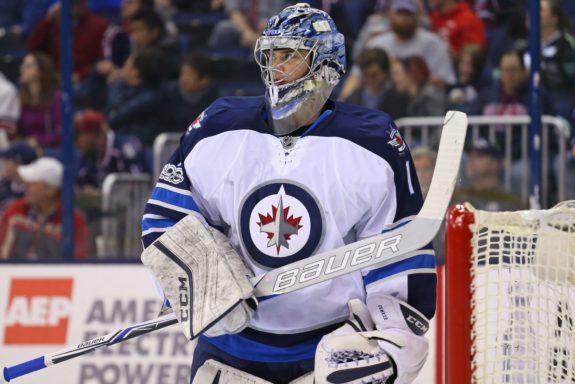 Like any young goaltender, Comrie has strengths and weaknesses. At times, he struggles to see through screens and divert rebounds into low-risk areas. However, he possesses good lateral movement, never gives up on a play, and is very athletic; all are assets. He's often been solid for the Moose and held them in games that had no business being close, especially in their first two seasons after returning from the East Coast.
Going with Comrie over Brossoit as Hellebuyck's backup jives better with the organization's track record of promoting from within and looking for internal solutions before seeking outside help. Kevin Cheveldayoff and Paul Maurice are nothing if not loyal, which may bode well for Comrie's chances.
Bearing Brossoit in Mind
At the end of the day, though, there's no denying Comrie is inexperienced. Brossoit's deeper level of NHL exposure could give him a slight advantage. While his big-league experience is not monstrous by any means, any NHL experience is good experience.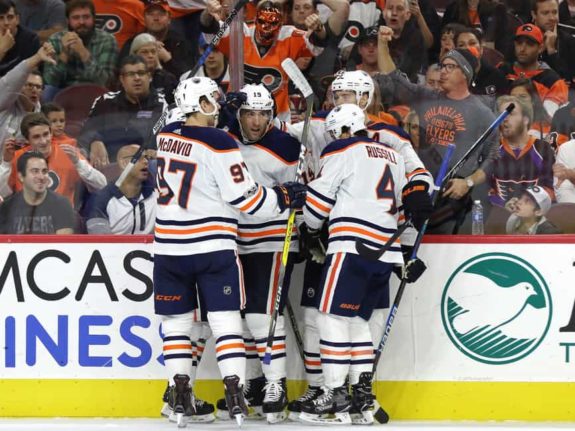 Brossoit is coming off the season in which he made the most NHL appearances of his professional career (14), including ten starts. In those starts, he was 3-6-1. His 2017-18 numbers — a 3.24 GAA and .883 SV% — quite frankly, look pretty bad. However, they are understandable when you consider the Oilers team in front of him, that got out of the gate slower than a one-legged horse and was 13-19-2 by the time Brossoit had made all but one of his appearances.
With the 2016-17 Oilers, who were much more competitive and finished 21 games above .500, his numbers — 4-1-0 with a 1.99 GAA and .928 SV% — are much better. Admittedly, those sample sizes, like Comrie's, are small.
Like Comrie, Brossoit has his fortes and foibles. He is strong, agile, and has the size — something you can't teach. He is capable of making dazzling saves but is also prone to giving up weak goals and getting inside his head when he does. Dobber Prospects' summary spells it out best:
(Brossoit) appears to be running in place at times and needs to become more consistent to stay in favour with his team.
He is at an integral point in his career. At 25 years old, he is aging out of the "prospect" tag that will be afforded to Comrie for a little while. He hasn't been able to establish himself at the NHL level yet and his time to do so is running out. He will likely be entering camp motivated and with a chip on his shoulder.
What to Expect in the Preseason
The Jets have seven preseason games between Sept. 17 and Sept. 27. Count on Comrie and Brossoit to get the bulk of the work — three starts each most likely — and the battle to be on full display. The Jets will undoubtedly want to see as much as they can from both of their candidates before granting someone the gig.
Expect Hellebuyck to have a light workload as a result — he's got nothing to prove. He'll likely appear in one or two late-preseason contests just to ensure he's tuned up and ready for the Jets' Oct. 4 season opener against the Los Angeles Kings.
Whoever wins the job as Hellebuyck's backup will do so through merit. Whoever doesn't impress will be sent to the AHL, but don't expect them to stay on the farm if the other struggles in the big league. There will be other battles brewing at Jets training camp, but this is the one that's most likely to boil over, so keep a close eye on it.