Steve Mason was in the infirmary so much over the past year, he put the Winnipeg Jets' six-man training staff on his helmet as CF-18 fighter pilots.
Steve Mason wanted to thank the Winnipeg Jets training staff for helping him through a tough, injury plagued season, so he made them fighter pilots on his new mask by @Sylabrush https://t.co/4fYfxU1LPa pic.twitter.com/J2voivYXJg

— InGoal Magazine (@InGoalMedia) May 1, 2018
If that's not indicative of a woebegone season, nothing is. Despite the Jets having their most successful season since relocating from Atlanta seven years ago, Mason had a miserable time in 2017-18. He was characterized not by his play on the ice, but his complete inability to stay healthy for any extended period of time. Should the 30-year-old consider hanging up the pads?
Mason's Long List of Ailments
A list of injuries longer than Patrik Laine's (now dearly departed) shaggy blond beard completely derailed Mason's 2017-18 campaign, one in which he was pegged to be the bonafide Jets starter.
A knee injury that struck him in a March practice forced him to undergo arthroscopic surgery and miss nearly a month. He had a nagging back issue that caused him to be unable to serve as Connor Hellebuyck's backup on two occasions in the Jets' playoff run, and required cortisone shots to keep it in check.
Even more alarming were the pair concussions he suffered within a two-month span. He sustained the first on Nov. 25, against the San Jose Sharks, after taking a hard Jannick Hansen slapshot off his mask. He returned to the crease on Dec. 16 against the St. Louis Blues, but less than a month later, was concussed again after taking another shot off his noggin during a morning skate on Jan. 12.
Paul Maurice confirms that Steve Mason has suffered another concussion.

— Sara Orlesky (@saraorlesky) January 19, 2018
All these ailments limited Mason to 12 starts and 13 total appearances. His numbers were subpar: he posted a .906 save percentage, 3.04 goals against average, and 5-6-1 record.
It was a far cry from the numbers expected of the goaltender who inked a lucrative two-year, $8.2 million contract last summer. Hellebuyck, after a turbulent 2016-17 season, was able to retake the controls and kept them firmly in his grasp, putting up eye-popping, Vezina-calibre numbers.
Mason Intends to Return
Mason openly acknowledges his injury woes, but indicated last month he has no plans to call it quits. He said this summer will be "big" for him and that he intends to "revamp the body a little bit and come in next year healthy."
Mason will be fighting for more time in the crease come September, but one has to question how much his playing time could possibly increase given Hellebuyck's dominance. The 25-year-old has cemented himself as the goaltender of the Jets' present and future, and is going to get a lucrative new contract this summer.
Regardless of how much Mason actually plays, he'll be with the Jets in 2018-19 — a buyout is not in the cards. "I don't sit here and anticipate that a buyout is a course of action I'd take with Steve Mason," general manager Kevin Cheveldayoff said. "Steve Mason's a capable number-one goaltender in the NHL."
"We have the Finland trip next year that basically takes probably eight or nine days out of your schedule where you're not playing any games, so there's going to be a payback at some point in time, somewhere during the season," Cheveldayoff continued. "Steve is a real pro and there's a lot left for him with respect to being a number-one goaltender in the NHL."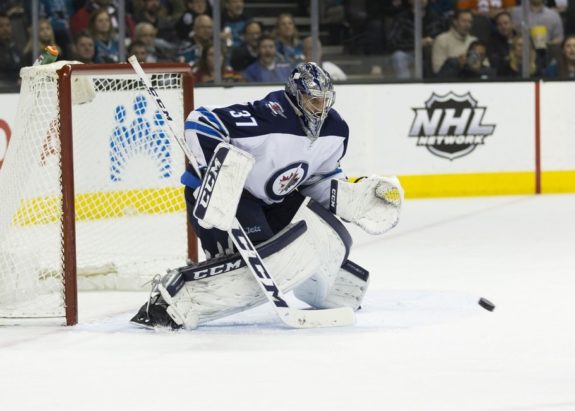 A number-one goaltender? Not with the Jets, barring a Hellebuyck injury, and certainly not after next season. Last season quashed any chance of Mason being the Jets' go-to guy. Cheveldayoff's statements sound more like lip service to placate Mason and an attempted justification for paying a back-up a starter's salary.
Mason needs to think hard on whether it's possible to reverse the falling trajectory his career has taken. In a year he'll likely be done with the Jets. They certainly won't offer him a contract resembling his current one. His durability issues may cause other teams, even those who are desperate for some stability in the blue paint, to shy away from him. He's indisputably damaged goods.
Mason Should Consider His Long-Term Well-Being
Mason's no stranger to concussions, suffering three confirmed ones in his ten-year NHL career.  He missed time in 2014 due to one when he was a member of the Philadelphia Flyers. He was also suspected to have sustained one in 2011 when he was with the Columbus Blue Jackets.
Even though NHL Commissioner Gary Bettman continues to deny any link between hockey and chronic traumatic encephalopathy (CTE), there's a proliferation of evidence, borne out of extensive study from some of the world's most well-renowned scientific and medical institutes — such as Boston University's CTE Center and the Brain Injury Research Institute — that multiple head injuries increases the risk of developing the degenerative brain disease.
Symptoms of CTE include memory loss, vertigo, impulsive behaviour, and progressive dementia. It steals peoples' lives.
Many NHL players, such as Bob Probert and Reg Fleming, were posthumously confirmed to have CTE, as was Derek Boogard, who died of an accidental drug overdose in 2011. Two more tough guys, Rick Rypien and Wade Belak, died the same summer as Boogard. Both men had history of concussions and depression.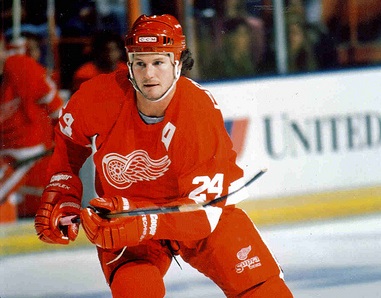 It'd be unfair to call Mason reckless. He's taken some precautions and handled things properly. He's gotten a new mask he hopes will better protect him and hasn't taken his concussions lightly, either. After suffering his season's first against the Sharks, he didn't hide the injury, instead reporting his headache and nausea to trainers right away.
"As you get older you see things (differently)," Mason told The Winnipeg Sun's Paul Friesen. "And I've had a concussion before. It's my brain, and after hockey I'd like to be living a normal life."
After the 2018-19 season, Mason will have earned more than $29 million in his NHL career –undoubtedly enough to retire on. If he hangs them up now, it would cut his career short by a few years, but ensure he could enjoy that money, time with his wife and child, and live the "normal life" he says he desires.
I'm not suggesting, even for a moment, that Mason, by virtue of having a history with concussions, is destined for a path similar to the aforementioned men whose lives were cut short. What I am saying is that being a professional hockey player is an inherently risky occupation. It's one that can have profound impacts on long-term health. All players — especially those with multiple concussions — should carefully weigh the pros and cons playing the game they love could have on their lives after they've left the rink behind.
Leaving the rink behind is something Mason may want to consider sooner than later if he wants to ensure he gets to live that high-quality post-hockey life.