It is T-minus 26 days to the Winnipeg Jets first preseason game and 43 days to their first regular season tilt. However, it's becoming more and more possible with each passing day the team may be entering those battles —against the Minnesota Wild and St. Louis Blues, respectively — without one of their big guns on the blue line.
#NHLJets GOAL! 🚨

Josh Morrissey with the point shot to put Jets on the board! It's a 1-1 game! #GoJetsGo #WPGvsTOR pic.twitter.com/PJW80W7an5

— Winnipeg Jets (@NHLJets) April 1, 2018
23-year-old restricted free agent defenseman Josh Morrissey is still without a contract — either a short-term bridge deal, or more ideally, a long-term contract that keeps him on the Jets through his prime — for the 2018-19 season.
There's still time, but as Steve Miller said, "time keeps on slipping, slipping into the future." If the Jets and Morrissey can't strike a deal and he decides to hold out to begin the season like Jacob Trouba did two years ago, the Jets will have to retool their D-corp to compensate for his absence.
Who Would Play With Jacob Trouba?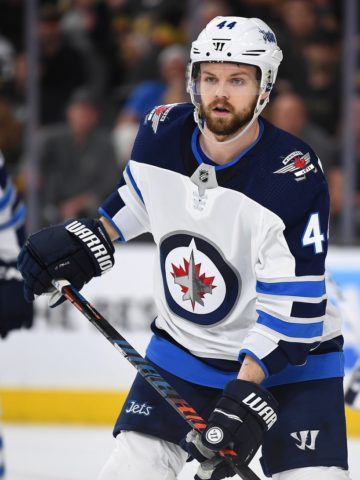 Morrissey has quickly become one of the Jets' premier defensemen and made up half of their top-line shutdown pairing — flanked by Trouba on his right side — in 2017-18. Perhaps the biggest question in case of a holdout is who would slot in on Trouba's left?
Morrissey logged big minutes against opponents' best players last year, averaging 20:27 per game and registering a plus-15 plus/minus rating. (Trouba, in case you were curious, logged 21:54 per game and was plus-nine.)
Whoever would be given the daunting task of replacing the 2013 13th overall draft pick would have big skates to fill — Morrissey's contributions were wide-ranging last year. He served up 139 hits with his 6-foot, 195-pound frame and put himself in the line of fire regularly, amassing 168 blocked shots. He also set career-highs in goals and assists, took a manageable 47 penalty minutes, and only missed a single game.
Jets' Left Handed Options
The Jets have four left-handed defensemen at their disposal – Joe Morrow, Sami Niku, Ben Chiarot, and Dmitry Kulikov.
Morrow, who the Jets signed to a one-year contract worth $1 million, likely wouldn't be the answer. The 23rd overall pick of the 2011 NHL Entry Draft has played 121 games over four seasons, but has been primarily used as a depth option or an extra man who can be called on in case of injury. Asking him to suddenly morph into a top-line NHL defenseman and log 20-plus minutes per game would be a fool's errand.
Niku wouldn't be suitable, either. While the compelling prospect had a lights-out rookie campaign for the Manitoba Moose and is likely ready to make the jump to the Jets, the Jets are a patient team that wouldn't risk damaging the speedy, puck-moving Finn's development by rushing him to the top pairing.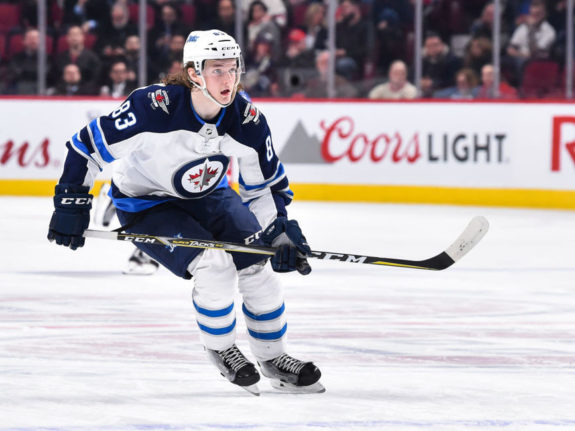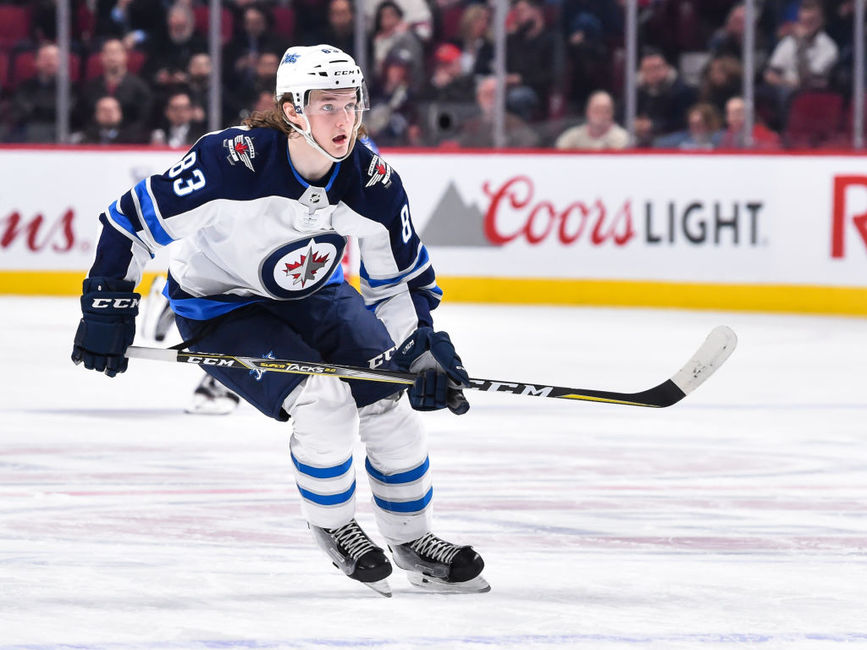 Chiarot played some of his best hockey in the back half of 2017-18. He was relegated to the press box to start the year but seized his opportunity when a swarm of injury bugs came biting. He played so well, in fact, he stayed in the lineup even when the d-corp recovered. Chiarot plays a heavy, physical game and should be a regular in 2018-19, but asking him to jump from play 15 minutes to 20-plus may be too tall a task.
Kulikov the Most Compelling Candidate
The most logical choice, in the event of a holdout, would be for the Jets to slot in the most experienced of their left-handed defensemen. That's Dmitry Kulikov by a long shot — the veteran of nine NHL seasons has 569 games under his belt.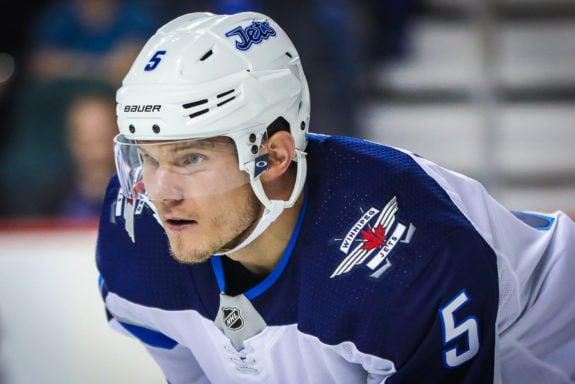 Last year, the 27-year-old Russian was enjoying a nice bounce-back season after a tumultuous 2016-17 with the Buffalo Sabres where he was limited to 47 games due to a freak injury before suffering another back injury that forced him to miss the Jets' final 20 regular season games and all but one playoff matchup. Generally paired with Tyler Myers, he was effective overall and logged an average of 17:04 per game.
He only produced 11 points last year and the last time he matched or bettered Morrissey's 2017-18 output of 27 was in 2011-12 with the Florida Panthers, when he produced 28. He also isn't as physical, registering 69 hits in his first season with the Jets (his career high is 125). His durability is also a question mark. Therefore, he wouldn't be a perfect replacement.
He would, however, be the best choice. Prior to coming to the Jets, he played an average of 20-plus minutes for six straight seasons, so he's no stranger to a top-pairing D-man's workload — never underestimate the power of experience. Perhaps he'd even respond positively to increased responsibility and re-emerge as a top-four guy.
Ripple Effects on the Right Side
While the Jets' right-handed defensemen wouldn't be influenced much by a Morrissey holdout, that's not to say there wouldn't be any effects on them at all. Losing a left-handed defenseman would limit the possible partners for Dustin Byfuglien and Tyler Myers.
Byfuglien needs a new partner anyway — his long-time bosom buddy Tobias Enstrom's long-term relationship with the Jets ended on a sour note a few months ago. When Enstrom was injured in 2017-18 — which was often — Chiarot played alongside Byfuglien and the two found good chemistry. That partnership was likely to become full time regardless, so even if Kulikov wasn't an option to play with Byfuglien, it likely wouldn't impact plans much.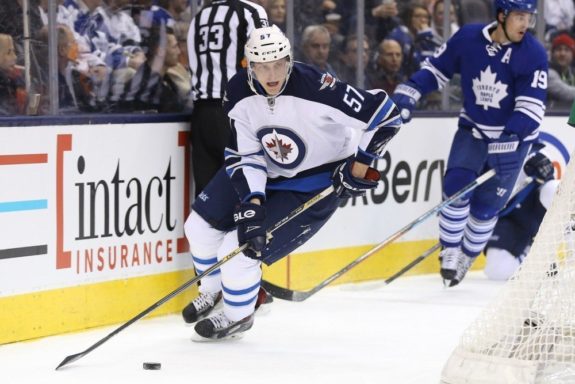 Perhaps a bigger concern would be separating Kulikov and Tyler Myers, who played the majority of 2017-18 together and made a strong, efficient pairing.  That would leave either Morrow or Niku as Myers' new partner. The Jets will want to choose Myers' compatriot carefully — he's in the final year of his contract and the team will be likely be looking to deal him before their incoming cap crunch. They'll want him to do well to attract potential suitors and maximize return from them.
Don't Hit the Panic Button… Just yet
Although Winnipeg Free Press sports columnist Paul Wiecek recently wrote "it's become not only conceivable but increasingly probable the Winnipeg Jets will head into September with Morrissey still unsigned, and training camp looming," he also says it's not quite time to freak out.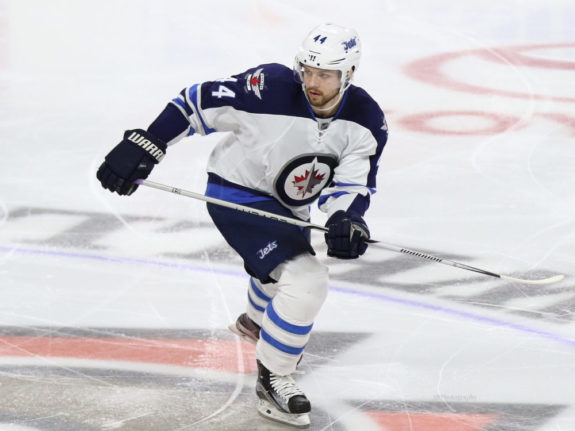 "There's no reason for panic yet," Wiecek continued. "There's lots of players every year in Morrissey's situation who have headed into September unsigned, only to get a deal done in the days leading up to training camp."
There's no hint of any tension between Morrissey or his agent Gerry Johannson and Jets general manager Kevin Cheveldayoff. If Morrissey's a smart guy, which by all accounts he is, he will see what happened with the Trouba situation, decide against a holdout, and get to work. Remember: holding out actually cost Trouba money and damaged his relationship with the organization.
Morrissey is a huge part of the Jets' future plans and a cornerstone they need to build around. The sooner they can get him locked up, the better. Going into the rapidly-approaching regular season sans Morrissey would be far from an ideal situation — the Jets are much better with him in their lineup, make no mistake. However, a holdout wouldn't bring the Jets to their knees or quash their playoff chances, either — they've got the guns to go to battle with their opponents even with Morrissey in the arsenal.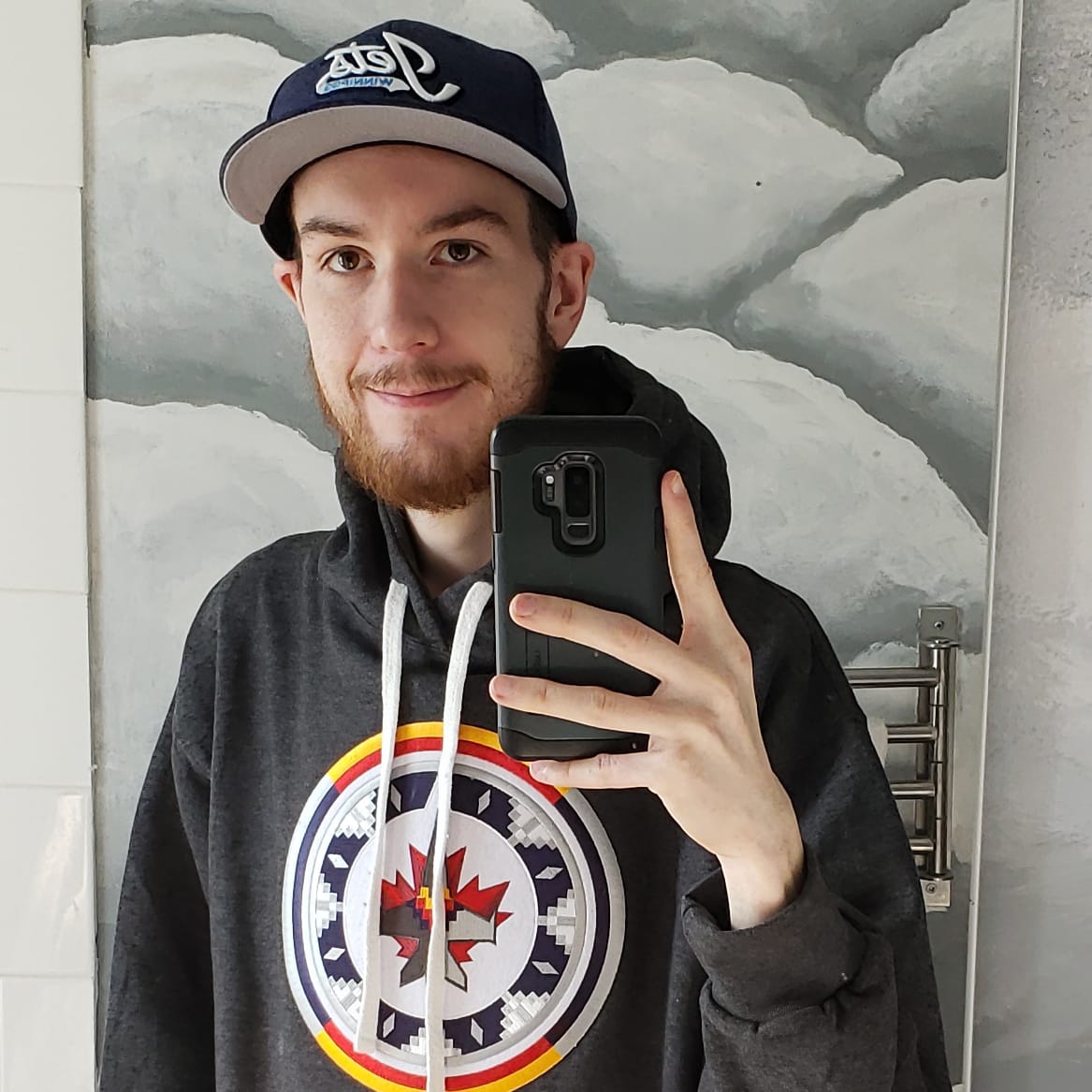 Declan Schroeder is a 27-year-old communications specialist and freelance journalist in Winnipeg, Manitoba. He holds a diploma in Creative Communications with a major in journalism from Red River College and a bachelors in Rhetoric and Communications from the University of Winnipeg.
Deeply rooted in the city's hockey culture, the original Jets skipped town when he was two and the 2.0 version came onto the scene when he was 17.