Beginning June 1, NWHL teams can start signing players for the 2018-19 season. For players who have completed their college eligibility and want to continue their hockey careers, the free agency period provides them an opportunity to continue playing at the highest level of professional women's hockey. The fourth season of the NWHL will begin in October as the Metropolitan Riveters defend their Isobel Cup championship, and with the addition of a fifth team – the Minnesota Whitecaps – as well as the inclusion of players who participated in the 2018 Winter Olympics, this very well could be the most competitive season yet. 
My colleague Nathaniel Oliver will keep THW readers up-to-date on Boston and Buffalo's signings throughout the summer, while I post updates on Connecticut and the Riveters. Together we will collaborate to keep readers informed of all of Minnesota's signings.
Original Riveters Dosdall & Packer Re-Sign
Pride Get Johnson Back on Defense for Another Season
Congrats @croesler21! Might have to start calling you Jackie Moon! https://t.co/k0PE2DGIEC

— Chase Priskie (@priskie4) August 20, 2018
On August 20 the Connecticut Whale announced that defender Cydney Roesler had re-signed for a third season with the team with an additional note. The 24-year-old was also named as the team's assistant coach, the first time in league history that someone would hold both roles simultaneously. Last season she served as a volunteer assistant coach with her alma mater, Quinnipiac University.
"I'm really looking forward to this new opportunity as a player-assistant coach for the Whale," Roesler said in the press release. "Coaching is something I'm passionate about, and to have the opportunity to do it at the professional level is an honor and really exciting! The league is going to be so strong this season. I feel very fortunate to be with the Whale and the NWHL again to help to continue to grow this game."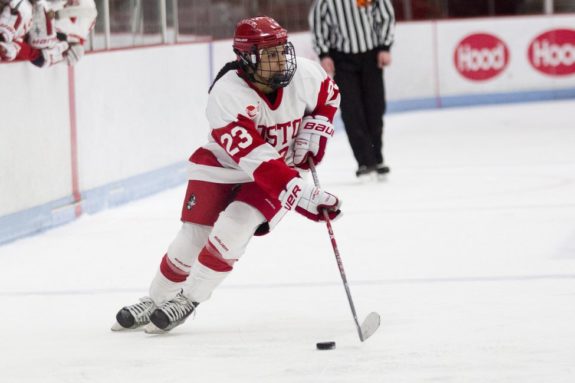 Earlier that day Connecticut also announced that they had signed Nina Rodgers, who they selected 17th overall at the 2017 NWHL Draft. Rodgers split her college career between the University of Minnesota (where she won two NCAA titles) and Boston University. The 22-year-old scored 56 points (26g-30a) over her 146 NCAA games.
"My hope is to contribute to the team's success by creating good scoring opportunities and supporting my teammates on and off the ice," Rodgers said in a press release. "I am so grateful for the opportunity to continue my hockey career post-graduation and proud to play for the Connecticut Whale."
This is the year I hang up my skates. #ThankYouHockey for teaching me who I am and how to fight for what I believe in. I will continue focusing on the @NWHLPA and advancing #WomensHockey. To all who believed in me + supported me, thank you. I owe everything to you. #Fanmily #NWHL pic.twitter.com/fug19XDNDw

— Anya Packer (@battaglinoa) August 20, 2018
Also that same day Anya Battaglino, who had been with the team since its inception, announced on Twitter that she was ending her playing career but would continue to serve as the director of the NWHLPA. The 26-year-old played in 19 games over three seasons as both a forward and a defender; she has been one of the most visible personalities and most popular players throughout the existence of the NWHL. Following the 2016-17 season, she was voted as one of the fans' 3-Stars of the Season.
On August 16 the Whale signed Sarah Schwenzfeier from Norwich University; over 119 games from 2014-18 the Massachusetts-native racked up 121 points (54g-67a). "I wanted to join the NWHL to continue to play the sport that has allowed me so many opportunities in life, and to hopefully inspire young girls to follow their dreams."
Dan Rice is in his 9th year of reporting for THW & has covered NJ Devils home games for 15+ years at various websites. He began his journey working for legendary broadcaster/writer Stan Fischler from 2002-04 & completed an internship at the ECHL; he also has been writing features for the NWHL (nwhl.zone) website since 2016.