Too many times hockey fans have watched their team's promising college prospects get stolen away before they can even see them sport the jersey. One of the biggest risks of drafting an NCAA player is that once his schooling is completed, he can opt to not sign with the NHL club that drafted him.
The decision to test free agency varies on the player. Sometimes opportunities in another organization appear more attractive and other times the player and team cannot come to terms on a contract agreement.
The Edmonton Oilers nabbed coveted offensive defenceman, Justin Schultz from Anaheim in 2012. While Schultz's career with the Oilers was underwhelming, he now has two Stanley Cup rings to flaunt around Pittsburgh.
Last year, Jimmy Vesey was the big name on the market. The Harvard winger indicated that he would not sign with the Nashville Predators, the team that drafted him, nor any other club until he was officially a free agent on Aug. 15.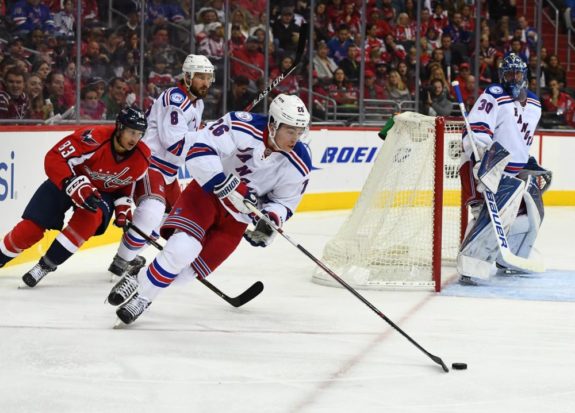 The Buffalo Sabres didn't take him at his word, dealing a 2016 third-round pick to the Predators for Vesey's rights. This proved to be a waste of an asset as the Boston product stuck to his guns and signed with the New York Rangers.
This summer, the Sabres once again lost out on a college free agent as netminding prospect and Notre Dame captain, Cal Petersen signed with the Los Angeles Kings. He will compete for a backup job behind Jonathan Quick with Darcy Kuemper and Jeff Zatkoff.
As Aug. 15 approaches this year, the Colorado Avalanche will watch Hobey Baker Award winner, Will Butcher test the market. This doesn't mean the Avalanche won't bid hard on Butcher but it seems unlikely he will select them as his team of choice.
Winnipeg Jets fans breathed a sigh of relief when the team announced in late March that prospect defender, Tucker Poolman will not be included in that group of college free agents. Poolman, a 2013 fifth-round pick, will look to steal a job in camp on the imposing Jets blueline.
Meet Tucker Poolman
As a Grand Forks native, the choice to stay with the Jets organization was assisted by the short distance from the Minnesota town to Winnipeg. Not to mention playing his college career next door in North Dakota with the Fighting Hawks.
Poolman's resume is extremely impressive as he owns the titles of National College Hockey Conference Defensive Defenseman of the Year, All-NCHC First Team and All-NCHC Tournament Team. These honours complement a spectacular 2016 as the University of North Dakota captured the National Championship.
Every season with the Fighting Hawks, the 24-year-old saw his point totals increase. Poolman wrapped up his college career with 72 points in 119 games. His style of play can be described as a two-way defender, however, his offensive production is encouraging.
Could Poolman Crack the Jets?
Jets fans have eagerly anticipated the arrival of the six-foot-three defender but may have to wait a tad longer. After his bilateral shoulder surgeries, Poolman is questionable for the start of training camp. If he is able to go, could he steal a spot from one of the Jets regulars?
Tucker Poolman and Jordy Stallard are attending development camp but won't participate due to injury. #NHLJets

— Scott Billeck (@ScottBilleck) June 25, 2017
As the Jets blue line is currently structured, on the right side they have Dustin Byfuglien, Tyler Myers and rising star, Jacob Trouba. On the left side, they have Ben Chiarot, Tobias Enstrom, Dmitry Kulikov and sophomore, Josh Morrissey.
It appears unlikely that the former Omaha Lancer can crack the Jets opening night roster but if injuries occur as they do so often, he could be in line for the first call-up spot. Many would suggest, however, a full year in the American Hockey League would be the most appropriate development for the youngster.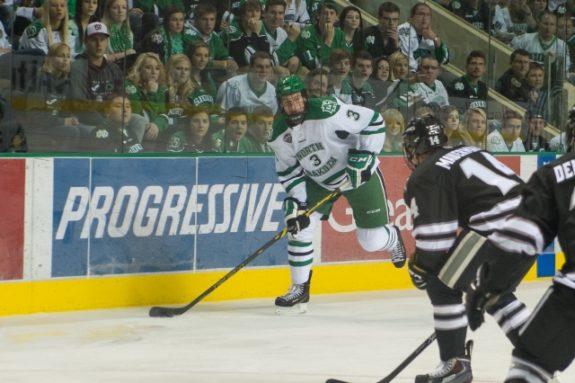 Minute munching in the AHL with the Manitoba Moose could be huge for Poolman. He can quarterback their power play, log some penalty kill time and overall, play against top competition in his first professional season.
Though Poolman would have to blow Jets management out of the water in training camp to play opening night, playing as a regular next season doesn't seem too far off. His impact in the AHL will determine that.
Poolman has dominated every level up to this point in his career and it wouldn't be wise to bet against him at the professional level. He helped North Dakota to a National Championship and hopes to contribute any way he can to bring a championship to Winnipeg.