Recently, my fellow contributor here at The Hockey Writers, Shane Sander, wrote a fantastic piece that took a closer look at the impact the signing of defenseman Kris Russell was going to have on the Edmonton Oilers — namely Mark Fayne. It was a well-detailed look at Edmonton's cap situation and the potential decisions facing the Oilers due to the number of NHL player contracts they'll have on the books.
Related: With Russell Signed, Is Fayne Out?
In his piece, Sander assumes that the Oilers will sign both professional tryout candidates, Eric Gryba and Kris Versteeg. The latter should be announced by the Oilers no later than Tuesday as a signed player with the club. Versteeg looks to have made the most of his opportunity and landed himself a full-time job in Edmonton. While Sander may be correct in his assumption, Gryba, on the other hand, may be on the outside looking in. This could be both because the Oilers have signed Russell, but also because Edmonton intends to keep Mark Fayne.
It is absolutely possible, that the Oilers waive Mark Fayne. I thought it might be fun to look at a contrasting point of view to doing so.
The Cap Casualty Argument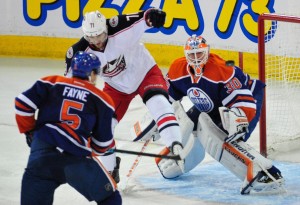 Sander's argument is that Fayne potentially creates a problem for him thanks to the salary he's being paid in Edmonton. With a higher cap hit, he's perhaps eating away at the Oilers potential flexibility, especially if Fayne sits for any length of time in the press box as an extra on the Oilers blue line. I'm not sure I completely agree.
The Oilers are not in any real cap crunch. While their defensive core is dramatically improved over last season, the Oilers don't have a prime-time, elite level blueliner that comes with a $7 million dollar contract. Instead, they employ a variety of $3 – $5 million dollar players who will be stopping the opposition by committee. Their highest salary defenseman is Andrej Sekera who makes $5.5 million per season.
Granted, Fayne's $3.625 million dollar deal is more costly than signing Gryba would be. At best, Gryba receives a $1 million dollar deal over one year. If the Oilers were to sign another large-ticket contract, this would be a concern. It doesn't look like that's a play for Edmonton — as such, Fayne's contract isn't actually hurting the Oilers.
Fayne's vs. Gryba's Contribution
In his piece, Sander does a good job of describing a player in Fayne who does best when used to maximize his strengths in a more limited role. Sander says:
"He's never been a highly skilled offensive guy; his skating is starting to slow, and his overall game is starting to regress. What complicates the matter is that Edmonton has several prospects coming down the pipe that will not only push for NHL minutes, but they're prospects the organization wants to see take the next step by becoming regulars in the Oilers lineup."
If I didn't know that Sander was talking about Mark Fayne here, I'd think this was a player bio of Gryba's chances, or lack thereof, to make the Oilers. Gryba offers almost no offense whatsoever, is a slower player and is being passed on the depth chart by prospects like Matthew Benning and Jordan Oesterle.
The only thing that works here in Gryba's favor, is that he's a right-handed defenseman on a team that lacks right-handed defensemen. Peter Chiarelli was quite vocal in his desire to add that lefty-righty dynamic when he traded for Adam Larsson, but after signing Russell seems to have calmed to the idea, choosing to try Russell on the right side of the blue line group.
OILERS PROJECTED 2016-17 BLUELINE

Oscar Klefbom

Adam Larsson

Andrej Sekera

Kris Russell

Mark Fayne

Brandon Davidson

Darnell Nurse

Matthew Benning
Gryba's Biggest Hurdle
What Fayne has going for him that Gryba does not, is Fayne's guaranteed NHL contract. Gryba wasn't thought of in high-enough regard this summer to be given an extension when his contract with Edmonton expired to end last season. He wasn't even brought in on his PTO until 29 other teams had a chance to offer him a contract and it didn't happen. He could have accepted a different PTO, but he chose the Oilers based on his familiarity with the team.
Notes: Former Oiler Eric Gryba has two other NHL teams interested in him https://t.co/7RZP7SPYDs

— Beer League Heroes (@BeerLeagueHeroe) October 11, 2016
Prior to Russell's signing, Gryba's plan was probably a good one. It still might be. The issue is, for the first time in a long time, the Oilers have too manyNHL-caliber defensmen. Despite his salary, Mark Fayne is one of them.