During the upcoming season, one of the players that will help to offset the loss of Adam Larsson on the New Jersey Devils blue line will be Ben Lovejoy, whom the team signed to a three-year contract on July 1 from the Stanley Cup champion Pittsburgh Penguins. He brings a wealth of experience to the team (334 regular season games, 58 playoff games) after spending the past six seasons with the Pens and Anaheim Ducks. Last season the Devils had one defenseman over the age of 30 — Andy Greene (33-years-old) — but this year, it appears there will be three to start the year with Lovejoy (32) and Kyle Quincey (31).
Lovejoy plays a responsible game, and his career-high is 18 points (twice), so he wasn't brought in to be Brian Rafalski or anything, but his presence should allow players like Greene and John Moore to take a few more chances offensively if they are paired with the veteran defenseman from Concord, New Hampshire. Undrafted after four seasons with Dartmouth, Lovejoy latched on with Pittsburgh in 2008 and knows both New Jersey general manager Ray Shero, as well as head coach John Hynes from when they were all a part of the Penguins organization. So the decision for Reverend Lovejoy to sign a deal with the Devils was an easy one when it was apparent he wouldn't be back with the defending champs.
Following the Devils preseason game with the New York Islanders, The Hockey Writers sat down with Ben Lovejoy to find out what he did on his day with the Stanley Cup, if he thinks New Jersey is ready for the regular season and if he is a big fan of The Simpsons tv show, among other topics.
One-On-One With Lovejoy
The Hockey Writers: Camp is just about over and the season starts in one week, how do you feel like this group is coming together?
Ben Lovejoy: I think we've done a lot of good things during this training camp, and we're a difficult team to play against when we are playing our best. I think we are playing an attacking style and we need to continue to hone that, but we're getting better and better every day.
Did @RevLovejoy6 succeed in looking tough at his first #NJDevils Media Day? pic.twitter.com/LsyUUpu9rK

— New Jersey Devils (@NJDevils) September 22, 2016
THW: How are you adjusting to the new team, city, teammates and surroundings thus far?
BL: I got here on Labor Day (weekend), I'm all settled in (as far as) the home situation. I feel good about my game right now. I think I'm fitting in well; it's a reasonably similar system then I'm used to playing in, so there are little tweaks here and there which I'm still learning. Hopefully, I can be an asset to this team.
THW: Aside from the obvious Pittsburgh connections here in Mr. Shero and coach Hynes, is there anybody else here that you knew before signing with New Jersey?
BL: I played with Kyle Palmieri and Devante Smith-Pelly in Anaheim, we were teammates there for two and a half years. Everybody that I have met here has been ultra welcoming and very helpful in making me feel at home.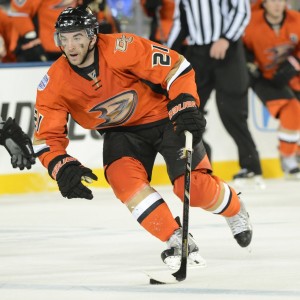 THW: Are those guys that you call or get in contact with when you are making the decision to sign here?
BL: I called Kyle and ran things by him. Obviously, this is the place where he, not only had a successful year here last season but grew up here; he knows the area pretty well. When we were playing in Anaheim together he would come through this Atlantic road trip and just light it up (smiles). I tried to get the nickname — the Mid-Atlantic Assassin — going, but it never stuck with the boys. I might have to try that again now that I'm teammates here with him in New Jersey. I called him and texted him, and he was really my sounding board and obviously was incredibly supportive. With the management, coaching staff (here), those are guys that I was comfortable with so — hockey's hockey and this has been a great place so far.
THW: Is it a tough, or better yet, a weird situation leaving a team less than a month after you've just won the Stanley Cup with them?
BL: I've been very lucky that everywhere I've gone to play hockey has become home; become my family. The first time I was in Pittsburgh, my stint in Anaheim…I've always been sad to leave. I do my best to make the community my home and we have fallen in love with people all over where we've lived. We've been incredibly lucky and we know that will happen here too.
@RevLovejoy6 Welcome to New Jersey Ben, I took the liberty of updating your profile Pic.#LetsGoDevils pic.twitter.com/PM2ckv2kKu

— MadDogDevil (@MadDogDevil) July 1, 2016
THW: A lot of reporters we know had great things to say about you and you also seem to embrace the evolution of the times with social media — for instance, your Twitter account which uses your shared name with a character from The Simpsons. Can you explain a bit the type of guy you are for all the new fans of yours in New Jersey?
BL: I've sort of abandoned the Twitter account; (smiles) I have better things to do now. But everybody, when I first arrived here, asked me what they called me (as far as a nickname) and I was sort of dumbfounded and said, 'Oh I don't know.' And then Palmieri came back from the World Cup and started calling me Rev again — and I said, 'Oh yeah that's what people call me!' I was a Simpsons fan growing up, but I probably haven't watched the show in 10 or 15 years. It was easy…once I became a pro hockey player that sort of became my nickname and I don't mind it. Every once in a while I'll get a guy who will ask me if I'm super-religious and if that's why they call me Rev. (grinning)
Coach Gaudet, Ben Lovejoy and the Stanley Cup. pic.twitter.com/s0G4BTLNU7

— Dartmouth Men's Hockey (@Dartmouth_MIH) July 31, 2016
THW: You had your day with the Stanley Cup this summer, what did you do with it?
BL: I had it for about 29 hours, got it on a late Sunday afternoon and had a huge party at my house — about 250 people — and, was up pretty late that night. The next day I took it all around to the community I grew up in, in New Hampshire. Finished up by taking it to Dartmouth College, which is 10 minutes from where I grew up and then had a huge event at the Dartmouth College rink (Thompson Arena). It was a blast; I took pictures for four straight hours, maybe 6 to 10 pm. I think I had it for another hour after that; and the two Cup guys, who were great, we're like, 'What do you want to do now?' And I said, 'Just take it away! I'm exhausted!' (smiles) It was the best. It was so cool to take it around where I grew up and share it with so many people who helped me get to where I am and helped me win it. I'm not a huge celebrator, but to be able to thank people that way was pretty special.
Granite Stater @RevLovejoy6 brought his new friend Stanley to his alma mater, @dartmouth: https://t.co/AfBjU3g16b pic.twitter.com/XXwWjKkYBu

— New England Hockey Journal (@NEHockeyJournal) September 16, 2016
THW: When you have it do you look at the names on there? I'm sure there are names of guys who you watched or were a fan of growing up, right?
BL: We had a two-hour lunch and the two Cups guys (Howie and Matt) they showed us some of the cool, odd parts of the Cup. So yeah, you check it out. That was fun.
Dan Rice is in his 9th year of reporting for THW & has covered NJ Devils home games for 15+ years at various websites. He began his journey working for legendary broadcaster/writer Stan Fischler from 2002-04 & completed an internship at the ECHL; he also has been writing features for the NWHL (nwhl.zone) website since 2016.