Christopher Ralph is THW's prospect and draft analyst
Hockey fans look forward to Christmas; Die hard hockey fans look more forward to Boxing Day and the start of the World Junior Championships!

This is meant to be a quick guide and reference for the quickly approaching 2011 World Junior Championships U20s starting Boxing Day in Buffalo, NY.
Team Canada players were highlighted in Part 1. Part 2 quickly highlights some of the young guns who are vital to the success of the other contending nations – the favoured defending champions USA, along with Sweden and Russia (the latter two have yet to release final rosters). Probable key contributors from other countries will be featured in Part 3.
Pay attention and see if you can forecast who will emerge as the next Nino Niederreiter or Tomas Tatar.
Note: Where applicable, for much more information including NHL player comparisons and offensive and defensive potential, click on player's name for a detailed prospect profile I completed for the player in his draft year.
USA
Jack Campbell (Dallas Stars) – the spectacular netminding prospect was lights out in Saskatoon for 2010 WJCs. He is not, however, invincible as evident from his less than stellar transition this season to the OHL.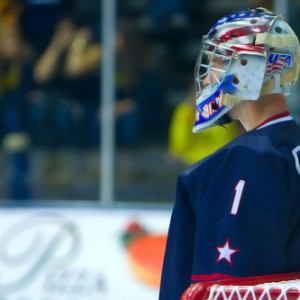 Jeremy Morin (Chicago Blackhawks) – expected to lead the offensive entourage up front. The very talented forward is NHL ready.
Chris Kreider (New York Rangers) – is an insane blend of size and skating ability. He is one of eight returnees for USA and will be counted on for goal scoring.
Emerson Etem (Anaheim Ducks) – possesses speed and finishing ability. The Californian kid may use this tournament as his true breakout performance.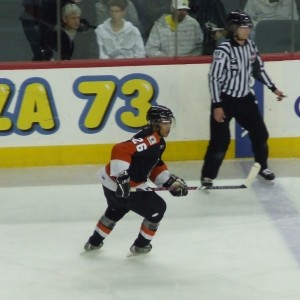 Kyle Palmieri (Anheim Ducks) – is another speedy forward with scoring upside and versatile.
Jerry D'Amigo (Toronto Maple Leafs) – had an amazing tournament last year with 6 goals and 6 assists in 7 games. He has struggled so far this season in his transition to the AHL. He has tremendous hands and hockey instincts.
Nick Bjugstad (Florida Panthers) – is yet another huge forward for USA who combines skill and size. He'll be an intriguing one to watch in Buffalo.
Drew Shore (Florida Panthers) – has scored 14 goals in 20 games for the University of Denver Pioneers. He has been loosely compared to Ryan Kesler.
Nick Leddy (Chicago Blackhawks) – "is a very poised player and an uncanny ability to make plays at high speeds. He posses very good vision and thus makes intelligent decisions on both sides of the rink, to go with his exceptional skating ability."
Jon Merrill (New Jersey Devils) – his two-way skills on the blueline were on fine display at the recent NCAA "Big Chill" historic outdoor event.
Justin Faulk (Carolina Hurricanes) – has been described as a pitbull on ice and his howitzer of a slapshot should fun to watch for.
Derek Forbort (Los Angeles Kings) – "is a 6-5, 198-pound native of Duluth, Minnesota.  He currently is a student-athlete at the University of North Dakota, where in 15 games he has nine points (all assists) and six penalty minutes.  In 2008-09 and 2009-10 he played for the U.S. National Under-17 Team, and he earned a gold medal for Team USA at 2010 World U18 Championships (plus-9 in 7 GP)."(Kings.NHL.com)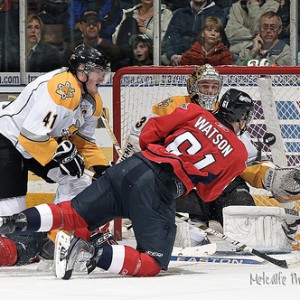 Austin Watson – notable in his absence; somewhat surprising USA did not have a place for this versatile forward.
Sweden (now that they finally have their equipment!)
Gabriel Landeskog (2011 Draft Eligible) – plays the North American game to near perfection. He went 6th in my Holiday Edition Mock Draft, but could easily challenge for a top 3 slot come next June.
Calle Jarnkrok (Detroit Red Wings) – Diminutive slick forward proving to be yet another Swedish gem for Ken Holland and the Wings.
Carl Klingberg (Atlanta Thrashers) – "possesses a fantastic physical package – great size, strength and skating ability. He seems to be more suited to the North American game with his energetic physical style of play. He could transition to be a good scorer at the NHL level, but at the very least be an effective and useful 3rd line checking forward."
Anton Lander (Edmonton Oilers) – is a smart two-way forward with very high hockey IQ.
Adam Larsson (2011 Draft Eligible) – is a smooth skating all-around blueliner and strong contender for 1st overall in 2011.
Oliver Ekman-Larsson – does not look like he'll be released by Phoenix Coyotes at this point.
Tim Erixon (Calgary Flames) – Two-way blueliner with offensive flare is one of few bright spots in Flames organization.
Robin Lehner (Ottawa Senators) – The promising young netminder was hurt in exhibition game against Canada, but should be fine for tournament opener.
Russia
Vladimir Tarasenko (St. Louis Blues) – is simply a potential offensive dynamo up front.
Evgeny Kuznetsov (Washington Capitals) – is an explosive skater with great hands who might just be the most talented Russian in this past draft.
Maxim Kitsyn (Los Angeles Kings) – the potential late round steal for the Kings showed very good during the Subway series against teams from the three CHL leagues.
Daniil Sobchenko (undrafted) – is a talented playmaking center set to anchor the #1 line.
Dmitri Orlov (Washington Capitals) – From my 2009 Draft Preview: "My THW colleague, Alessandro Seren Rosso, provided a fantastic analysis of this Russian prospect. He is first and foremost an offensive defenseman and though solid back in the own zone, but must work on his overall awareness. He's a very good skater with good first step and balance. Despite his size, he can play with an edge and is not scared of physical play. He has good offensive instincts and hockey intelligence. He moves the puck well, trying to make simple, but effective, plays. He possesses a nice point shot. He has been captain of the national team numerous times, displaying his leadership abilities."
Igor Bobkov (Anaheim Ducks) – "has played in eight games for the London Knights of the Ontario Hockey League (OHL) this season, going 1-4-0 with a 4.63 GAA and .857 SV%. Bobkov (third-round pick, 76th overall in 2009) also competed for Russia at the 2010 World Junior Championship, posting a 3-3 record in six games with a 2.45 GAA and .930 SV%, including a shutout on Dec. 28, 2009 vs. Finland." (Ducks.NHL.com)
Chris is THW's senior draft/prospect analyst and a Managing Editor. Watch for "The Next Ones" Prospect Profile series, exclusive rankings, mock drafts, as well as the annual THW NHL Entry Draft Guide. Follow @ChrisRalphYQ on Twitter as he infiltrates, dissects and analyzes all happenings of hockey prospects and the NHL entry draft. Email: cralph[at]thehockeywriters[dot]com