When reports surfaced that CSKA Moscow made a contract offer to Tampa Bay Lightning forward Nikita Kucherov, the first reaction for some was to ask would he actually return to the KHL now?
The offer was reportedly not part of "real talks" between the parties, according to Igor Eronko of Russia's Sports-Express. Kucherov is currently a restricted free agent, but there has been no indication on this side of the world he will not re-sign with the Lightning, or that he wants to leave the NHL. However, the mere mention of the KHL sparked a concern about what could be a mere possibility becoming a harsh reality.
Kucherov Wouldn't Be the First Player to Leave for KHL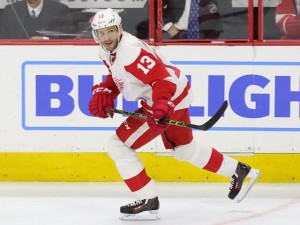 After all, earlier this summer, the hockey world watched as Detroit Red Wings forward Pavel Datsyuk forfeited the last year of his three-year, $22.5 million contract to return to Russia. Datsyuk, who was 37 when he went public with his decision to leave the team in June and who has since turned 38, joined former NHL star Ilya Kovalchuk when he signed with SKA St. Petersburg of the Kontinental Hockey League (KHL).
Kovalchuk, 33, retired from the NHL after the 2012-13 season to return home to Russia. At the time, Kovalchuk was just 30-years-old and had played 816 games in his 11-year NHL career. Kovalchuk had scored 417 goals and 399 assists and was widely considered one of the game's top goal scorers. That did not stop Kovalchuk from leaving the best league in the world to play in Russia.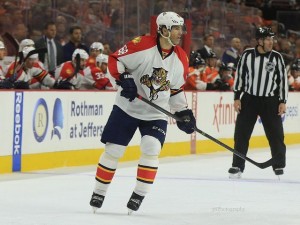 The Pipeline Between the NHL and KHL Runs Both Ways
The idea of high-profile players leaving the NHL for Russia is nothing new. Since the KHL was founded in 2008, players like Sergei Fedorov and Jaromir Jagr have left North America to play in the KHL. Jagr played three seasons in the KHL from 2008 to 2011, before returning to the NHL to continue his Hall of Fame career.
The same goes for some big names in the KHL who have decided to leave Europe to play in the NHL. Former CSKA Moscow forward Alexander Radulov returned to the league earlier this offseason after two separate stints in the KHL. Artemi Panarin was a free agent when he signed with the Chicago Blackhawks in 2015 after three years in Russia with SKA St. Petersburg.
For Some Star NHL Players That Leave, Age is a Factor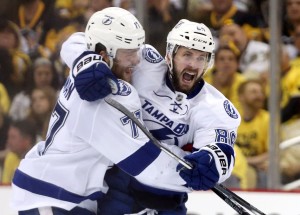 While players like Fedorov, Jagr, Kovalchuk and Datsyuk have shown fans in North America staying in the NHL is no guarantee, there has been a common theme for many players leaving for the KHL— they are old. Aside from Kovalchuk, who was 30 when he left, Fedorov, Jagr and Datsyuk were 36 or older when they made the decision to go. Other times, lesser skilled players that depart for the KHL get older or see a decline in their play or a combination of both before they do.
Kucherov, who turned 23 in June, is entering the prime of his NHL career and is playing on a Lightning team that has made three trips to the Eastern Conference Final and one to the Stanley Cup Final in the last six years.
Kucherov Has Many (Million) Reasons to Stay
In his three-year NHL career, Kucherov has played in 211 regular season games and registered 67 goals and 148 points. In the past two seasons, he has tallied 58 goals and 72 assists in 159 games. In 45 postseason games, he has been an offensive force for the Lightning, scoring 22 goals and 42 points.
Given Kucherov's age, regular season and playoff performance and the market for his services — earlier this offseason, the Nashville Predators' Filip Forsberg, who is a comparable player to Kucherov offensively, signed a six-year, $36 million deal — Kucherov is set for a major payday from the Lightning or any other NHL team who may lure him away from Tampa Bay.
It is worth noting that Kucherov grew up in Russia and played two seasons with CSKA Moscow from 2010 to 2012 before he arrived in North America with the QMJHL's Quebec Remparts. But while returning to the KHL now is an option, it almost certainly will not be the one Kucherov chooses at this point in his career.
Yzerman Is Optimistic in Re-Signing Kucherov
Shortly after Kucherov's contract offer was reported, and presumably by mere coincidence, the Tampa Bay Times' Joe Smith tweeted about a comment made by Lightning general manager Steve Yzerman, who spoke about Kucherov's contract situation:
#tblightning Yzerman said he's "hopeful" to have Nikita Kucherov (+ Nesterov) signed by time they return from World Cup. "That's the goal."

— Joe Smith (@JoeSmithTB) September 8, 2016
While CSKA Moscow's reported contract offer to Kucherov may have raised the blood pressure of some of those who read it in North America, those people should take a few deep breaths.
Kucherov and the Lightning are just months removed from being one win from a return trip to the Stanley Cup Final, a year removed from being two wins from winning a Stanley Cup and are favored by many to be right in the hunt again this year. Winning a Stanley Cup is far from certain, but Kucherov is with a competitive team and entering the prime of his career. Fedorov and Jagr were not in that situation when each chose to leave for the KHL, nor were Kovalchuk and Datsyuk when they decided to end their respective NHL careers to head home.
Kucherov being left unsigned at this point in the summer seemingly revolves around Yzerman and company making some of the team's last remaining salary cap decisions to help bring a crucial offseason to its fitting close.
While re-signing Kucherov is not a guarantee until he puts a pen to paper on a new deal, he has millions of reasons— perhaps six or seven million of them when the smoke clears— to stay right where he is.