With Wednesday's announcement that the Tampa Bay Lightning re-signed forward Vladislav Namestnikov to a two-year contract, general manager Steve Yzerman's immediate focus now turns to forward Nikita Kucherov.
Kucherov and defenseman Nikita Nesterov are the team's only restricted free agents that remain unsigned heading into the 2016-17 season. Kucherov presents the biggest challenge for Yzerman as the team has an estimated $5 million to $6 million in cap space left for next season- a figure potentially less than Kucherov's annual salary when the smoke clears on contract negotiations with the young star.
While free agent forwards J.T. Brown, Alex Killorn, Cedric Paquette and Steven Stamkos were each signed to contract extensions this offseason, contract negotiations with Kucherov have been kept largely quiet. Similar to the Stamkos contract negotiations earlier this year, do not take silence to mean a lack of progress.
Yzerman Acknowledges Continuing Contract Negotiations
"We continue to communicate with his (Kucherov's) representation and expect to have him under contract to start the season," Yzerman told the Tampa Bay Times' Joe Smith on Wednesday.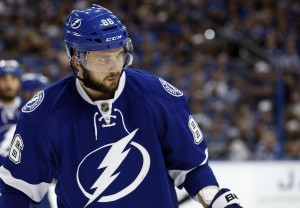 For those hoping for a quick resolution to the Kucherov contract negotiations, it could be a while. Smith reported that Yzerman would not put a timeline on it, but suggested that negotiations could last until the start of the season.
When the Lightning made a qualifying offer to Kucherov on June 27, it maintained his status as a restricted free agent- allowing the Lightning to match any offer sheet that may be presented to Kucherov by another club. While an offer sheet is not believed to be in play at this time, there is always the possibility that a team may present one.
At this point in his young career, Kucherov is a valuable player after scoring 59 goals and 131 points in 159 regular-season games over the past two seasons. This is further supported by his performance in 45 postseason games where the right winger has tallied 22 goals and 42 points. It's the sort of production that is highly coveted but comes at a steep price in today's NHL.
Determining the Value of Kucherov's Contract
Perhaps the best measuring stick of Kucherov's market value is the six-year, $36 million contract signed by Nashville Predators' forward Filip Forsberg earlier this summer. Forsberg, 21, registered career highs in goals (33) and points (64) in 82 games during the 2015-16 regular season. Forsberg and forward James Neal combined for 64 of the Predators' 224 regular-season goals- just under 29%. Forsberg, however, followed with a modest two goals and four points in 14 postseason games. In 20 career playoff games, Forsberg has registered 6 goals and 10 points- much less offense than the Predators expect from him.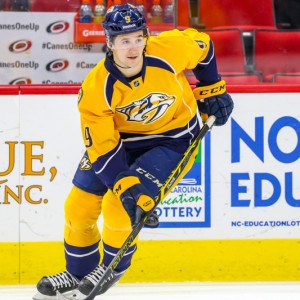 Kucherov, 23, skated in 77 games with the Lightning last season and lead the team in points (66) while finishing second in goals (30) and assists (36).When combined with Stamkos' team-leading 36 goals, the pair accounted for just a shade under 30% of the team's 224 goals (ranked 12th in the league). In the 2016 playoffs, Kucherov was a key player in the club's second straight Eastern Conference Final appearance as he tallied 11 goals and 19 points.
While Forsberg and Kucherov each play important roles offensively with their respective teams and their statistics track closely over the past two seasons, Kucherov's performance in the postseason will play an important factor in agent Scott Greenspun's negotiations with the Lightning.
Yzerman's Balancing Act Moving Forward
Yzerman intends to re-sign Kucherov and despite the team's current cap space limitations, there is nothing to indicate that a deal will not be made. "Every negotiation is different and some take longer than others. Some get done when they get done. You can't force it," Yzerman told Smith.
As it has been for Yzerman throughout this offseason, a number of variables are at play in the Kucherov contract negotiation. At front and center remains the team's need to be cap compliant at the start of the 2016-17 season. While forward Ryan Callahan's injury presents a unique situation which may allow him to be placed on long-term injury reserve to start the season, the reality is that it would be a short-term fix and a decision made to give the team an opportunity to make a potential trade to fit under the league's $73 million salary cap. In an ideal world for Yzerman, however, Callahan is healthy to start the season and the team is cap compliant, which likely will not happen unless Yzerman makes a trade sometime this summer.
While no one knows for certain how and when the contract negotiations between the Lightning and Kucherov will end, Yzerman has a lot to consider before they get there.