The Nashville Predators, once again, were able to make the playoffs after a hard-fought season in the Central Division — arguably the NHL's most formidable division with teams like the Chicago Blackhawks and St. Louis Blues. The team finished with 96 points and were able to clinch a wildcard spot, making the postseason for a second consecutive season under coach Peter Laviolette since he joined the team in May of 2014.
Come playoff time, the Predators surprised many with their speed and ability to transition from defense to offense, being known as a slower crash-and-bang defensive minded team for so many years. They would defeat the Anaheim Ducks in Game Seven of the Western Conference Quarterfinals, but eventually lose in seven games in the next round to the San Jose Sharks, who would go on to make the Stanley Cup Final.
Preds' general manager David Poile admitted after last season's playoff exit that the team was still "a player or two away" from being a complete Cup contender. Since then he's lost some players and added others, including trading captain Shea Weber to the Montreal Canadiens for flashy blueliner P.K. Subban, shocking the hockey world back in June.
Nashville is coming off of their best playoff run in franchise history and will look to improve on that success next year. A little extra forward depth would improve their scoring, as management acknowledged, so maybe we see GM Poile make a couple additions to the team before the season starts, or at some point during the year. A strong finish to last season should result in a fast start for the Preds this year, as the team is well aware that every game and every point counts in the central division.
Nashville Predators 2015-16 Record: 41-27-14 (4th in the division)
Offseason Moves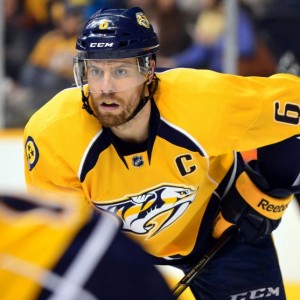 Key Roster Additions:
P.K. Subban
Matt Carle
Yannick Weber
Matt Irwin
Dante Fabbro
Key Roster Losses:
Shea Weber
Carter Hutton
Barret Jackman
Eric Nystrom
Paul Gaustad
Forwards:
Projected Lines:
Forsberg-Johansen-Smith
Wilson-Fisher-Neal
Jarnkrok-Ribeiro-Arvidsson
Watson-Sissons-Salomaki
Ryan Johansen
After being acquired from the Columbus Blue Jackets midway through the 2015-16 season, Johansen had no issue fitting into Nashville's lineup as their top line centre, piling up 34 points in his first 42 games as a Pred. He carried that success into the playoffs where he had eight points in 14 games before Nashville was eventually bounced by San Jose.
Johansen will get his first full season in Nashville and hopes to establish himself as not only a franchise player for the Preds, but a franchise player recognized by teams league-wide. He has the skill, and he has a pretty solid top-six support cast with him on Nashville's front-end. He finished with 60 points in 80 games last season between the Blue Jackets and Predators, leaving us to believe a 70-80 point season could be on the horizon.
Colin Wilson
Colin Wilson seemed to have found his groove in Nashville during the 2014-15 season, where he took great strides in his development posting 20 goals and 42 points in 77 games. Last season, however, he regressed with his production, scoring just six goals and 24 points in 64 games.
Though he had a lackluster regular season, Wilson was once again a playoff force for the Preds as he'd go on to record five goals and 13 points in Nashville's 14 playoff games. It was the second consecutive postseason in which Wilson led the Predators in goals, just about single-handedly leading the team to a game seven series with the Sharks before the team was eliminated.
Craig Smith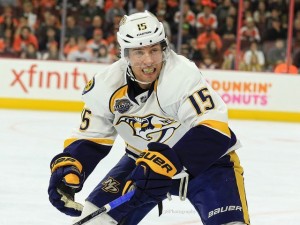 Craig Smith may be the most interesting of Nashville forwards to keep an eye on this season. He's now scored 20 or more goals in three consecutive seasons, but his point totals have diminished steadily over that time. He went from 52 points in 2013-14 to recording 44 points in 2014-15 and finishing this past 2015-16 season with just 37 points to his name.
The Preds can't afford to have Smith undergo another season which sees his point total drop, especially now that the team has switched to icing a younger roster and will be looking at Smith to provide some leadership and scoring amongst the forwards. If everything goes right in Nashville and Smith can buy into Laviolette's system a little better, the Madison, Wisconsin native should be able to re-establish himself and return to 50-point form. He has the skill to do it.
Defense:
Projected Pairings:
Subban-Josi
Ellis-Ekholm
Bitetto-Weber
P.K. Subban
Subban had a relatively strong season for the Montreal Canadiens last year on a Montreal team that seemed to struggle without all-star goaltender Carey Price. He recorded six goals, 51 points, and was a +4 over 68 games, averaging 26:22 minutes of ice time each night. He also had a Corsi-for percentage (CF%) of 52.8%, meaning Nashville can expect to have more possession of the puck and driving the offense more times than not with Subban on the ice.
Subban is a flashy young defenseman that will bring speed and skill to the Predators' blueline, not to mention a hard and accurate shot from the point. It won't be quite as hard as Shea Weber's boomer, but Subban knows how to put the puck in the net given the opportunity. Should he be paired with Roman Josi on the Predators' top pairing, as expected, Subban could potentially reach the 60-70 point range.
Roman Josi
Roman Josi has been known as a top pairing defenseman for a couple seasons now, but last season he established himself among the NHL's elite with 61 points while averaging 25:29 minutes a night against opposing teams' top players. Josi will continue to be a key component to the Predators' success as he takes on more of a leadership role with the departure of Weber. A repeat 60-point season doesn't seem out of reach, especially with the addition of Subban and a full season with Johansen in the mix.
Mattias Ekholm
Mattias Ekholm had his breakout season last year reaching a career-high 35 points and averaging 20:15 minutes of playing time on the second defensive pairing with Ryan Ellis. Ekholm has become a reliable defender for the Preds, posting a +14 last year and receiving 51.8% of his starts in the Preds' defensive zone. Ekholm will continue to be a big part of the Nashville defense after signing a deal that will keep him with the team until 2022.
Goaltending:
Pekka Rinne enters another season as Nashville's starting netminder. Rinne has shown flashes of excellence throughout his career, establishing himself as a number one netminder in the league, but he's also been inconsistent. It seems as if for every strong season Rinne has, a poor season follows up for the Finnish keeper. Rinne will look to break this trend starting this year, following up on a strong 2015-16 performance.

Marek Mazanec will finally get his chance to be a full-time backup in Nashville after waiting in Carter Hutton's shadow the last few years. Now that Hutton is a member of the St. Louis Blues, Mazanec will look to prove his worth in Nashville and backstop the Preds to a few wins when Rinne is given the night off.
Breakout Player: Calle Jarnkrok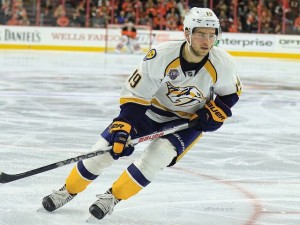 Calle Jarnkrok was locked up to a six-year contract extension this summer at a bargain price of $12 million. Jarnkrok had career-highs of 16 goals and 30 points last season, but he will be pushing to reach the 20-goal mark this year and become a strong bottom-six forward for the Preds until his time for more duty comes. This year will be the year he works to earn more of those playing minutes.
Player with Most to Prove: P.K. Subban
I don't think I have to exaggerate the attention that will follow P.K. Subban this season. Replacing fan-favourite and longtime captain Shea Weber, Subban has some big shoes to fill on the Nashville blueline.
Subban was beloved in Montreal due to his style of play, competitiveness, and involvement in the community. It remains to be seen how much Subban gets involved in Nashville, but due to his caring nature he should get right back to his ways and show the community some love.
The Preds own a younger, quicker defense with Subban in the mix and it'll be interesting to see what this does for their style of play. They acquired an elite defenseman that is ready to be in Smashville the next six seasons, we'll see how early he can make his mark come October.
First Players in the 'Call-Up' Line: Fiala, Granberg and Saros
Kevin Fiala remains Nashville's top forward prospect and could get some games in with the big club this season. He recorded his first NHL goal last season in five games, but he's looking to become a permanent member of the club as soon as possible. He'll try to impress in training camp, but more time in Milwaukee (AHL) seems more likely.
Petter Granberg played in 27 games with the Preds last season showing his defensive abilities, playing a shutdown role on the third pairing. If there any injuries on the Nashville blueline the 24-year old may be one of the first candidates to be a replacement player. He'll continue his development in Milwaukee.
Recognized as an undersized goalie in today's NHL, Juuse Saros makes up for his lack of size with speed and exceptional vision. Saros (5-foot-11, 180 pounds) went 29-8-0 with Milwaukee last season, posting a 2.24 GAA and .920 save percentage. The 21-year-old Finnish netminder hopes to one day take over the crease from his fellow Finnish keeper in Rinne, and if he keeps developing the way he is now, that day doesn't seem so far away.
Season Outlook:
The Nashville Predators come into the 2016-17 season a lot younger than last year's team, shipping out their aging captain for a young stud and letting other veterans walk in free agency to make room for young, incoming forwards.
Mike Fisher will lead the team as the newest captain in Nashville with the departure of Weber, being promoted to captain after spending the last five and a half seasons donning the Predator uniform and serving as an alternate captain for most of that time. Fisher, at 36-years old, was named the seventh captain in franchise history, and will provide veteran leadership to a young and talented Nashville team.
Before the playoffs the Preds should also look to acquire an established scoring forward to help with their offense, seeing as their defense is already as steady as they come. Rinne's play will also have a big influence on the Predators' success. Nashville needs that one additional player to get over the playoff hump in order to be bona fide Cup contenders, and I think Poile will address this need before the next playoff run.
With a new-look roster and carrying the high over from last season's playoff run, the Preds are looking to make some noise in the Western Conference and put Smashville on the map for years to come. I think it may be safe to say their future's never looked as bright as it does right now, and we'll be hearing the Predators' faithful singing in the streets of Music City before we know it.
Nashville Predators 2016-17 Record Prediction: 43-26-13 (4th in the division)
Make sure to comment below with your opinions on how the 2016-17 season will play out for the Predators or head over to the THW Twitter feed or Facebook page and sound off about all our NHL coverage.
4th year Sport Management student at Brock University.