It didn't take long for the Cats to put their cap space to good use.
Two weeks after shipping Dave Bolland's contract to the Arizona Coyotes, the Florida Panthers made waves again, signing former 2011 third-overall pick Jonathan Huberdeau to a long-term contract extension.
However, while Huberdeau's new deal might have capped a busy 2016 NHL offseason, it also added the final brushstroke on a big picture that's teeming with potential.
Over the course of roughly two years, the Panthers' front office has signed six members of its youthful core to deals spanning an aggregate 37 years, beginning with pivot Nick Bjugstad's six-season re-up in the middle of the 2014-15 campaign. President of Hockey Operations Dale Tallon and General Manager Tom Rowe have pledged roughly $209 million to Bjugstad, Huberdeau, Aleksander Barkov, Reilly Smith, Vincent Trocheck and Aaron Ekblad.
Florida's confidence in the group is obvious. The team's intentions are clear.
"There's a core of players here that know – we've given you great teammates, we're going to add people as the opportunities arise," Panthers co-owner Doug Cifu said in July, "but it's up to you guys to come together as a team and win multiple Stanley Cups. That's the plan."
Given this sextet's performance, that aspiration isn't as far-fetched as it used to be.
Core Competencies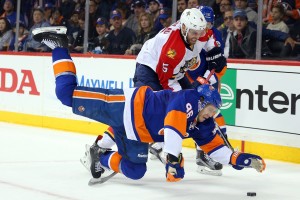 Youth doesn't always mean inexperience: This group of six has over 1,000 reasons that prove otherwise.
Dressing in a combined 1,279 NHL contests before their age-25 season, the Cats' core possesses a level of maturity that's advanced beyond its years. They've gone through playoff runs and early offseasons, through record-setting regular seasons and cellar-dwelling campaigns.
With the exception of Smith, these skaters were vital cogs to former GM Dale Tallon's "blueprint" for success and have donned a Panthers sweater for the entirety of their careers. From draft day to their first professional tilt on an NHL ice surface, this bunch has called Sunrise, Florida, home, plying their trade in what was then considered an arid hockey market.
They've come together. They've lifted this Florida team out of obscurity. And boy, have they contributed along the way.
During the 2015-16 season, two members of the oft-hyped core, centremen Trocheck and Barkov, placed top-nine league-wide in terms of scoring efficiency, as measured by CapFriendly's Cost Per Point metric. Including Ekblad, a defenseman, this six-piece set has amassed 715 points, good for a 0.56 point-per-game clip.
At first glance, those figures don't necessarily jump off the page. They do, however, become more impressive when you begin to consider their age and value to the team.
Last year, each component of the core finished in the top ten of the Panthers' scoring leaderboard. Four skaters posted 50 or more points and five put together career-best performances.
To recap: Ekblad scored 15 goals, tops among all Panthers blueliners, while Smith found twine 25 times. Huberdeau broke the 20-goal plateau for the first time in his fledgling career en route to a career-high 59 points. Trocheck set personal bests on the offensive stat sheet, as did Barkov. And to think, with an average age of 22.67 goals they're still trending upwards.
Long Term Success
For a team as championship-starved as the Panthers, the urge to win now is understandably strong.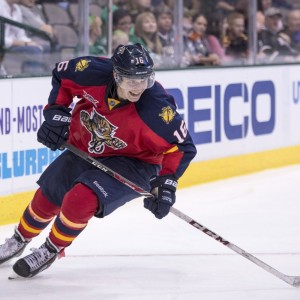 Not much has gone right for the club since the Year of the Rat, with two postseason appearances since 2000 both ending in first-round losses.
Although the Cats are primed to make the playoffs in consecutive years for the first time since 1996-97, GM Rowe placed the squad in a position to grab at its short-term aspirations and be a force for years to come.
Per Yahoo, Florida currently has about $63.8 million in salary tied into a potent 2016-17 roster, leaving approximately $9.2 million in cap space — the fifth-largest amount of wiggle room in the league — to re-tool the lineup as the postseason inches nearer.
That financial flexibility also figures into the long term plan. According to General Fanager, the Panthers have a shade under $61 million in salary cap committed to 25 skaters, with only three NHL roster spots open. Additionally, potential annual increases in the NHL salary cap would lessen the load of the core's average cap hit of $5.53 million each, ensuring the club remains competitive for seasons to come.
The last time the Stanley Cup visited the BB&T Center, it was on display for fans at the 2015 NHL Entry Draft.
The next time it's seen in Sunrise, it might be the focal point of the Panthers' on-ice celebration.
A rower-turned-writer at the University of Florida and an incoming MA in Journalism student at DePaul University, I have: Worked as a staff writer for the Independent Florida Alligator; covered the Florida Panthers for The Hockey Writers; reported on international tournaments for Hooked On Hockey Magazine; and functioned as an entertainment correspondent with the Gainesville Sun. If you're interested, you can also follow me on Twitter @ajlb95.