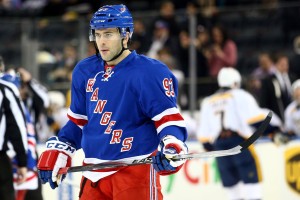 Since being acquired by the New York Rangers at the Trade Deadline, Keith Yandle has been billed as a top flight offensive defense men, who can struggle in his own end. Through his first hand full of games in New York, Yandle had that "fish out of water" look to his game, but now that he is getting used to his teammates he is starting to show just how effective he can be.
The 28 year old blue liner had his first breakout game with the Rangers when they took on the Anaheim Ducks at Madison Square Garden last week. Yandle was a presence on the back end and recorded 3 assists in the tilt.
Yandle's game has been steadily improving since the Rangers played the Blackhawks on March 18th in New York. He played 24:07 in a hard fought defensive battle between the clubs. In his first 7 games as a Ranger he has played over 20 minutes once. While in his previous 7 games he has been eclipsing 20 minutes regularly. Yes the injury to Kevin Klein plays a role in his increased ice time, but so does his sound play.
Yandle told Sean Hartnett of CBS Sports after the contest against Anaheim, "Every game, I'm getting a better feel for myself with this group. Over the last week or so, it's been feeling better and better for me." Below are some clips of Yandle at his best, they seem to illustrate him becoming confident in the system and his teammates.
Examples of Yandle Moving the Puck
Here we see Yandle get the puck at his blue line, he immediately has his head up and identifies the open man. In a blink, the puck is on Kevin Hayes's tape which allows him to walk in a create the chance, that leads to a goal.
This is a similar play, the Ducks fail to get the puck deep into the Rangers end. You can see how Yandle settles the puck and gets two defenders to commit to him, he then sticks a pass on Mats Zuccarello's stick which ends up in the back of the net.
These are the kinds of plays that separate Yandle from your every day defender. Often times we will see a defender back pedal and hesitate, because he doesn't want to turn the puck over or miss the pass and have it result in an icing. Yandle doesn't have that fear, even though he sometimes should.
Having Some Hiccups
Yandle has been solid, and we have witnessed him at his best. He does however have some games that are frustratingly bad to watch, like Sunday afternoon against the Washington Capitals. He just seemed to be off, and was turning the puck over way to much. The clip below shows how his quick transition style can really hurt him.
We see Yandle control puck similar to the way he did against Anaheim, but this time he tries to force a pass to the left wing with Capitals forward Eric Fehr in the lane. The pass is picked off and deposited.
(View the video at 16 seconds, and you can see that Rangers coach Alain Vigneault doesn't appear to be thrilled with the play.)
What I Have Noticed
In his first games with the Rangers it seemed like Yandle was trying to split the defense on every play. Now he seems to be realizing that if he picks his spots he will be more effective. This doesn't mean he is completely settled into the team, it looks like he is guilty of trying to do too much at times. In games where he just plays, and doesn't try too hard, he has been superb. Just remember folks, every player has games they'd like to forget. I think that when the playoffs roll around, Yandle will show why the Rangers went out and got him.
I graduated from Brooklyn College with a B.S. in Broadcast Journalism. Shortly after, I began writing for the Full Tilt Hockey Network, where I still contribute, covering a broad range of topics across the NHL.
I have been contributing to The Hockey Writers since February of this year focusing on the New York Rangers. My articles tend to focus on analysis of players, and possible directions that the organization could go.