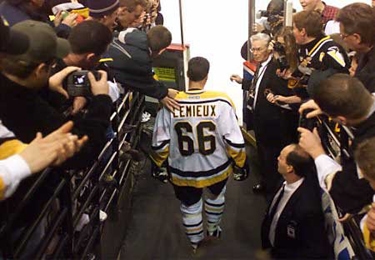 Retiring jersey numbers is a ritual in almost every sport. It is a gesture by a team or league to show appreciation to a certain player for their contributions to the club, or even the game itself.
In baseball, the New York Yankees have retired 17 numbers for greats such as Babe Ruth (#3) and Joe DiMaggio (#5). The NBA's Boston Celtics have 22 retired numbers in all, including Larry Bird's number 33 and Bill Russell's number 6. Over in the NFL, the Green Bay Packers have retired five jersey numbers.
Many times current players on other teams will dawn the number of an all-time great out of respect. In baseball many hispanic ball players have worn number 21 to honor Roberto Clemente. Many say Clemente was the hispanic Jackie Robinson. The same goes for Michael Jordan's number 23 in basketball. Lebron James was a recent example of this during his time in Cleveland.
Very seldom does a player's number get officially retired league wide. This kind of honor is reserved only for the players that have impacted the game more than anyone. Players that transcended the sport and took the game to another level all together. The best examples of this is baseball's Jackie Robinson (#42) and Wayne Gretzky's number 99.
However, Gretzky's number isn't the only one that players on every NHL team refuse to wear. Go to each team's webpage and scroll down their rosters. I assure you will not find a number 66 anywhere.
Getting your jersey number retired league-wide is a huge honor, there is no doubt about that. The Globetrotters lose more often than league-wide jersey number retirements happen.
The one thing that may be rarer than a league-wide number retirement is an unofficial league-wide jersey retirement. It may also be a bigger honor too as it is born out of pure respect and carried out at the player level.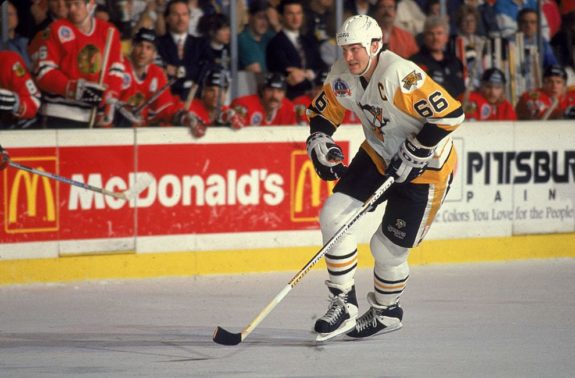 That is what has happened with Mario Lemieux's number 66. It's not a league mandate. It's not something that was decided upon in a memo. It's an unwritten rule that came about organically.
Players today grew up watching Lemieux and idolizing him. They learned to love the game by watching what he was able to do on the ice. They wanted to play like him.
Today, if a player did wear number 66, it would feel like 66 tons of weight on his back. It's a number they would have to live up to. It's a number they know they couldn't live up to.
No player has worn number 66 full-time since Vancouver's Gino Odjick in 1991. The last time a player took the NHL ice in number 66 was last season when Calgary's T.J. Brodie played a total of three games in it until he switched to number 7.
To see the level of respect Lemieux has, one only has to look at other greats of the game.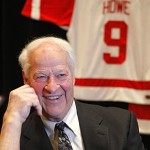 This season 14 players are wearing Gordie Howe's number 9, 20 players are wearing Bobby Orr's number 4 and 17 players are wearing Patrick Roy's number 33.
This, also, is to take nothing away from Gretzky, or Howe, or Orr or whomever. If Gretzky's number wasn't retired league-wide, there is no doubt it would be treated with the same respect. For the other guys, they are no doubt loved and seen as some of hockey's greatest. Players that contributed to the game in numerous ways. It's just that Lemieux was greater.
They are hockey greats, but Lemieux and Gretzky are hockey gods. Pure and simple.
Not wearing a certain jersey number out of respect is something that seems to be unique to the NHL when compared to the other three major North American sports leagues.
Looking at the jersey numbers of the other league's all-time greatest players, nine players are currently wearing Jordan's number 23. Several NFL players wear Jerry Rice's number 80, including star wide receiver Andre Johnson. And in baseball many players since Ruth have worn number 3, some even having hall of fame careers themselves and having the number 3 retired by their own respective clubs, such as Harmon Killebrew.
Sure, the act of not wearing a certain jersey number is somewhat common on a team level in other leagues. Such is the case with the Dallas Cowboys and Pittsburgh Steelers who don't officially retire numbers, but also don't give out certain numbers either. Still, that's only on a team scale, it's not practiced at a league level.
The Boston Bruins' equipment manager is not handing out a #66 jersey anytime soon. Very seldom, if ever, is there a player of another franchise that sees that level of respect from all the other clubs in a given league.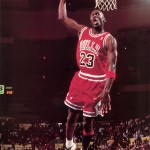 Why Lemieux? Why not Howe, or Orr, or Roy? After all Howe is 'Mr. Hockey'. Roy is considered the greatest goalie the sport of hockey has ever seen. For the answer just go to YouTube and watch Lemieux's highlights. Even though all the aforementioned players reached a level of skill and greatness that is rarely seen, Lemieux was even better. Lemieux is the only other player that can even be mentioned in the same breath as Gretzky.
Hockey is known as being a different type of sport played by a different type of athlete. Players have a deep respect for the game and its history. Rarely will you see a hockey player giving credit to himself as you see in other sports. It's team first. When a player scores he celebrates with his team. He doesn't find an open spot of ice to do a "look-at-me" dance.
In baseball, the #3 was Babe Ruth's number. In basketball, the #23 was Jordan's number. In hockey, the  number 66 is Lemieux's number. It's his, you can't have it. He earned it. To wear it would be to disrespect Mario. It would be seen as trying to replace an all-time great. It's about respect.
Hockey is different that way.