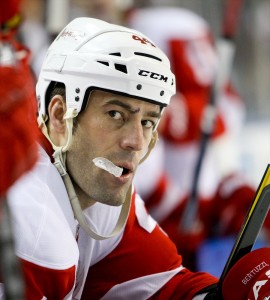 In the midst of a week that featured both good news and bad for the Detroit Red Wings roster, the flurry of activity failed to cease as the team signed forward Todd Bertuzzi to a 2 year contract extension on Thursday.
Now in his 3rd full season with Detroit (excluding 24 games played with the team in 2006-07) Bertuzzi has seen his value rise in direct proportion to the reinventing of his game. Previously a 1 dimensional offensive bruiser, Bertuzzi has embraced the 2 way game Detroit demands from their players, and done so well.
Playing on the first line alongside Pavel Datsyuk and Johan Franzen, Bertuzzi has held steady at a 45 points-per-season pace since rejoining the Wings in 2009-10. The 37-year-old forward has 12 goals and 17 assists in 54 games this season, good enough for 7th in points on the team this season.
The contract, valued at $4.15M over 2 seasons and featuring a no trade clause, shores up Bertuzzi's place on the roster through the 2013-14 season, and why wouldn't Detroit want to do just that?
More than a shootout specialist, Bertuzzi's size and puck strength have been invaluable to the top line. He's created an immeasurable number of opportunities for his team this season with his hardworking but crafty play. He understands his role on the team, and executes it perfectly.
Bertuzzi has become a locker room favorite during his time in Detroit, drawing praise from every cog in the organization. Equally important though, is the fact that Big Bert has proven to Red Wings fans like myself, that he's more than just 1 devastating incident. He's changed who he is, and how he plays the game. He was given a second chance, and he took full advantage of it.
Tonight is Todd Bertuzzi bobble head night at Joe Louis Arena. Not simply because the organization deemed it so, but because the fans chose to recognize Bertuzzi as one of their favorite players. While he'll never be seen in a favorable light with many, he's found a welcoming home in Detroit.
"I've always felt comfortable here, it's one of those locker rooms and organizations that just makes you feel at home right away."
If you're interested in learning more about Todd Bertuzzi's transformation and how far he's come, Bob Wojnowski of the Detroit News has written an excellent piece which you can find here.