Bruce LeVine is the co-host of the Dallas Stars' pregame and postgame radio shows on the Star's official radio home, Dallas' 96.7 FM / 1310 AM The Ticket. With the team off to a 4-1 start, we asked Levine 10 questions about the direction the Stars are headed and questions that still remain.
The Hockey Writers: The Stars entered the season with high expectations thanks to Jim Nill's offseason moves and the continued maturation of the team's young core. Looking at the club's first five games and their 4-1-0 record, how well do you think they've met those expectations early on?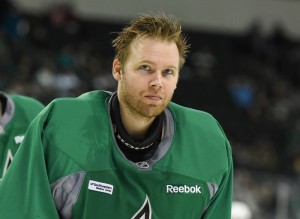 Bruce LeVine: It's way too early to make any judgments on the team so far. As Jason Spezza said before the season, "You don't judge a fast start by a game or even a few weeks."  With that in mind, we will proclaim a pattern somewhere around Thanksgiving. However, this is a fun team to watch as, on any given night, Jamie Benn, Tyler Seguin or Jason Spezza can create their own personal highlight reels. I've been very impressed with Ales Hemsky's early revival and want to see how he continues to play over the next few weeks. Mattias Janmark has been the biggest surprise of the early going from the forward position. The two biggest areas of concern going into the season have been effective so far. Kari Lehtonen has looked like the Lehtonen of old in his first three starts. Antti Niemi might have pushed Lehtonen to a new level while providing a quality other netminder who can win games. The biggest surprise for me has been the consistency of the defensive corps. At this point, I would have thought Nemeth or Oleksiak would have played a game or two. Lindy Ruff likes what he has seen from this group, and, unless someone regresses or has injury, [we can] expect the top six to remain on the ice for most games ahead. P.S. – I love what Johnny Oduya and Patrick Sharp bring every night. They make plays that don't end up on the scoresheet but mean the difference between winning and losing.
THW: There were lingering doubts about how well the Stars' "1A, 1B" goalie tandem would work coming into this year's campaign, but each goalie has had a good showing through the extremely early stages of the season, especially Lehtonen as he attempts to rebound from a down year. Do you see the two Finns being able to maintain their healthy competition and strong play between the pipes?
BL: There are some in the NHL who believe the future is a two-goalie system, and others (such as Mike Babcock) who want a main man in the pipes. Considering Dallas already has more wins from a "backup" goalie than they had in a full calendar year between March of 2014 and 2015, you can already say the Stars are ahead of the curve. Niemi and Lehtonen truly like each other and work well together in practice and off the ice. The Stars plan was to use both of them in tandem and [we can] expect to see this until at least the All-Star break, and a bit later. Eventually, you have to pick your main guy for the stretch run and playoffs. But for the moment, Dallas' goaltending situation is the best it has been since Marty Turco and Mike Smith played here.
THW: After the club's collapse in Colorado, head coach Lindy Ruff called out his best players, asking them to play at the level expected of them. It certainly seems that they've responded in the last three games, and  Spezza, Seguin, and Benn have largely driven this three-game winning streak. How crucial is it to the Stars' success for them to continue to lead the team, both on the scoresheet and with their intangibles?
BL: It's not just the Stars; for any NHL team to be successful, their best players must lead the way. If you look teams like the Rangers and Canadiens, their best players are Lundqvist and Price, [and] as they go, so go their teams. Stars are no different, but their best players are highlight-reel type guys. When they have a good game, everyone can tell, and the scoresheet will show the same. Jamie Benn is the undisputed team leader, and the locker room reflects his leadership. He does the little things to win, and the team follows his lead. He has grown into the role of captain. Seguin and Spezza also show the way, but don't overlook Oduya and Sharp, who have quietly injected some championship knowledge into the team psyche.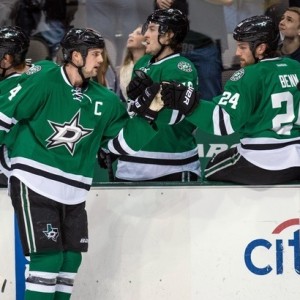 THW: Neither Jamie Oleksiak nor Patrik Nemeth have cracked the Stars' lineup through five games, largely due to the strong play of Jordie Benn and Jyrki Jokipakka on Dallas' third pairing. While competition is a good problem to have on the back end, will Nemeth and Oleksiak see negative results from not getting more game minutes under their belts?
BL: This is good problem to have if you are Stars management and a concern if you want to play defense for the Dallas Stars. It's a good problem for Ruff, since keeping the same six defensemen for each game means the current D-corps is doing their job and winning games. Jordie Benn looks confident in the role of No. 5 defenseman, and Jokipakka has [shown] he can jump into the play offensively and not sacrifice in the defensive zone. This is a sign of confidence and why the Finn won the battle for the No. 6 spot. For Nemeth and Oleksiak, it must be very difficult to sit out every night. The longer you do not play in a game, the harder it is to perform in NHL conditions [with regards to] decision making and speed of the game. Neither of those factors can be truly duplicated in practice. The other factor is mental. When Oleksiak or Nemeth do play, they cannot be worried that a mistake will land them back on the healthy scratch list. [It is] much easier to play when you know there is not a short leash.  It's a difficult situation that neither big D-man has ever faced in his young career.
THW: Val Nichushkin has had a slow start, but drew back into the lineup Saturday after the loss of both Curtis McKenzie and Patrick Eaves. What does Nichushkin need to do to find his game and begin to contribute to this high-powered offense in a meaningful way?
BL: Nichushkin has to go back to being the player he was as a rookie, and I'm not sure how long that will take. He has taken massive hits this season, checks he would have easily avoided in his first season. The game is not coming naturally to him right now. He needs to find his speed and physical side while making quicker decisions that allow him to avoid physical punishment. In reality, he is a 20-year-old who has played less than 100 career games. He is a work in progress.
THW: Which is the bigger surprise to this point — Ales Hemsky's strong showing after a season in which he underperformed, or Mattias Janmark's bursting onto the scene?
BL: Janmark was a surprise for those who have not seen him in camp or the preseason. His skating and two-way play were obvious in exhibition games, and he really forced his way onto the NHL squad. He began with a strong showing in Traverse City and continues to ride that momentum. Hemsky, however, is a bigger surprise. His struggles last season are documented, and the hope was he could get to the 50-point mark or better this year. However, as camp came to an end, there were questions about his recovery from hip surgery and [about if he] would be ready to play when the season began. He has said he still feels very sore after games and is rehabbing to get to 100 percent, but considering the physical ailments and his slow start last year, Hemsky's  overall play has been exemplary and a most pleasant surprise for the team.
THW: While one game against their own division is far too small a sample size, games within the Central were a huge problem for Dallas last season, and they got off to a less-than-ideal start thanks to their disappointing effort in Colorado. How well does this team match up with the Central as they attempt to have a better showing within their own division?
BL: In case you haven't noticed, there are NO teams in the NHL that match up well against the Central Division, top to bottom. Edmonton played three games to start the season against the Central and lost all three in different ways. St. Louis is big and physical, [and] Nashville is top-notch on defense and in net, while Dallas can skate most teams out of the building with their speed and skill. Right now, the weakest link in the division is Chicago, and they are pretty darn good (understatement). What makes Chicago so great is they play their style of hockey no matter what the situation, and they believe in their system. For Dallas to be better in Central games, they must do the same thing. Speed and puck possession are key. Make the opposition play your game, and never deviate from the plan. Dallas has enough talent to be in the same mindset as Chicago or even the great Detroit teams of a decade ago. Play your style and for the opposition to beat you at your game. There are many teams that cannot play from behind, because they then have to break out of their structure to be more aggressive in the offensive zone. Dallas can play a 200-foot game every night. Impose your will and more divisional success will result.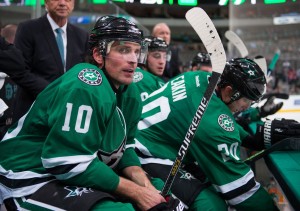 THW: Patrick Sharp is third on the team with 17 shots and has been a positive force through five games, but has yet to find the back of the net. How important is it for him to start potting pucks and helping to carry the goal-scoring load on the top line?
BL: I'm not worried about Patrick Sharp in any way, shape or form. His contributions to Benn and Seguin have been noticeable, and [he] is a game changer on most nights. He'll get his goals (20-25) and his two-way play could lift his linemates to newer heights. Watch his two-way play. Sharp knows what it takes to win and is showing it every night.
THW: Monday, Ruff told Mark Stepneski that the team has already determined a loose schedule for the two netminders that won't be affected by who has the "hot hand." How true do you believe he'll be to that statement if one goalie consistently sets himself apart as the better of the two?
BL: You don't deviate from a plan when it is working, and you surely don't deviate from a plan five games into the season. If the Stars are looking for one of the goalies to wrest away the starting job, it will be in March or late February. Jim Nill and Ruff believe in the two-goalie system with the design to have both men fresh for the most important games of the season. There will be a definite pecking order for the stretch run, but that is months away.
THW: Any other thoughts or bold predictions?
BL: Hmm … bold predictions? Here we go; Seguin to win the Rocket Richard Award for leading goal-scorer, and Jamie Benn to be a finalist for the Hart Trophy. They are both that good.  This is a fun [and] exciting team to watch, and [it] will get better as the year goes on. I truly think home-ice advantage for the first round of the playoffs is possible, and maybe a division title if defense and goaltending remain strong.