For a number of years the Pacific division was known as the toughest in hockey with the three-headed California monster. The San Jose Sharks, Los Angeles Kings and Anaheim Ducks are all still formidable opponents and now teams like the Edmonton Oilers and Calgary Flames are drastically improved as well. This division could give the Central a run for its money this year in an attempt to regain that notoriety as the best in hockey. There are a lot of up and coming players in the Pacific that could help see to it regaining that status. Here are two breakout candidates for each Pacific division squad.
Edmonton Oilers- Oscar Klefbom (D)
Going to start out with the Oilers and just say that everyone in hockey expects Connor McDavid to have at least 50 points as a rookie. We don't need any more updates on him. What we do need updates on is that terrible defensive group that allowed the worst GAA in the league last year. One of the only bright spots on that back line last year was 2011 first-round pick Oscar Klefbom. In 60 games as a rookie last year Klefbom posted 20 points (only two coming on the power play). He just signed a seven year extension, which is odd for such a young player but it shows just how much the Oilers believe in him.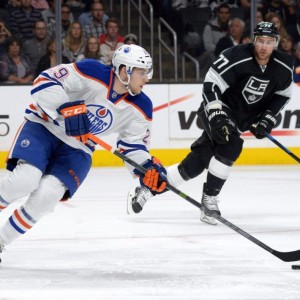 Edmonton Oilers- Leon Draisaitl (C)
The third overall pick from the 2014 NHL Entry Draft, Leon Draisaitl was sent back to junior after picking up nine points in 37 games with the Oilers last season. Draisaitl was traded in the junior ranks to the Kelowna Rockets midseason where he helped lead the Rockets to a WHL championship. This season the soon to be 20-year old could possibly give the Oilers one of the most devastating trio of centers along with McDavid and Ryan Nugent-Hopkins. Although Edmonton could also try Draisaitl on the wing.
Arizona Coyotes- Max Domi (C)
The son of long time NHL enforcer Tie Domi, Max has more skill than his father ever had. He has some of the slickest hands you will ever see. After four years with the London Knights in the OHL, the question is whether or not that skill will translate to the NHL. For being listed at just five-feet-ten by hockeydb, he is by no means slender at 194 pounds. Physically I expect Domi will do fine holding up against bigger men in the best league in the world. Just how good he can be will depend on those around him.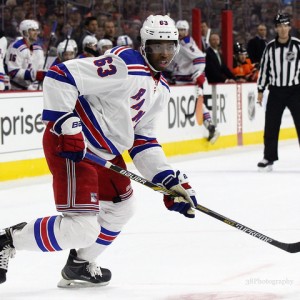 Arizona Coyotes- Anthony Duclair (LW)
For a third-round pick in 2013, Anthony Duclair was put on a big time fast track by the New York Rangers. Duclair has already made his NHL debut despite being taken 80th overall in the same draft (2013) that saw Domi drafted 12th overall and Domi has yet to make his debut. With the Rangers last season Duclair appeared in 18 games picking up seven points before being traded to the Coyotes. Arizona is expected to be the worst team in the Western Conference but they should have some exciting youngsters to watch.
Calgary Flames- Sam Bennett (C)
Sam Bennett appeared in just one regular season game for the Flames last season but he was an impact player in the playoffs. Playing in all 11 of Calgary's playoff games, the 2014 first-round pick (fourth overall) scored three goals and added an assist. This season Bennett is expected to give the Flames some of that added depth scoring they were missing last season.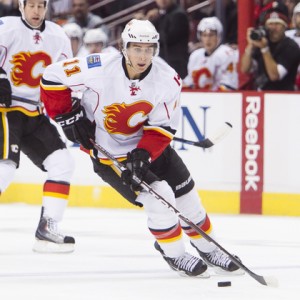 Calgary Flames- Mikael Backlund (C)
This will already be Backlund's sixth full year in the NHL and while he has never amassed more than 39 points despite being a first-round pick, he could be due for a breakout. Last season was his best points per game mark with 27 points in 52 games. A healthy season this year with a team that has gotten more talented around him and you could see Backlund break out into the 50 point range. THW's Flames guru Ryan Pike has Backlund slated to play with Bennett and free agent pickup Michael Frolik. Two talented players on his wings, Backlund could go off this year.
Vancouver Canucks- Bo Horvat (C)
The Canucks surprised everyone last season by making the playoffs but in order to repeat that feat they will need more out of young center Bo Horvat. By the end of the season last year Horvat arguably deserved more ice time as he was one of the better Canucks in the playoffs but was stuck in the bottom-six. With many teams in the division around them getting better this offseason, Vancouver needs Horvat to flourish as a star this season. Drafted ninth overall back in 2013, Horvat certainly has the skill set to become an elite player at the top level.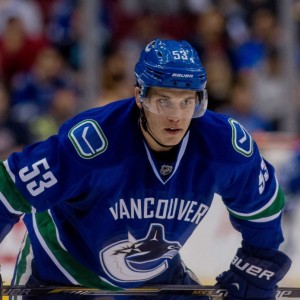 Vancouver Canucks- Jake Virtanen (C, RW)
Jake Virtanen could flop in the NHL but he would still be famous for laying that solid hit on McDavid in the Canucks-Oilers rookie game earlier this month. That said, the Canucks are hoping Virtanen becomes famous for elite NHL skills. Drafted sixth overall in 2014, Virtanen is a big-bodied right winger at six-feet-one and 207 pounds. Horvat and Virtanen could combine to be a dangerous combination in the years to come. Canucks fans are eagerly anticipating his NHL debut.
Los Angeles Kings- Tyler Toffoli (RW)
One might argue that the 2010 second-round pick had a breakout year last year with 23 goals and 49 points. However, if you ask me, Toffoli, a member of the famed "That 70s Line" has the potential to tack on 10-15 more points this season. The 23-year old is just coming into his peak years for a forward and with a healthy return of fellow That 70s member Tanner Pearson, I expect a monster year from Toffoli. And speaking of Pearson…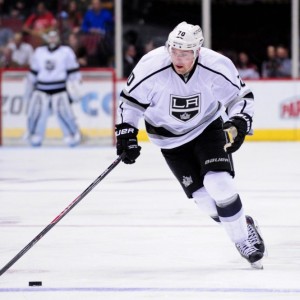 Los Angeles Kings- Tanner Pearson (LW)
While Pearson only had four assists last season in 42 games before getting hurt, he had already bagged 12 goals. Like Toffoli, Pearson is just 23-years old and entering the two-three years of prime production for the average forward. If he can stay healthy, it will be Pearson's first full year in the league, and I fully expect 25 goals and 50 plus points playing with Toffoli and Jeff Carter.
Anaheim Ducks- Jiri Sekac (LW)
The former Montreal Canadien is projected to start on the Ducks fourth line this season but there is a good chance he moves up the lineup quickly. In 69 games as a rookie last year between Anaheim and Montreal, the undrafted 22-year old (23 this season) amassed 23 points in just 69 games. Given a full training camp to get better acclimated to the Ducks' system and teammates, Sekac has big time potential to breakout. My trusted friend and colleague Felix Sicard is a big fan of Sekac's skill set, having watched him closely with both the Canadiens and Ducks. I trust his scouting skills, and expect big things out of Sekac this season.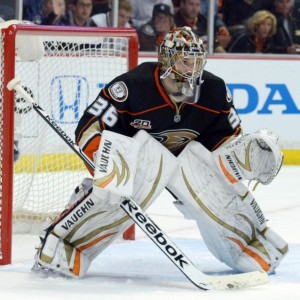 Anaheim Ducks- John Gibson (G)
John Gibson has been the crown jewel in the Anaheim goaltending system for the last couple of seasons. The 2011 second-rounder is 22-years old and had a solid season as the backup to Fredrik Andersen last season. Recently the Ducks signed Gibson to a three year extension worth $2.3 million per season. That is a rather expensive cap hit for an average backup goaltender. That is the point though, Gibson isn't average and will be given every opportunity to push for the No. 1 job this season. Andersen wasn't exactly anything special last season. Both Ducks goaltenders finished with .914 save percentages. I fully expect Bruce Boudreau to ride the hot hand this season and chances are Gibson will be that guy most of the season.
San Jose Sharks- Chris Tierney (C)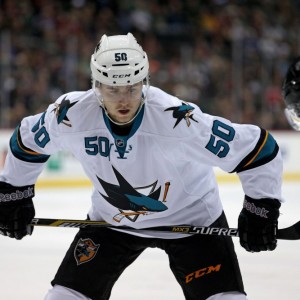 The Sharks have struggled to find adequate scoring depth on their lower lines for years. Fans around the league like to come down hard on top players Joe Thornton and Patrick Marleau for not going further in the playoffs but the truth of the matter is they haven't had the elite supporting casts of Chicago and Los Angeles. Finally last season they found a young player who could be a difference maker on the third line and that was Chris Tierney. The Ontario native finished last season with 14 points in 18 games playing essentially zero minutes with Thornton, Marleau, Logan Couture, or Joe Pavelski. He did it on his own. For the season the 2012 second-round pick finished with 21 points in 43 games. Look for him to finish between 45-55 over a full season this year.
San Jose Sharks- Martin Jones (G)
With the exception of two games out of his 34 NHL appearances (29 starts), Jones has posted an astounding .933 save percentage in two years as Jonathan Quick's backup. During a lengthy stint in the AHL, Jones posted a well above average .922 save percentage. Everything about this 25-year old points to a high likelihood of becoming a top caliber No. 1 netminder in the NHL. None of the other unproven goalies traded this offseason have the same kind of track record both in the AHL and NHL. At six-feet-four, Jones is a tall goalie, something the league is trending towards. Big goalies like Pekka Rinne, Ben Bishop and Devan Dubnyk have had a lot of success lately. Jones could be the next in line of that group to breakout. Color me shocked if Jones doesn't post a .920 or better in his first year with the Sharks.
Andrew has been credentialed to cover the Sharks since 2010 and the 49ers since 2012. He graduated with his BA in Broadcast Electronic Communication Arts in 2013 from San Francisco State University.