When the 2014-15 season began, the collective wisdom of the hockey world proclaimed that the Calgary Flames would be nestled snugly in the bottom of the standings, mired in the Connor McDavid sweepstakes. What actually transpired was a campaign where nearly everything that could go well for the Flames went well, to an almost ridiculous degree.
Sophomore center Sean Monahan quietly became one of the league's best two-way centers and scored 30 goals. Rookie Johnny Gaudreau struggled for five games, was a healthy scratch once, and then went on a tear for the rest of the season.
The club was able to rotate between Karri Ramo and Jonas Hiller to get solid goaltending every game. Several young players took big steps forward. Several older players had career years.
After all the dust had settled, the Flames made their way into the post-season for the first time since 2009 and managed to win a round (for the first time since 2004).
In addition, Jiri Hudler won the Lady Byng Trophy and Bob Hartley won the Jack Adams Award, while Johnny Gaudreau was runner-up for the Calder Trophy as top rookie. Just two years into the team's rebuild, the bar has been raised. With that being said, how are the 2015-16 Flames shaping up for the season now that expectations of success are being placed on them?
2014-15 RECORD: 45-30-7 (3rd in the Pacific Division; lost to Anaheim in conference semi-final)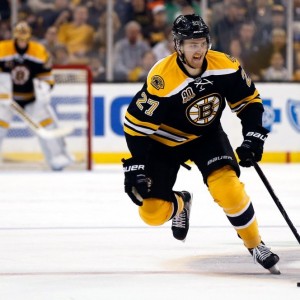 KEY ADDITIONS:
Dougie Hamilton
Michael Frolik
Sam Bennett
KEY LOSSES:
Raphael Diaz
David Schlemko
FORWARDS:
Projected lines:
Gaudreau – Monahan – Hudler
Bennett – Backlund – Frolik
Bouma – Stajan – Jones
Ferland – Jooris – Colborne
Johnny Gaudreau
Calgary's most intriguing rookie in decades entered the 2014-15 season with a lot of questions about his size. He struggled for a few games, sat for a game, and then never looked back. Aside from that two-week adjustment period, Gaudreau seemed just as at ease under the bright lights of the NHL as he did at Boston College. He was a crucial part of the Flames success, excelling in key games against Los Angeles – including notching a hat trick before Christmas to snap Calgary's eight-game losing skid. He'll be relied upon in a big way in 2015-16.
Sean Monahan
Early last season, the Flames found themselves without veteran centers Mikael Backlund and Matt Stajan, leaving Sean Monahan as the lone pivot with any significant NHL experience. The coaching staff was forced to throw him into the deep waters, facing off against some of the league's best and brightest at his position. Monahan proved up to the challenge, and that experience really helped build his confidence. While he's still making adjustments to his game and improving day by day, Monahan's one of the league's better 200-foot players and a really underrated sniper – he scored 31 goals last year as a sophomore and has notched more goals than anyone else from the 2013 Draft class.
Jiri Hudler
While he typically shies away from the spotlight, Jiri Hudler quietly enjoyed a career renaissance in 2014-15. Having found a role as a locker-room mentor for many of the team's younger players, he eventually found himself on a line with Gaudreau and Monahan, and the trio sparked much of the team's offense down the stretch. Hudler ended up finishing eighth in league scoring and captured the Lady Byng Trophy for gentlemanly conduct on the ice. His numbers may inevitably take a bit of a dip, but he'll still be relied upon as a offensive leader for his team.
Michael Frolik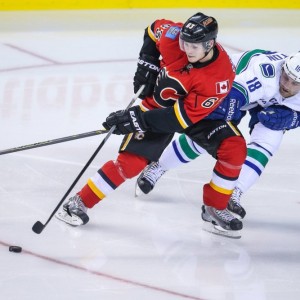 Added in free agency after a good few seasons in Winnipeg, Frolik will likely add some depth to Calgary's top nine. A veteran presence, Frolik is a reliable 40-point player but his most useful skill is his play without the puck – most notably his ability to win battles in the corners. Frolik's arrival in Calgary provides Bob Hartley with a lot of different deployment options and gives him a greater ability to shield his young players in favourable circumstances.
Mikael Backlund
A former first round pick, Backlund hasn't become the offensive contributor that the team had hoped he would, but he's become a very reliable defensive centerman. He's very strong away from the puck and gradually gaining confidence on the offensive side of things. He formed a very effective line in the post-season alongside Joe Colborne and rookie Sam Bennett.
Sam Bennett
Calgary's highest-drafted player in team history, the 2014 fourth overall pick spent the majority of last season recovering from shoulder surgery. After a short stint in the OHL, he rejoined the Flames for the playoffs and was surprisingly effective given his age and that he was probably still getting his on-ice conditioning and timing down. Considering how well he contributed to the team's wins in the post-season, he'll be given every opportunity to crack the NHL roster when the season begins.
DEFENSE:
Projected pairings:
Giordano – Brodie
Russell – Hamilton
Engelland/Smid – Wideman
Mark Giordano
Calgary's captain has had two very strong years derailed by injuries, but his play and offensive production has been enough to put him in the Norris Trophy conversation. Giordano is a very strong offensive player, but also is mobile and intelligent enough on the ice to avoid getting himself – or his teammates – into trouble. If he's close to the player he was before his bicep injury, he'll be contending for the Norris once again.
T.J. Brodie
Brodie had two seasons in 2014-15, really. His first season was spent alongside Mark Giordano as part of one of the NHL's most dominant defensive pairings. Once Giordano went down with injury, he spent the rest of the year alongside Deryk Engelland in a complementary role. He was effective in both situations, and gained a lot of experience playing on both sides of the ice. If he's reunited with Giordano, he may be even better than he was last season due to his growing confidence.
Dougie Hamilton
Acquired at the draft from the Boston Bruins – where he was paired with Zdeno Chara on the top pairing most of the season – Hamilton comes to Calgary as a reputation as an excellent young defender. He's the youngest player in the Flames blueline group, having just turned 22 over the summer. A right-handed shot, it's not yet clear who he'll be playing with, but he'll get lots of opportunities to add offense to the Flames arsenal.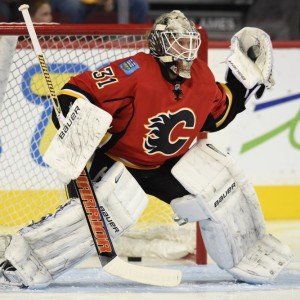 Kris Russell
Russell was named an alternate captain prior to the 2014-15 season and really emerged as one of the team's heart-and-soul players. Playing primarily alongside Dennis Wideman, Russell set the single-season NHL record for blocked shots – likely a result of playing in his own end with Wideman most of the season. Given his defensive prowess, the current thought is that he'll likely stay in the top four rotation with Giordano, Brodie and Hamilton, but there is a chance that he drops down to third pairing duties given Calgary's depth on the blueline.
GOALTENDING:
Heading into training camp, the Flames boast two pretty good goaltenders and a wild card, all of whom require waivers. Last season, the club rotated between Jonas Hiller and Karri Ramo and had success, with Bob Hartley timing it so he switched goalies when one guy went cold. Both men are back for this season, with Hiller in the second season of his contract and Ramo re-upping as a free agent in the summer. They're joined by young Joni Ortio, who's impressed in short appearances in the NHL in injury relief in each of the past two seasons. Any two of these three could begin the season in Calgary. Hiller and Ramo are known quantities in the NHL, while Ortio is still very much a question mark – albeit a very talented question mark.
BREAKOUT PLAYER:
Micheal Ferland seemed to get more and more comfortable during his regular season stints in Calgary, and everything clicked for him in the playoffs. His physicality set the tone for the Flames against Vancouver and he played a key role in the series victory. If he can be even close to that good in the regular season, the Flames will have a dangerous weapon on their bottom six.
PLAYER WITH MOST TO PROVE:
Mason Raymond came into Calgary last season amped up to play for his hometown team. Instead, he stuck out like a sore thumb; he couldn't generate offense, he wasn't effective on the forecheck, and he couldn't stay healthy. With two years left on his deal and a ton of youngsters in Stockton chomping at the bit for a shot at the NHL, he needs a good season.
SEASON OUTLOOK:
There was a lot of talk of "regression" before the NHL Draft: the Flames had an insanely high team shooting percentage in 2014-15 and the thought was that figure would crash down to Earth and the Flames would fall just shy of a playoff spot.
After all Brad Treliving's wheeling and dealing this summer, the Flames could be considered the team most prepared to take a run at the Anaheim Ducks for the Pacific Division title. The team's most glaring weaknesses were their over-reliance on their top forward line and their top defensive pairing. They fixed that and suddenly have a group that's fairly deep, with the depth being provided by young, improving players.
Even if the Flames stumble a bit, they've amassed enough young talent that they should be able to stay around the playoff picture.
Ryan Pike has covered the Calgary Flames and the NHL Draft extensively since 2010 as a Senior Writer for The Hockey Writers and Senior Contributing Editor of FlamesNation.ca. A member of the Professional Hockey Writers Association, he lives in Calgary.