There probably isn't a team that is looking forward to the start of the regular season more than the Los Angeles Kings. The Kings have had a rough couple of months and should be salivating at the mouth at the chance to write the next chapter in their history.
The Kings' wild ride started back on Apr. 7 when they were officially eliminated from playoff contention. As the final buzzer sounded for the Kings' game against the Calgary Flames, Los Angeles found themselves on the wrong side of a 3-1 score.  As the Flames celebrated at one end of the ice, celebrating both eliminating the Kings and clinching their own playoff berth, the Kings went to the locker room and became the first defending Stanley Cup champion to miss the playoffs the following season since the Hurricanes did in 2007.
As if failing to qualify for the playoffs wasn't bad enough, the Kings were subject to some of the toughest media coverage in recent history. Over the course of summer, the Kings were the subject of countless troubling headlines casting a negative light on the Kings' organization.
Jarret Stoll and Mike Richards fell into legal trouble for drug possession and Slava Voynov served jail time for his involvement in a domestic battery case with his wife. Now Stoll is a New York Ranger, Richards is in the midst of a legal battle with the Kings who terminated his contract because of his drug incident and Voynov is being held by U.S. Immigration and Customs Enforcement and in danger of being deported.
Now with the focus shifting back to hockey, the Kings can put a dreaded summer behind them and try to get back into the postseason.
2014-15 Finishes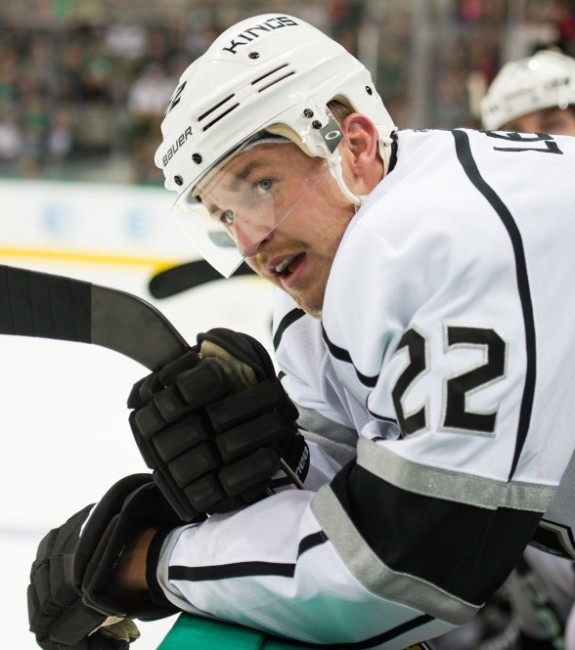 Record: 40-27-15
Division: 4th
Conference: 9th
NHL: 18th
Goals For: 2.66, 18th
Goals Against: 2.40, T 4th
Power Play: 19%, 11th
Penalty Kill: 80.9, 16th
Key  Additions
(W) Milan Lucic
(D) Christian Ehrhoff
Key Losses
(W) Justin Williams
(D) Andrej Sekera
(G) Martin Jones
(C) Jarret Stoll
Forwards
Anze Kopitar– Outside of the Kings' drama in the courtroom this summer, there has been plenty of attention on Kopitar. Kopitar is set to become a free agent at the conclusion of next season which has thrust his contract talks to the top of Kings fans' watch list. The latest reports are that Kopitar and the Kings are far apart on the dollar amount associated with the contract. Kopitar has led the Kings in scoring since the 2007-08 season, was a major piece of the Kings' two Stanley Cup runs and has developed into one of the league's best two-way players. Like always, Kopitar's play will receive plenty of attention, but Kopitar's contract negotiations will grab just as much as things drag on.
Milan Lucic– There may not be a King with more buzz around him than this new comer. With Lucic, Kings fans aren't quite sure what they are going to get and that's what has fans excited. Lucic has an edgy power forward style where he can score a goal one second and dish out a big hit the next. Likely sliding into a first line role, on the left-wing, Lucic will provide size and grit to a line that already yields Kopitar and Marian Gaborik. The change of scenery and being placed on a skill line could spring some life back into Lucic's game. Will it be enough to get him back to the level of play that saw Lucic score 30 goals in 2010-11? We'll have to wait and see.
Tanner Pearson– As I mentioned earlier there is no doubt the Kings want to get back on the ice. But there is probably no King that wants to get back on the ice more than Pearson. This is based solely on the fact that Pearson has been off the ice the longest. The winger suffered a leg injury in a game against the Winnipeg Jets on Jan. 10 and hasn't suited up for a game since. A "That 70's Line" reunion, with Pearson's speed and skill back along the left-wing will surely provide a spark for the Kings.
Jeff Carter– The Kings' sniper has still got. Carter's 28 goals and 62 points last season was good enough for first and second on the Kings roster and to still consider him an offensive threat when ever he has the puck. But at 30 years old, how much longer will that be the case for Carter? Luckily for Carter he has two up-and-coming stars on his wings which should help his numbers stay respectable as he gets older.
Kings Projected Forward Lines
| | | |
| --- | --- | --- |
| Milan Lucic | Anze Kopitar | Marian Gaborik |
| Tanner Pearson | Jeff Carter | Tyler Toffoli |
| Dwight King | Nick Shore | Dustin Brown |
| Kyle Clifford | Trevor Lewis | Jordan Weal |
Defense
Drew Doughty– Los Angeles' work horse looks set to have another heavy workload this season. Last season, Doughty averaged 28:59 of ice time a game and played more than 30 minutes in 30 games. The Kings tried to address the situation when they brought in Andrej Sekera at last season's trade deadline. That plan failed Sekera went down with an injury after just 16 games with Los Angeles and then bolted town once the free agency opened. Most recently, the Kings brought in Christian Ehrhoff, we'll get to him in a bit, but without an established minute eater like the Willie Mitchell's and Rob Scuderi's of the past, it looks like Doughty will have to continue to carry the load.
Christian Ehrhoff– Fresh off a new one-year deal worth $1.5 million with Los Angeles, Ehrhoff is coming onto a team that has needed a second pair defenseman since Voynov was suspended just six games into last season. At 33 years old and with over 700 games under his belt, Ehrhoff will bring plenty of leadership and experience to a blue line that, outside of Matt Greene, is on the young side.
Slava Voynov-  Voynov is not listed in the projected line ups below because things do not look promising for the Russian defender. Voynov's legal troubles have only gotten messier and he is now in danger of being deported. If Voynov is in fact shipped back to Russia things will stay the course in Los Angeles. However, if Voynov is able to get back onto the ice, whenever that may be, the Kings may look into getting him back into a Kings sweater which would put a wrench into the Kings defensive pairings. At the moment there are a lot of "ifs" floating around the situation, but when ever the outcome is settled it will have a major impact on which route the Kings head down.
Kings Projected Defensive Pairings
| | |
| --- | --- |
| Jake Muzzin | Drew Doughty |
| Brayden McNabb | Christian Ehrhoff |
| Alec Martinez | Matt Greene |
Goaltending
Jonathan Quick– There is no doubt who the crease belongs to in Los Angeles. Two Stanley Cup championships, one Conn Smythe Trophy, 212 wins and plenty of Kings records has established Quick as the Kings's guy. Quick has posted gaudy numbers in the past. The Kings' goalie basically carried the Kings to their first Cup in 2012 when he posted a 1.95 regular season goals against average and an even better 1.41 goals against average in the playoffs,which were all career bests. If Quick can get anywhere close to those numbers the Kings should have no problem getting back on track.
Breakout Player
Tyler Toffoli– Next season could be Toffoli's coming out party and that is saying something after a season where Toffoli set career highs in goals, assists and points with 23, 26 and 49 respectively. At 23 years old, Toffoli is still young and has plenty of room for growth. Toffoli's numbers should benefit from a full season with Pearson back along the opposite wing on the Kings's second line. I wouldn't be surprised if Toffoli breaks the 30-goal barrier and pushes 40 next season. My bold prediction for the Kings next season, is Toffoli will dethrone Kopitar and lead the team in points.
Player With Most To Prove
Dustin Brown– Is there a hotter seat in the Kings' locker room than Brown's? Boo birds and trade talks have become just as connected to his name as big hits. It's simple, Brown's production has plummeted. The Kings' captain has posted career lows the last two seasons with two 27-point campaigns. Along with Brown, his likely 3rd line role next season, his captaincy and his 54 points in two season comes a $5.875 million dollar cap hit. That's a lot of association that doesn't exactly match up. Brown needs to rebound and he needs to rebound next season, that's all there is to it.
Season Outlook
For Los Angeles next season can be summed up in five words. Get back into the playoffs.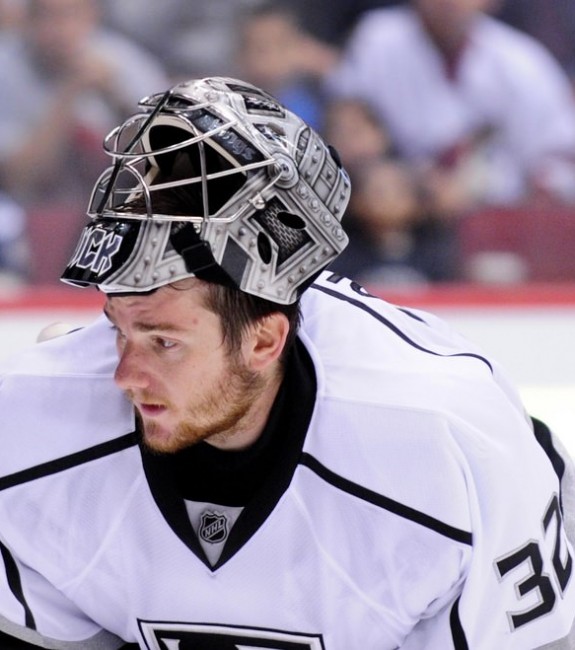 Last season was a major disappointment on various levels. Couple that with the nightmare of an offseason the Kings have had, and even with all of the club's recent success Los Angeles is at a very low point its history. There will be no better way to get rid of the foul taste than to get back into the postseason.
Thanks to a core group of players that have been together for two Stanley Cup runs, an elite goaltender and a group of young studs taking a bigger role on the ice, the Kings should be able to quickly rebound from last season's misfortune.
If the Kings stumble out of the gate next season, or struggle to compete I wouldn't be surprised if some changes are made in order shake things up a bit. Whether that change comes in the locker room or in the front office that would be up in the air until it happens.
But, much like everything surrounding the Kings right now, we'll have to wait and see how things play out.
Eric received his BA in Journalism from California State University, Northridge. Eric has contributed to RinkRoyalty.com, Buffalowdown.com and California Rubber Magazine.