Last season defenseman Seth Helgeson was one of the final cuts by the New Jersey Devils after training camp, and he was sent down to the AHL Albany Devils. Before two months (November 11) had passed he was recalled to New Jersey and made his NHL debut in place of the team's injured captain Bryce Salvador, who plays a similar style — i.e. a rugged, defensive defenseman with a mean streak. In the second period of his NHL debut the 6'4″ Helgeson registered his first NHL point when Tuomo Ruutu deflected his shot past the Minnesota Wild goaltender. "That was crazy," Helgeson said following the game with a grin. "It took me about 11 games to get an assist in Albany and it took me one game here. I was just glad it helped the team. I was just trying to do my best and keep it simple." That is one aspect of his game that will always be there, the effort. He may not be the most skilled player, nor the fastest. But he knows his role and he's getting pretty good at it.
Following day two of this season's training camp The Hockey Writers got the low-down on what the personable 24-year-old Fairbault, Minnesota native did during the summer after his second full season as a professional hockey player. "From a team standpoint — both New Jersey and Albany — I don't think we were satisfied with not making the playoffs, that was the biggest thing," he said reflecting on his season. "Personally I think I grew as a player, but I think there's (room for) more improvement. I got a taste of the NHL and coming back this year, moving forward, I want more," he added with his eyes lighting up. "It was a season that had both positives and negatives for sure."
Minnesota native Seth Helgeson scored his first point against his home state team:
Although it was Helgeson (and then a rotation of others) that replaced Salvador on the ice, the now-retired Devils captain was still around the team throughout the season and for the younger players his presence and advice was priceless. "He's a class act. A true professional. A great leader," recalled Helgeson. "He was a guy that was easy to talk to, I think as a younger guy you look up to him; on and off the ice. The way he conducted himself, the way he acted; he was always first-class. I don't have a bad thing to say about him honestly; I think he was a great captain for these New Jersey Devils."
.@NHLDevils captain @BryceSalvador is retiring today. He went through hell to get here: http://t.co/lDZXijqVK5 pic.twitter.com/CJpidZElTq

— The Players' Tribune (@PlayersTribune) September 2, 2015
Once the season ended there was a lot of activity in the organization in the front office and behind the bench that has been well documented and like all of us, Helgeson was just as shocked and attentive as we were as the dominos fell into place with Ray Shero taking over as new GM, the departure of Lou Lamoriello and the addition of John Hynes as new coach. "When everything was going on it was kind of like a whirlwind," Helgeson admitted to THW. "It was hard to keep up with what was going on with all of the changes. Obviously I wished nothing but the best of luck to Lou when he left; change is sometimes a good thing. I don't really know," he said with a shrug. "It was an interesting summer. I think it was a busy summer here obviously," he said with a chuckle. "I'm just looking forward to this season."
With all the changes in the front office, he never worried about signing a new deal with the Devils as a restricted free agent. In mid-July New Jersey signed him to a two-year contract — the deal is a two-way deal this upcoming season and one-way the following year. "I just let it happen really," Helgeson said, "in talking with my agent I expressed that I wanted to be with New Jersey. That was the biggest thing (for me); and it happened — I was grateful and glad that it did happen. I wasn't too worried about it. (If it went longer than mid-July) it would have worked out eventually. I'm glad it did."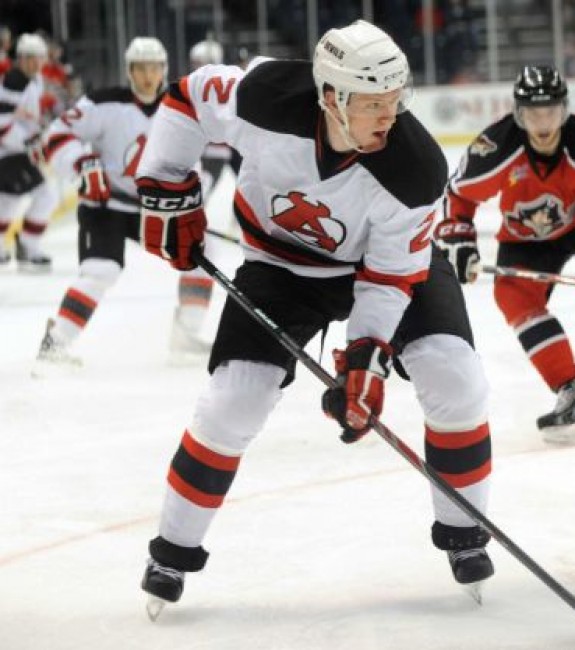 Back in the day hockey players came to training camp to get in shape; that's not the case anymore. Now players come to camp in tip-top shape, looking to gain any advantage on their competition — whether it's in-house or not. But besides working out and training when he went back home to Minnesota for the summer, Helgeson also found time to have some fun also. "I saw the (Minnesota) Twins play a couple of times this summer and I played a lot of golf. But for some reason, this summer is the first one that I didn't really go fishing much; which was kind of surprising because my dad is a very avid fisherman. It was a summer that was pretty busy. My brother plays…I guess you would call it town amateur ball," he said with a smile, "so I watched a lot of his games as well. Other than that I spent a lot of my time with friends and family, keeping things low key a lot."
As a player that finally made his NHL debut this past season after joining the Devils at the 2009 NHL Draft, Helgeson's attention is focused on anything the team does. Whether it be at the NHL Draft or a rookie tournament, he is keeping tabs on what is going on with his friends and possibly new friends. "At the rookie camp and the tournament in Buffalo I know a couple of the guys who I played with in Albany so I was keeping track of how they were doing and talking with them." They didn't just talk about movies or music though; with a new coaching staff in place and new system being implemented, he wanted some inside info. "When you know some guys going through it, you want to know how it is, you want to know what their reaction is and what their experience is. It's nice to have an idea of what some changes would be."
How far has Seth Helgeson come in less than two years? → http://t.co/6hzb3RhEXo pic.twitter.com/QdL0vasLCL

— Albany Devils (@AlbanyDevils) February 26, 2015
Now that the summer is over and camp has started it appears again that Helgeson won't be on the opening night roster with most of the top-6/7 spots on the Devils blue line spoken for (Andy Greene-Adam Larsson, Jon Merrill-Eric Gelinas, Damon Severson-John Moore, David Schlemko). More than likely he will be in a battle for that seventh spot or as the top-defenseman in Albany (aka most likely to get called up first) with Schlemko, Raman Hrabarenka and Vojtech Mozik.
But after being the last cut last year and getting that taste of the NHL for 22 games in which he had two assists, 42 hits 18 penalty minutes and 18 blocked shots; and as he said he's hungry for more this year. "Obviously my goal is to make the team, but I'm also just taking things one day at a time. You only can control what you can control. I'm just focusing on the task each day; if it's practice or a scrimmage or games, that's what I'm focusing on. I'm trying to do the best I can do and make a name for myself."
Dan Rice can be reached via Twitter: @DRdiabloTHW or via Email: drdiablo321@yahoo.com.