The National Hockey League preseason has arrived and people and fantasy hockey comes to mind.
People are setting their draft times, pouring over draft guides and rankings, asking our experts for last-minute draft tips and much more. However, there is one important thing that owners usually do before running a mock draft or anything else.
That is picking an awesome name for your fantasy hockey team. Whether it's homage to your favorite team or player or a dig at someone you despise, players come up with some hilarious names for their clubs.
THW Fantasy Hockey – The Fantasy Hockey Guide For Beginners
What's In a Name?
What does a team name say about a person? A name can be about many things such as a favorite TV show or movie, their profession or an interest of hobby outside of the game.
Most people will go the clever route and try to get a chuckle from the rest of the league. A funny team name seems to be the thing owners will go with the most, but some like to be serious. A few owners will channel the Hartford Whalers, Kansas City Scouts or other defunct teams. I've gone with the Macon Whoopee and Wheeling Nailers a few times because the names sound cool.
It's all a mater of taste.
Players and Puns
As I mentioned earlier, most will go with a team name based on a pun about someone on their team or a favorite player or team. I've used the names Don't Go Stepan On Matteau, Everyday I'm Byfuglien and Don't Toews Me, Bro.
I asked the question on social media earlier in the week and puns were the order of the day. My friends at the Left Wing Lock website got me some answers from readers like Nicola Tiberio.
@DanMountSports @Left_Wing_Lock I usually attempt a pun with a player on my team such as "Since You Benn Gone"

— Nicola Tiberio (@NicolaTiberio) September 21, 2015
THW New Jersey Devils reporter Dan Rice usually waits until after his draft to pick a name.
@DanMountSports something like Nightmare on Helm Street, Hattrick Elias, etc

— Dan Rice (@DRdiabloTHW) September 22, 2015
There are a few sites that can give you a good starter list on funny names that are full of praise or take a swipe at your hated rivals. From March of the Penguins to Blackhawks Down, team names can show how much you love or hate a team.
A team name can also show your sense of humor from family-friendly like Jimmy Fallon to more risqué. Double entendres also come into play for some that want to put a little spice into their team name.
Best of Both Worlds
Sometimes you can honor two things you like with your team name. One of the best I've seen so far is The Kessel Run, which is a play on Pittsburgh Penguins forward Phil Kessel and to the movie Star Wars. (The Kessel Run is the route that Han Solo would use when he smuggled items across the galaxy.)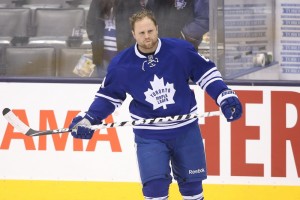 I see everything from TV shows (Malkin in the Middle, Burns Notice), movies (Natural Born Hillers, Toewsed and Confused), food (Honey Nut Chelios), music (Leddy Zeppelin) and many more.
Hockey fans are usually pretty creative and come up with these clever names on the fly.
---
THW Fantasy Hockey Coverage for Everyone
---
A Fitting Tribute
A team name can also evolve into a tribute to someone lost along the way. I got an interesting, but awesome answer from The 4th Line Podcast co-host Carl Landra. He drafted on the day of the Lokomotiv Yaroslavl crash that killed the entire Kontinental Hockey League team, and did the only thing he thought was fitting.
https://twitter.com/CarlLandra/status/645974017283747841
I thought the homage was a good one and Landra gets many points for honoring such a tragedy.
However, not all homages evolve out of a bad event. Some look to the future as Jamie Campbell is doing with his team name this season.
https://twitter.com/tehmerms/status/646041310177140737
https://twitter.com/tehmerms/status/646041175162548224
That's one heck of a present to give to your little one when he or she comes into the world. Well done, Jamie.
Lots of players do tailor their club's name to have their own or a family members name as a part of it. I do that with my fantasy football team, The Full Mounty.
Other Methods
There is a multitude of ways to come up with a team name if you're not the creative type. Some people will just leave the generic name they're assigned when they sign up their team.
You can also use any number of fantasy hockey name generator websites. Some are hit and miss, but the one at Sports Unlimited has a pretty good one if you want use.
Related – Forbes' Top 300 Fantasy Forwards
The Verdict
You may be all business or you may just be doing this for fun. However, the most important thing is to have fun and enjoy the hockey. Fantasy sports lets you appreciate players that aren't on your team. It's also a good way to enjoy the season if you're team has been eliminated from contention.
Do you have a funny name to suggest or have a way to come up with one? Let me know in the comments below.
Make sure to check out all of the great Fantasy Hockey coverage from The Hockey Writers team of experts on our Fantasy Hockey page.