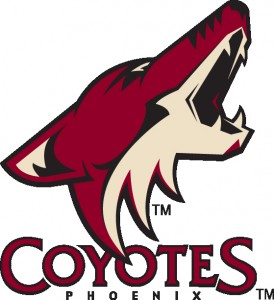 The story is the same everywhere you look. The only debate surrounding the Chicago Blackhawks series against the Phoenix Coyotes seems to be whether Jonathan Toews will be healthy or not. If Toews is healthy, then the theory is that Chicago should complete victory fairly easily, while if he isn't, then they will have a tougher time, but probably still make it through.
NHL.com's Dan Rosen picked the Blackhawks in seven, ESPN.com's Barry Melrose picked the same team in six games, and TSN.ca's Scott Cullen picked Chicago in seven. Even THW's very own Patrick White has Chicago winning this series in six games. It is understandable in many ways. Chicago finished with four more points in the regular season, were generally considered a favourite throughout the season and are loaded with a superstar line-up featuring the likes of Marian Hossa, Patrick Kane, Duncan Keith and Brent Seabrook. However, let's not forget that Phoenix have the hottest goaltender in the league right now (and goaltending is supposed to count for everything in the postseason) and they enter the playoffs on a winning role. Here's five good reasons why Phoenix will win this series:
1. Goaltending is everything
Okay, so Corey Crawford has been playing better of late and he also played pretty solidly in his first playoff appearance last spring. However, Chicago's goaltending situation has been a mess all season long. It's obvious that the team does not have confidence in the man playing behind them. The soft goals that have pre-dominated Blackhawks' games all season long will be even more costly in the postseason.
What's at the other end? A possible Vezina Trophy finalist and the hottest goaltender in the NHL. Mike Smith ranked fourth in the league with a .930 save percentage, seventh with a 2.21 GAA and fourth with 38 wins. Not only that, but he finished the season red hot. He had three shutouts in his last five games and conceded just two goals while winning all five. One school of thought on the 30-year old is that he has overachieved this season. However, those giving credit to Dave Tippett's system or expecting Smith to falter in the postseason might want to think again. Smith stopped 1,922 shots this season, third most in the NHL, he only started the ninth most.
The other school of thought on Smith's season is that he has matured and has come of age. Maybe he isn't the sort of goaltender, who is going to enjoy a long spell of sustained success in the NHL, but there's no reason to think he won't continue to perform in a situation where he is so obviously comfortable. Phoenix will win this series because Smith will continue to be a big factor.
2. Phoenix have come together
Chicago might well have the better record overall, but can a team's playoff potential be seriously judged by the way they play in October or November? Since February the Coyotes have played 31 games, they have gone 20-6-5 in those games. 31 games is a long enough stretch to enjoy bumps in form, and this team did experience that in the first part of March, but they returned to form before the end of the season.
It took this group of players some time to come together. They lost some leadership over the summer and lost a high profile player in Ilya Bryzgalov. A particularly crucial area where the Coyotes appear to have really improved from the start of the season is the blue-line (more on that next) and the forward combinations have been added to. Once again they have been written off and once again they have faced adversity. This time they have come together at the right time and are riding an excellent wave of form into the playoffs.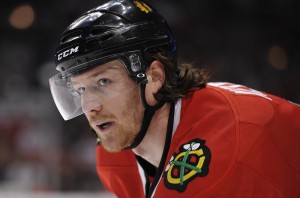 3. Blue-line advantage
It seems strange to discuss a blue-line advantage when the other side owns Brent Seabrook and Duncan Keith. However, that's exactly what the Coyotes have entering this series. Phoenix will win this series if that can be maintained. Oliver Ekman-Larsson has proven his worth as a top 10 pick this season and he really does have the complete package. It is no coincidence that when he was given more responsibility and emerged as the team's clear #1, the results started to improve for this roster. His emergence has also been crucial in strengthening the rest of this blue-line. Keith Yandle looks far more comfortable alongside Derek Morris in a pairing that has seen a reduced role. Meanwhile, Rostislav Klesla holds a third pairing together, which will play a lot against some of the team's best scorers.
The Blackhawks have a great blue-line in terms of pure talent, but it hasn't come together this year. Keith is coming back from suspension and that could help this group balance up, but there are no guarantees. Nick Leddy's play has dropped off since a very promising start to his second season. Niklas Hjmarlsson hasn't been his usual solid self and none of Sean O'Donnell, Sami Lepisto or Steve Montador have really been able to make a serious claim to the lower pairing spots. Johnny Oduya has been a nice pick up, but it Chicago's back end that has more to prove at this stage.
4. It's a good match-up
Phoenix won the season series and it isn't actually that surprising. The Coyotes are not relying on any one defensive pairing or any one line to shut down an offense and there isn't really any one line that you can target on their roster. Dave Bolland and his checkers will probably be assigned against Martin Hanzal, Ray Whitney and Radim Vrbata, but this is a team that can get goals from its other three lines and the blue-line; Tippett's game plan resolves around strong defense and timely scoring and that is hard to shut down. Chicago's style creates a lot of offense, but it also gives the other teams opportunities. Phoenix will win if they are able to take advantage of those opportunities.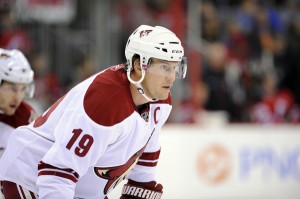 5. Home ice advantage
Home ice advantage matters. The Blackhawks are just 18-18-5 on the road. They will only have three games maximum at home against a Phoenix team that has travelled pretty well all season long. If they can keep up their own improved second half home form, then Phoenix will win this series.