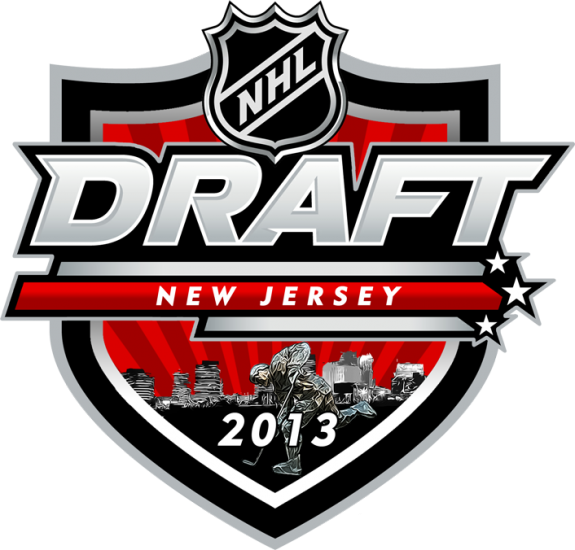 As we get closer and closer to the 2013 NHL Entry Draft, a single theme has emerged: this draft is top heavy, but who you have at number-one depends on what you want and what you value.
There's a little of everything in the 2013 draft class, except perhaps for elite game-breaking goaltenders (although you could argue that Eric Comrie is closest to fitting that bill). But if you want guys that can drive the net and create chances? Nathan MacKinnon is elite and Hunter Shinkaruk could get there with a bit more filling out. Want guys with great vision who can find opportunities before they materialize? Jonathan Drouin is elite. Want a strong game-breaking blueliner? Seth Jones is right there. Want a power-play quarter-back with an excellent shot? Josh Morrissey is there. Want some strong European size and skill? Guys that have already plied their trade against grown-ass men as teenagers? Take your pick from top-end talents like Elias Lindholm and Sasha Barkov, or if you draft later on you can cash in with Rasmus Ristolainen or Lucas Wallmark.
Beyond the first five players, though, the draft drops down a bit (but remains consistent). On draft day, it's probable that team's internal lists will vary wildly after the top five and, so, you could easily see someone ranked in the 40s on this list creep into the middle of the first round. That said, there are a lot of good players in this draft. For instance, being located in Western Canada has given me the opportunity to view Greg Chase of the Calgary Hitmen a few times. While he likely won't be a first round pick (and could slide into the third round depending on a few factors), he's a player that has a lot of upside. There are far more value picks than reclamation projects in this year's draft, which speaks to the quality of the game in the USHL, NCAA and Canadian major junior. It's a bit of a thin year for elite-level European talents, though, at least judging from the games and scouting reports that I have come across.
This list, to be blunt, is entirely who I would draft given the opportunity. Many reasons are factored in and, above all else, I value a player's ability to win a game for their team.
Other rankings can be found in many places. Of note are Chris Ralph's the Next Ones midterm rankings, Brendan Ross' midterm rankings, and the always handy Future Considerations rankings.
C Nathan MacKinnon – Halifax Mooseheads (QMJHL) [December: 1]
Excellent in most aspects of the game, particularly strong at creating time and space.
D Seth Jones – Portland Winterhawks (WHL) [December: 2]
Very smart player; it took him two games to adjust to larger international ice at World Juniors and adapt his game accordingly.
LW Jonathan Drouin – Halifax Mooseheads (QMJHL) [December: 5]
Very strong player, particularly with his vision and his ability to find holes in coverage before they emerge. Excellent at being at the right place at the right time.
LW Aleksander Barkov – Tappara (SM-Liiga) [December: 3]
As a 17-year-old, Barkov is top-ten in scoring in a league full of Finland's top adult hockey players. He's tied with NHL veteran Ville Nieminen for the league in team scoring.
C Elias Lindholm – Brynäs IF (Elitserien) [December: 4]
Another teenager in a professional men's league, Lindholm is fifth on his team in scoring and won a league championship last year. He's also been strong in the U18s and U20s. Not many in this draft have as much big-game experience.
LW Anthony Mantha – Val d'Or Foreurs (QMJHL) [December: 13]
In any other year, this offensive dynamo would be the class of the Q. This year he's in the shadow of MacKinnon and Drouin, but he's formed a dynamic offensive duo with teammate (and Penguins draft pick) Anton Zlobin.
LW Valeri Nichushkin – Traktor Chelyabinsk (KHL) [December: 22]
Nichushkin had his coming-out party at the World Juniors, using his size and speed to torment defenders. He's still adjusting to the KHL, but he's faring well as an underager.
LW Hunter Shinkaruk – Medicine Hat Tigers (WHL) [December: 6]
Although he'll need to fill out a bit to excel as a pro, Shinkaruk is your prototypical power forward with speed, grit and the sheer will to drive the net no matter how many defenders are blocking him.
C Max Domi – London Knights (OHL) [December: 9]
Son of legendary goon Tie Domi has every bit as much toughness as his old man, along with a very nifty bag of tricks in the offensive zone.
D Josh Morrissey – Prince Albert Raiders (WHL) [December: 8]
A strong positional defender with good instincts, he's even more valuable on the power-play, where his lightning-fast, super-accurate shot is a great weapon for Prince Albert.
C Nic Petan – Portland Winterhawks (WHL) [December: 16]
Sure, he's on the WHL's best team by a country mile. But Petan is fueling that success with his scoring prowess, not benefiting from it.
D Rasmus Ristolainen – TPS Turku (SM-Liiga) [December: 12]
Big, strong blueliner hasn't looked a bit out of place in Finland's top league.
C Sean Monahan – Ottawa 67s (OHL) [December: 7]
LW/C Valentin Zykov – Baie-Comeau Drakkar (QMJHL) [December: NR]
RW Adam Erne – Quebec Remparts (QMJHL) [December: 17]
C Frederik Gauthier – Rimouski Oceanic (QMJHL) [December: 23]
LW Morgan Klimchuk – Regina Pats (WHL) [December: 19]
Klimchuk does nothing poorly and everything well. He's strong without the puck and is good at reading plays and creating chances. He just needs to work on his consistency.

D Robert Hägg – MODO Jr. (J20 SuperElit) [December: 15]
C William Carrier – Cape Breton Screaming Eagles (QMJHL) [December: 10]
RW Ryan Hartman – Plymouth Whalers (OHL) [December: 36]

The big surprise for Team USA at the World Juniors, Hartman isn't afraid to throw his body around to create time and space for his teammates. Already has big-game experience under his belt thanks to success at the World Juniors.


LW Kerby Rychel – Windsor Spitfires (OHL) [December: 25]
RW/C Laurent Dauphin – Chicoutimi Saguenéens (QMJHL) [December: NR]
D Ryan Pulock – Brandon Wheat Kings (WHL) [December: 11]
D Darnell Nurse – Sault Ste. Marie Greyhounds (OHL) [December: 21]
C Curtis Lazar – Edmonton Oil Kings (WHL) [December: 27]
Excellent two-way player with some offensive up-side. Routinely plays against the WHL's best players and thrives.
LW/C JC Lipon – Kamloops Blazers (WHL) [December: 24]
Arguably the hardest player in the upper-end of the draft to place, he's a strong offensive player with speed, but is also older than most 2013 eligibles and benefits from being on a fantastic team.
LW Anthony Duclair – Quebec Remparts (QMJHL) [December: 18]
D Shea Theodore – Seattle Thunderbirds (WHL) [December: 20]
D Samuel Morin – Rimouski Oceanic (QMJHL)
A towering presence on the blueline at 6-7 and over 200 pounds, Morin moves well for a big kid and once he fills out, he may bring terror into the hearts of forwards.
RW Artturi Lehkonen – KalPa (SM-Liiga) [December: 14]
D Chris Bigras – Owen Sound Attack (OHL) [December: 38]
C Bo Horvat – London Knights (OHL) [December: 26]
RW Nick Sorensen – Quebec Remparts (QMJHL) [December: 29]
D Nikita Zadorov – London Knights (OHL) [December: 28]
C Ryan Kujawinski – Kingston Frontenacs (OHL) [December: 30]
D Madison Bowey – Kelowna Rockets (WHL) [December: 46]
RW Oliver Bjorkstrand – Portland Winterhawks (WHL) [December: 35]
C Lucas Wallmark – Karlskrona HK (HockeyAllsvenskan) [December: 33]
C Jason Dickinson – Guelph Storm (OHL) [December: 41]
G Eric Comrie – Tri-City Americans (WHL) [December: 32]
He's injured now, but prior to that Comrie was one of the best goaltenders (of any age group) in Canadian major-junior.

RW Jackson Houck – Vancouver Giants (WHL) [December: 40]
LW Andre Burakovsky – Malmö Redhawks (Elitserien) [December: 55]
D Dillon Heatherington – Swift Current Broncos (WHL) [December: NR]

G Tristan Jarry – Edmonton Oil Kings (WHL) [December: NR]
Arguably the best back-up goalie in major-junior, Jarry has put up fantastic numbers for the Oil Kings and is no longer being shielded by the coaching staff. He's ready to be a starter.

RW Juuso Ikonen – Blues (SM-Liiga) [December: 31]
D Tommy Vannelli – Minnetona HS (Minnesota HS) [December: 57]
D Ian McCoshen – Waterloo Black Hawks (USHL) [December: December: 47]
LW Riley Sheen – Seattle Thunderbirds (WHL) [December: 42]
RW Sergei Tolchinsky – Sault Ste. Marie Greyhounds (OHL) [December: 43]
C Jacob de la Rose – Leksands IF (HockeyAllsvenskan) [December: 37]
C Justin Bailey – Kitchener Rangers (OHL) [December: NR]
D Michael Downing – Dubuque Fighting Saints (USHL) [December: NR]
LW Connor Hurley – Edina HS (Minnesota HS) [December: 49]
G Zachary Fucale – Halifax Mooseheads (QMJHL) [December: 58]
C Ryan Fitzgerald – Valley Jr. Warriors (EJHL) [December: 51]
C Bogdan Yakimov – 

Reaktor Nizhnekamsk

(MHL) [December: 52]
D Eric Roy – Brandon Wheat Kings (WHL) [December: 39]
Positionally strong but gifts lie on defensive – not offensive – side of the puck.
C Greg Chase – Calgary Hitmen (WHL) [December: 45]
Strong passer and good skater, but needs to work on his consistency. When he's "on," he can take over a game.
D Brett Pesce – New Hampshire Wildcats (NCAA) [December: NR]
Everyday player on a good college team with good numbers. Good frame (6-3) but needs to fill out a bit.
LW Stephen Harper – Erie Otters (OHL) [December: 54]
Just Missing The Cut: C Zach Nastasiuk (Owen Sound Attack – OHL), D Steven Santini (US National Development Team – USHL), D Jan Košťálek (Rimouski Oceanic – QMJHL), RW Cole Ully (Kamloops Blazers – WHL)