With the beginning of NHL hockey less than a month away, many fans have begun to prepare for the 2015-16 fantasy season. Nearly as popular as the game of hockey itself, fantasy leagues are one of the great joys of the NHL returning. With numerous options to choose from including ESPN, Yahoo or CBS, just to name a few, fans can never go wrong with the platform they end up picking.
Anyone who has ever taken part in a league knows the highs and lows that you reach. You prepare incessantly for your draft, you compile your team and begin the season. Then you need to deal with injuries, cold streaks and the dreaded fear of losing your match-up.
Every team owner needs some sleeper picks that fly under the radar during the draft. These players can provide massive value, especially if you steal them in the later rounds. Here are three sleepers who can help your team for the upcoming season.
Valeri Nichushkin, Dallas Stars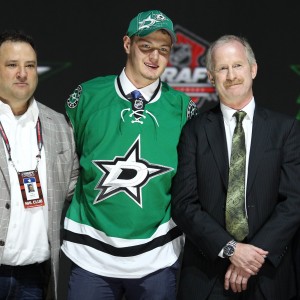 The big Russian was selected by the Stars tenth overall in the 2013 NHL Entry Draft. He went on to have a fantastic rookie season where he amassed 14 goals and 34 points. He was supposed to breakout in a big way last year, but his campaign was derailed by a hip injury that later required surgery.
He's now fully healthy and is slated to play some big minutes alongside proven scorers Jamie Benn and Tyler Seguin. With a  clean bill of health and amazing linemates, topping 50 and maybe even 60 points shouldn't be out of reach for the former first rounder. Don't wait too long to draft the talented Russian, but it's a good bet that he may have fallen off some people's radars after the injury last year.
Anders Lee, New York Islanders
After bouncing between the NHL and the AHL the last few seasons, Lee finally made his mark last year with the Isles. He scored 25 goals and added a total of 41 points in 76 games. He spends time patrolling the club's top line alongside the all world player John Tavares, which should increase his value.
The former sixth round pick in 2009 seems to have been able to put it all together. He was considered a streaky scorer early in his career but last years campaign put some of those doubts to rest. He's also incredibly fast, hard to knock off the puck and he plays a solid two-way brand of hockey. Lee should be available in the later rounds of most drafts.
Marko Dano, Chicago Blackhawks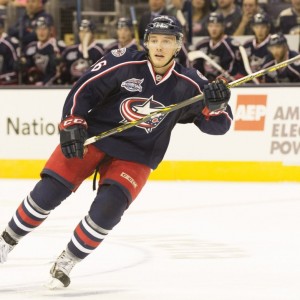 You may recall hearing Dano's name earlier this summer. He was part of the trade that sent Brandon Saad to the Columbus Blue Jackets. One of the assets the Hawks got back was the young and talented forward Dano.
Though he only played in 35 games for the Jackets last season, he was able to make an immediate and very positive impression upon the organization. He scored eight goals and dished out 13 assists for 21 points while also playing a solid defensive game. He spent time last season with veteran forward Scott Hartnell and newcomer Alex Wennberg.
In Chicago, a top six spot is available to him if he is able to earn it. That could mean time with Marian Hossa or even Jonathan Toews. He's going to be given every opportunity to land and hold that spot, and if he does, the payoff for fantasy owners will be immense. It's up to the young Slovak to cement his place with the defending Stanley Cup champions.
He has all the right tools to do so and will be looking to become an NHL regular. If he is able to do that, 40 points is a definitely within the ream of possibility. Scout him in the pre-season and draft accordingly.
My name is Anthony Fusco. Through school, I completed a joint degree involving an Honours B.A. in Journalism from Wilfrid Laurier University and a Videography and Broadcasting degree through Conestoga College.
I currently work for the University of Toronto as a Varsity Sports Announcer and for the Toronto Maple Leafs as part of their game presentation squad.
I'm also the play by play voice of the Kelowna Falcons, a baseball team located in British Columbia.
My goal is to one day be a hockey broadcaster.