Better late than never, right? With the new NHL season upon us and this year's draft a fading memory, I figured it was now or never to revisit my 2016 mock drafts and reveal the results.
I got ambitious and attempted to predict all seven rounds, all 211 picks for the first time this year. In fact, I did that twice — publishing my original mock on Jun. 13 and my updated mock on Jun. 23, the eve of the draft.
It was a massive undertaking and I put at least a hundred hours into the project from start to finish, counting all the time spent researching potential seventh-rounders who were completely foreign to me. I wanted to get as many picks right as possible and it became something of an obsession — contemplating two supposedly similar players I had never heard of before for upwards of a half hour for a sixth-round selection. Fun times.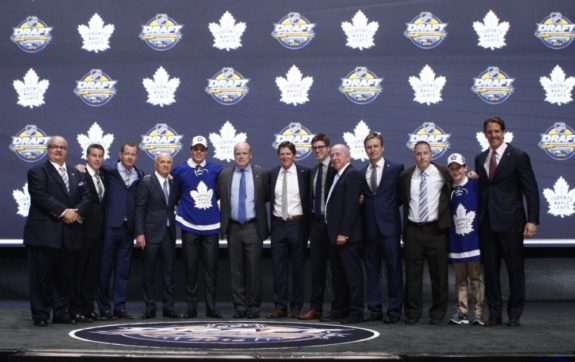 No, really, I had a ton of fun putting together these mock drafts and, time permitting, I'll do it again for the 2017 draft. That work has already begun and won't stop until June. I'd like to try the full seven rounds again, but I haven't committed to that just yet. I may go back to two or three rounds like I had done in years past.
As for this year's draft, I used the same pool of 326 prospects for both mocks, swapping out about 30 of my 211 picks for the updated version. Oddly enough, my results remained the same. For both my original mock and my updated mock, I had 58 prospects go undrafted over 211 selections. Including my 115 honourable mentions, 40 of the drafted prospects weren't on my list and some, admittedly, weren't even on my radar.
I'm still shaking my head at how some of my prospects went undrafted or fell as far as they did. Truth be told, I feel certain teams would have been better off drafting according to my mock, but that's the wannabe scout in me talking. The reality is, the actual scouts saw a lot more of everybody than I did, so it's best to trust their judgment. Time will tell whether some of my passed-over prospects become NHL players and I look forward to following their progress this season, as well as getting to know some of the drafted prospects who took me by surprise.
Nevertheless, here's a recap of how the actual draft played out and how I fared:
(2016 Mock Draft Revisited: Breaking Down Mediocre Results)
First Round
Pick
Team
Player
Original Mock
Updated Mock
1
Auston Matthews, C
2
Patrik Laine, LW
3
Pierre-Luc Dubois, C
4
Jesse Puljujarvi, LW/RW
5
Olli Juolevi, D
6
Matthew Tkachuk, LW
7
Clayton Keller, C
8
Alex Nylander, LW
9
Mikhail Sergachev, D
10
Tyson Jost, C/RW
11
(Via NJD)
Logan Brown, C
12

(Via OTT)

Michael McLeod, C
13
Jake Bean, D
14
Charlie McAvoy, D
15
Luke Kunin, RW
16

(Via DET)

Jakob Chychrun, D
17
Dante Fabbro, D
18

(Via PHI)

Logan Stanley, D
19
Kieffer Bellows, F
20

(Via ARI/NYR)

Dennis Cholowski, D
21

(Via LAK)

Julien Gauthier, RW
22

(Via WPG/CHI)

German Rubtsov, C
23
Henrik Borgstrom, C
24
Max Jones, LW
25
Riley Tufte, LW
26

(Via WSH)

Tage Thompson, C
27
Brett Howden, F
28

(Via STL)

Lucas Johansen, D
29

(Via SJS)

Trent Frederic, C
30

(Via TOR/PIT)

Sam Steel, C
Second Round
Pick
Team
Player
Original Mock
Updated Mock
31
Yegor Korshkov, RW
32
Tyler Benson, LW
33

(Via FLA/VAN)

Rasmus Asplund, C/LW
34
Andrew Peeke, D
35

(Via CAL)

Jordan Kyrou, RW/C
36

(Via WPG)

Pascal Laberge, C/RW
37

(Via ARI)

Libor Hajek, D
38

(Via BUF)

Adam Mascherin, LW
39

(Via MTL)

Alex DeBrincat, RW
40
Cam Morrison, C/LW
41
Nathan Bastian, RW/C
42
Jonathan Dahlen, C
43
Janne Kuokkanen, C/LW
44

(Via BOS)

Boris Katchouk, LW
45

(Via MTL/MIN)

Chad Krys, D
46
Givani Smith, RW/LW
47
Samuel Girard, D
48
Carter Hart, G
49

(Via NYI)

Ryan Lindgren, D
50

(Via CAR/NYR)

Artur Kayumov, LW/RW
51
Kale Clague, D
52

(Via CHI)

Wade Allison, RW
53

(Via ARI)

Filip Hronek, D
54

(Via FLA)

Tyler Parsons, G
55

(Via VAN/ANA)

Filip Gustavsson, G
56

(Via DAL)

Dillon Dube, C
57

(Via WSH)

Carl Grundstrom, LW/RW
58

Taylor Raddysh, RW
59
Evan Fitzpatrick, G
60
Dylan Gambrell, C
61
Kasper Bjorkqvist, RW/LW
Third Round
Pick
Team
Player
Original Mock
Updated Mock
62
Joseph Woll, G
63
Markus Niemelainen, D
64
William Lockwood, RW
65
Vitali Abramov, RW/LW
66
Adam Fox, D
67

(Via WPG)

Matt Filipe, LW/C
68
Cam Dineen, D
69
Cliff Pu, RW/C
70
Will Bitten, C/RW
71
Josh Anderson, D
72
(Via PIT/NJD)
J.D. Greenway, D
73

(Via OTT)

Joey Anderson, RW
74
Hudson Elynuik, C/LW
75

(Via BOS)

Jack LaFontaine, G
76

(Via BUF/MIN)

Rem Pitlick, C
77

(Via NJD/DET)

Connor Hall, D
78
Frederic Allard, D
79

(Via PHI)

Luke Green, D
80

(Via OTT/NYI)

Brandon Gignac, C
81
Sean Day, D
82

(Via LAK)

Carsen Twarynski, LW/D
83
Wouter Peeters, G
84

(Via FLA)

Matthew Cairns, D
85
Josh Mahura, D
86

(Via DAL)

Casey Fitzgerald, D
87
Garrett Pilon, C
88
Connor Ingram, G
89

(Via BUF/STL)

Linus Nassen, D
90

(Via SJS)

Fredrik Karlstrom, C
91

(Via PIT)

Filip Berglund, D
Fourth Round
Pick
Team
Player
Original Mock
Updated Mock
92
Adam Brooks, C
93

(Via EDM)

Jack Kopacka, LW
94

(Via VAN)

Jonathan Ang, C/RW
95

(Via CHI/CBJ)

Anatoli Golyshev, LW/RW
96
Linus Lindstrom, C
97
Jacob Cederholm, D
98

(Via ARI)

Tarmo Reunanen, D
99
Brett Murray, LW
100
Victor Mete, D
101

(Via COL)

Keaton Middleton, D
102
Mikhail Maltsev, LW
103
Todd Burgess, RW/C
104
Max Zimmer, LW
105

(Via BOS)

Evan Cormier, G
106
Brandon Duhaime, RW/LW
107
Alfons Malmstrom, D
108
Hardy Haman-Aktell, D
109
Connor Bunnaman, C/LW
110

(Via NYI)

Lucas Carlsson, D
111

(Via NYR)

Noah Gregor, C
112
Jacob Moverare, D
113
Nathan Noel, C
114
Riley Stillman, D
115
Alex Dostie, C
116
Rhett Gardner, C/LW
117
Damien Riat, C/RW
118
Ross Colton, C/LW
119

Tanner Kaspick, C/LW
120

(Via PHI/SJS)

Otto Koivula, LW/RW
121
Ryan Jones, D
Fifth Round
Pick
Team
Player
Original Mock
Updated Mock
122
Vladimir Bobylev, RW
123
Dylan Wells, G
124

(Via VAN)

Casey Staum, D
125

(Via CBJ)

Nolan Stevens, C
126
Mitchell Mattson, C
127
Jordy Stallard, C
128

(Via ARI)

Colton Point, G
129
Philip Nyberg, D
130

(Via MTL)

Vojtech Budik, D
131
Adam Werner, G
132
Yegor Rykov, D
133
Max Lajoie, D
134
Jeremy Helvig, G
135
Joona Koppanen, LW/C
136

(Via MIN)

Cam Clarke, D
137
Jordan Sambrook, D
138
Patrick Harper, C
139
Linus Hogberg, D
140

(Via FLA/NYI)

Cole Candella, D
141
Tim Gettinger, LW/RW
142
Mikey Eyssimont, C
143
Mathias From, LW/RW
144

(Via CHI/FLA)

Conner Bleackley, C
145

(Via TOR/ANA)

Beck Malenstyn, C
146
Nicholas Caamano, RW
147
Axel Jonsson-Fjallby, LW
148
Christopher Paquette, C
149

(Via STL)

Graham McPhee, LW
150
Manuel Wiederer, C
151
Niclas Almari, D
Sixth Round
Pick
Team
Player
Original Mock
Updated Mock
152
Jack Walker, LW
153
Aapeli Rasanen, C
154
Jakob Stukel, LW
155
Peter Thome, G
156
Eetu Tuulola, RW
157
Mikhail Berdin, G
158
Patrick Kudla, D
159
Brandon Hagel, LW
160
Michael Pezzetta, C/LW
161
Nathan Clurman, D
162
Jesper Bratt, LW/RW
163
Markus Nurmi, RW/LW
164
Noah Carroll, D
165
Oskar Steen, C/RW
166

(Via MIN)

Matthew Phillips, C/RW
167
Filip Larsson, G
168
Konstantin Volkov, G
169
Tanner Laczynski, C
170
Collin Adams, LW
171
Gabriel Fontaine, C
172

(Via LAK)

Anthony Salinitri, C
173
Blake Hillman, D
174

(Via FLA)

Tyler Wall, G
175

(Via ANA)

Maxim Mamin, LW/RW
176
Jakob Stenqvist, D
177
Chase Priskie, D
178
Oleg Sosunov, D
179

(Via STL)

Nicolas Mattinen, D
180
Mark Shoemaker, D
181
Joseph Masonius, D
Seventh Round
Pick
Team
Player
Original Mock
Updated Mock
182
Nikolai Chebykin, RW/LW
183
Vincent Desharnais, D
184
Rodrigo Abols, C
185
Calvin Thurkauf, LW
186
Stepan Falkovsky, D
187

(Via WIN)

Arvid Henrikson, D
188
Dean Stewart, D
189
Austin Osmanski, D
190

(Via MTL)

Vasily Glotov, C/LW
191
Travis Barron, LW
192
Jeremy Davies, D
193

(Via OTT)

Nick Pastujov, LW
194

(Via CAR)

Brett McKenzie, C
195

(Via BOS)

Benjamin Finkelstein, D
196
Dmitry Sokolov, C/W
197
Mattias Elfstrom, LW/C
198
Adam Smith, D
199
David Bernhardt, D
200
David Quenneville, D
201
Ty Ronning, RW
202
Jacob Friend, D
203
Jake Ryczek, D
204

(Via FLA)

Braydyn Chizen, D
205
Tyler Soy, C
206

(Via EDM/DAL)

Otto Somppi, C
207
Dmitriy Zaitsev, D
208
Ryan Lohin, C
209

Nikolaj Krag Christensen, C/LW
210
Joachim Blichfeld, RW/LW
211

(Via PIT)

Filip Helt, LW
---
Third Round
91) Edmonton Oilers (from Pittsburgh) — William Knierim (RW, Dubuque, USHL)
Fourth Round
93) Anaheim Ducks (from Edmonton) — Zach Sawchenko (G, Moose Jaw, WHL)
94) Florida Panthers (from Vancouver) — Otto Makinen (C, Tappara Jr., Finland)
97) Winnipeg Jets — Simon Stransky (LW, Prince Albert, WHL)
100) Montreal Canadiens — Igor Svyrev (C, Magnitogorsk Jr., Russia)
101) Toronto Maple Leafs (from Colorado) — Vladimir Kuznetsov (LW, Acadie-Bathurst, QMJHL)
110) New York Islanders — Alex Limoges (C, Tri-City, USHL)
112) Los Angeles Kings — Jacob Neveu (RHD, Rouyn-Noranda, QMJHL)
115) Anaheim Ducks — Daniel Kurovsky (LW, Vitkovice Jr., Czech Republic)
119) St. Louis Blues — Colton Bobyk (LHD, Red Deer, WHL)
Fifth Round
123) Edmonton Oilers — Veini Vehvilainen (G, YJP, Finland)
128) Dallas Stars (from Arizona) — Linus Weissbach (LW/RW, Frölunda Jr., Sweden)
129) Buffalo Sabres — Griffin Luce (LHD, U.S. National Development Team)
131) Colorado Avalanche — Maxime Fortier (RW, Halifax, QMJHL)
132) New Jersey Devils — Alan Lyszczarczyk (C, Sudbury, OHL)
135) Boston Bruins — Ben Gleason (LHD, Hamilton, OHL)
141) New York Rangers — Alexander Polunin (LW, Lokomotiv, KHL)
145) Washington Capitals (from Anaheim via Toronto) — Andrei Svetlakov (C, CSKA, KHL)
146) Dallas Stars — Stephen Dhillon (G, Niagara, OHL)
147) Washington Capitals — Ivan Kosorenkov (RW, Russian U18 Team)
148) Tampa Bay Lightning — Ondrej Najman (C, Dukla Jihlava Jr., Czech Republic)
149) Edmonton Oilers (from St. Louis) — Kody McDonald (RW, Prince George, WHL)
151) Pittsburgh Penguins — Mitch Eliot (RHD, Muskegon, USHL)
Sixth Round
153) Edmonton Oilers — William Pethrus (RHD, Mora Jr., Sweden)
154) Vancouver Canucks — Daniil Miromanov (RW, Acadie-Bathurst, QMJHL)
156) Calgary Flames —  Tomas Soustal (RW/C, Kelowna, WHL)
157) Winnipeg Jets — Brayden Burke (C/LW, Lethbridge, WHL)
160) Montreal Canadiens — Gabriel Sylvestre (RHD, Shawinigan, QMJHL)
161) Colorado Avalanche — Matthew Boucher (LW, Quebec, QMJHL)
163) Ottawa Senators — Pius Suter (C/LW, Zurich, Switzerland)
164) Carolina Hurricanes — Hayden Verbeek (C, Sault Ste. Marie, OHL)
166) Calgary Flames (from Minnesota) — Kristian Reichel (C, Litvinov, Czech Republic)
167) Detroit Red Wings — Daniel Marmenlind (G, Orebro Jr., Sweden)
168) Nashville Predators — Leevi Laakso (G, Sport Jr., Finland)
169) Philadelphia Flyers — Patrick Bajkov (LW/RW, Everett, WHL)
173) Chicago Blackhawks — Artur Lauta (RW, Avangard Omsk, KHL)
174) New York Rangers (from Anaheim via Florida) — Joseph Raaymakers (G, Sault Ste. Marie, OHL)
176) Dallas Stars — Reid Gardiner (RW, Prince Albert, WHL)
177) Washington Capitals — Vladislav Sukhachyov (G, Russian U18 Team)
179) Toronto Maple Leafs (from St. Louis) — Ondrej Kachyna (LHD, Hamilton, OHL)
180) San Jose Sharks — Ondrej Vala (LHD, Kamloops, WHL)
181) Pittsburgh Penguins — Jamie Armstrong (LW, Avon Old Farms, U.S. High School)
Seventh Round
184) Vancouver Canucks — Brennan Menell (RHD, Vancouver, WHL)
185) Columbus Blue Jackets — Antti Kalapudas (LW/C, Karpat/KalPa, Finland)
190) Buffalo Sabres (from Montreal) — Kenny Johnson (LHD, Shattuck St. Mary's Midget Prep)
191) Colorado Avalanche — Jake Kielly (G, Tri-City, USHL)
192) New Jersey Devils — Kyle Maksimovich (LW, Erie, OHL)
194) Vancouver Canucks (from Carolina) — Maxim Lazarev (LW/RW, Cape Breton, QMJHL)
195) Boston Bruins — Jeff De Wit (C, Red Deer, WHL)
198) Nashville Predators — Jesper Mattila (LHD, Ilves Jr., Finland)
203) Chicago Blackhawks — Evan Sarthou (G, Tri-City, WHL)
204) Minnesota Wild (from Florida) — Brinson Pasichnuk (LHD, Bonnyville, AJHL)
205) Anaheim Ducks — Keenan Suthers (LW, U.S. National Development Team)
207) Washington Capitals — Tim Wahlgren (C, Modo Jr., Sweden)
208) Tampa Bay Lightning — Justin Brazeau (RW, North Bay, OHL)
209) St. Louis Blues — Lukas Doudera (LHD, HC Trinec, Czech Republic)
210) San Jose Sharks — Dawson Davidson (LHD, Kamloops, WHL)
211) St. Louis Blues (from Pittsburgh) — Sebastian Aho (LHD, Skelleftea, Sweden)
---
Third Round
75) Carolina Hurricanes (from Boston) — Alexander Polunin (LW, Lokomotiv, KHL)
85) Buffalo Sabres (from Anaheim) — Simon Stransky (LW, Prince Albert, WHL)
91) Edmonton Oilers (from Pittsburgh) — William Knierim (RW, Dubuque, USHL)
Fourth Round
92) Toronto Maple Leafs — Vladimir Kuznetsov (LW, Acadie-Bathurst, QMJHL)
93) Anaheim Ducks (from Edmonton) — Zach Sawchenko (G, Moose Jaw, WHL)
94) Florida Panthers (from Vancouver) — Otto Makinen (C, Tappara Jr., Finland)
97) Winnipeg Jets — Brayden Burke (C/LW, Lethbridge, WHL)
101) Toronto Maple Leafs (from Colorado) — Andrei Svetlakov (C, CSKA, KHL)
108) Nashville Predators — Jacob Neveu (RHD, Rouyn-Noranda, QMJHL)
112) Los Angeles Kings — Tomas Soustal (RW/C, Kelowna, WHL)
115) Anaheim Ducks — Daniel Kurovsky (LW, Vitkovice Jr., Czech Republic)
118) Tampa Bay Lightning — Igor Svyrev (C, Magnitogorsk Jr., Russia)
119) St. Louis Blues — Colton Bobyk (LHD, Red Deer, WHL)
120) San Jose Sharks — Stephen Dhillon (G, Niagara, OHL)
Fifth Round
128) Arizona Coyotes — Linus Weissbach (LW/RW, Frölunda Jr., Sweden)
129) Buffalo Sabres — Griffin Luce (LHD, U.S. National Development Team)
131) Colorado Avalanche — Maxime Fortier (RW, Halifax, QMJHL)
132) New Jersey Devils — Alan Lyszczarczyk (C, Sudbury, OHL)
133) Ottawa Senators — Gabriel Sylvestre (RHD, Shawinigan, QMJHL)
136) Boston Bruins (from Minnesota) — Ben Gleason (LHD, Hamilton, OHL)
138) Nashville Predators — Kyle Maksimovich (LW, Erie, OHL)
146) Dallas Stars — Reid Gardiner (RW, Prince Albert, WHL)
147) Washington Capitals — Ivan Kosorenkov (RW, Russian U18 Team)
149) Edmonton Oilers (from St. Louis) — Brennan Menell (RHD, Vancouver, WHL)
Sixth Round
152) Toronto Maple Leafs — Ondrej Kachyna (LHD, Hamilton, OHL)
153) Edmonton Oilers — Veini Vehvilainen (G, YJP, Finland)
154) Vancouver Canucks — Daniil Miromanov (RW, Acadie-Bathurst, QMJHL)
158) Arizona Coyotes — Sebastian Aho (LHD, Skelleftea, Sweden)
161) Colorado Avalanche — Matthew Boucher (LW, Quebec, QMJHL)
163) Ottawa Senators — Pius Suter (C/LW, Zurich, Switzerland)
164) Carolina Hurricanes — Hayden Verbeek (C, Sault Ste. Marie, OHL)
166) Calgary Flames (from Minnesota) — Kristian Reichel (C, Litvinov, Czech Republic)
167) Detroit Red Wings — Daniel Marmenlind (G, Orebro Jr., Sweden)
168) Nashville Predators — Leevi Laakso (G, Sport Jr., Finland)
169) Philadelphia Flyers — Jeff De Wit (C, Red Deer, WHL)
175) Florida Panthers (from Anaheim) — Kevin Klima (C, Moncton, QMJHL)
176) Dallas Stars — Josh Dickinson (C, Georgetown, OJHL)
177) Washington Capitals — Egor Babenko (LW, Lethbridge, WHL)
178) Tampa Bay Lightning — Mitch Eliot (RHD, Muskegon, USHL)
179) Toronto Maple Leafs (from St. Louis) — Joseph Raaymakers (G, Sault Ste. Marie, OHL)
181) Pittsburgh Penguins — Brogan O'Brien (LW, Prince George, WHL)
Seventh Round
182) Toronto Maple Leafs — Egor Zaitsev (LHD, HK MVD Balashikha Jr., Russia)
185) Columbus Blue Jackets — Antti Kalapudas (LW/C, Karpat/KalPa, Finland)
187) Winnipeg Jets — Reid Duke (C/RW, Brandon, WHL)
189) Buffalo Sabres — Ondrej Najman (C, Dukla Jihlava Jr., Czech Republic)
190) Buffalo Sabres (from Montreal) — Kenny Johnson (LHD, Shattuck St. Mary's Midget Prep)
193) New York Islanders (from Ottawa) — Ondrej Vala (LHD, Kamloops, WHL)
194) Vancouver Canucks (from Carolina) — Maxim Lazarev (LW/RW, Cape Breton, QMJHL)
196) Minnesota Wild — Michael Graham (F, Fargo, USHL)
198) Nashville Predators — Jesper Mattila (LHD, Ilves Jr., Finland)
199) Philadelphia Flyers — Keenan Suthers (LW, U.S. National Development Team)
203) Chicago Blackhawks — Artur Lauta (RW, Avangard Omsk, KHL)
204) Minnesota Wild (from Florida) — Brinson Pasichnuk (LHD, Bonnyville, AJHL)
205) Anaheim Ducks — Lukas Doudera (LHD, HC Trinec, Czech Republic)
207) Washington Capitals — Vladislav Sukhachyov (G, Russian U18 Team)
208) Tampa Bay Lightning — Samuel Laberge (LW/RW, Rimouski, QMJHL)
210) San Jose Sharks — Dawson Davidson (LHD, Kamloops, WHL)
211) St. Louis Blues (from Pittsburgh) — Jake Kryski (LW, Kamloops, WHL)