The National Hockey League is a frantic and endlessly dubious beast, especially so come the month of March. With the push towards the postseason in full swing, each and every franchise is fully committed to claiming Lord Stanley's mug, well, at least those who remain in the picture.
So, with most, if not all, mesmerized by the play on the ice, what better time is there to turn our focus away from it?
Although the 2017 NHL Entry Draft remains far in the distance, it is, in reality, quite near. The event, scheduled to take place from Jun. 23-24th, 2017, will usher in the next generation of uber talented players and, in the process, the game's next young stars.
The major prospects in this year's class are already well-known, with the likes of Nolan Patrick, Gabriel Vilardi, Nico Hischier and Timothy Liljegren leading the way and destined to become household names. However, as the 2016-17 hockey season has progressed, so too have the abilities of the Draft's eligible players.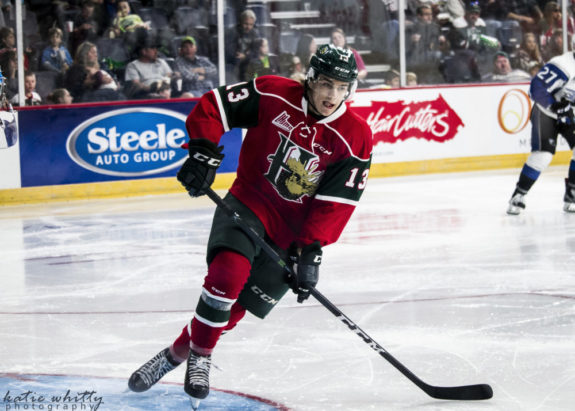 On the other hand, a number of those hoping to hear their names called may be overly anxious about the coming event, and as such have failed to progress as hoped.
As a result, it is only fitting to describe March's Draft Ranking as rather hectic.
Over the past two months since the New Year's Ranking, a number of players have excelled while others have unfortunately stumbled. Yet, a slip in the Draft Rankings is not the end of the world, as the goal of any young player is simply to be drafted, to be given an opportunity and to be desired by an NHL franchise.
Whether a player is selected first overall or 217th, both possess the equal capability of reaching hockey's highest level.
The 1st player in 2005 draft and last player chosen in 2005 draft combine. Sidney Crosby to Patric Hornqvist. 6-4 @penguins

— Gene Principe (@GenePrincipe) March 13, 2015
So, with this all being said, let's take a quick look at a few players in particular who have risen, as well as fallen, and then dive into March's ranking.
Up, up, and Away
Nico Hischier (#2)
When the 2016-17 QMJHL season began, little was known about Nico Hischier, the sixth overall selection in the 2016 CHL Import Draft.
Quite obviously a highly skilled player considering his high selection, Hischier had already garnered experience playing against men with SC Bern in Switzerland's National League. Although he had not enjoyed tremendous success on the ice, the fact he had broken through at the age of just 17-years was a sign of prosperity to come.
Draft stuff: You just don't want to turn the puck over to Nico Hischier. pic.twitter.com/VCrml2PBiZ

— Kris Baker (@SabresProspects) March 4, 2017
In his first season in the 'Q', Hischier as continued to improve, and drastically so. As a highly skilled playmaker as well as goal scorer, Hischier has evolved into a consistently lethal force who can dominate his opponents on a nightly basis. A player vastly similar to former Halifax Mooseheads star and current Winnipeg Jets forward Nikolaj Ehlers, Hischier combines strong skating, puck-handling capabilities and a sky-high hockey IQ into a fantastic all-around game.
The scariest part? He is only getting better.
Miro Heiskanen (#7)
Enjoying the biggest jump in March's Draft Ranking is none other than Miro Heiskanen, a sound two-way defender who hails from Espoo, Finland.
Long projected to be made a first-round pick in the approaching 54th NHL Entry Draft, Heiskanen's stock has risen dramatically due to his calm play and his ability to adapt to ever-changing circumstances. In fact, as a rookie with HIFK of the Liiga, Heiskanen has seamlessly acclimated himself to the professional game.
#Liiga: Here's a goal from LHD Miro Heiskanen (Ranked No. 14) in HIFK's 3-1 loss to @VaasanSport on Wednesday pic.twitter.com/MRI0i8d0hN

— Steve Kournianos (@TheDraftAnalyst) January 20, 2017
Viewed as Finland's top defenseman in what was a disappointing 2017 WJC for his nation, Heiskanen has shone as a result of his quick decision-making and ability to think the game at a high level. Regardless of the pressure of opposing forwards, Heiskanen can read the play before it develops and makes sound, accurate decisions under duress.
Nick Suzuki (#20)
Nick Suzuki carried large expectations with him as he began his second OHL campaign in 2016-17. Following a terrific 2015-16 rookie season in which he netted 20 goals, Suzuki was looked upon to produce offensively not only at a higher rate but also on a more consistent basis.
Now, with the Draft rapidly approaching, it has become abundantly clear that Suzuki has met and far surpassed any and all expectations in his sophomore season. Leading all Draft eligible players in scoring on Mar. 1, Suzuki has single-handedly powered his Owen Sound Attack to an impeccable record, and one that will see the team seriously contend for an OHL championship.
Draft Stuff: Owen Sound's Nick Suzuki caps the hat trick with the OT winner to push the Attack to victory over Guelph pic.twitter.com/4BTcL82m6t

— Kris Baker (@SabresProspects) March 5, 2017
Although Suzuki isn't the biggest player on the ice, he more than makes up for this apparent deficiency through his high hockey IQ and ability to understand the game. Blessed with sound puck handling abilities and a crisp shot, Suzuki is a difficult player to knock off of the puck – a facet of his game which allows him to analyze given situations before making a final, accurate decision.
Despite being projected to be made a late-first round choice, don't be surprised to see an NHL organization trade up in the Draft, or select Suzuki surprisingly high, as his skill-set and work ethic truly are difficult to come by.
Hitting Turbulence
Timothy Liljegren (#6)
Long considered to be the top defenseman available in the 2017 Draft, Timothy Liljegren has endured an up and down season and one that has many questioning his true NHL potential.
Of course, it goes without saying that Liljegren is a highly skilled player. A creative and lethal offensive force, Liljegren has the ability to drop jaws with his high-end speed, creativity, and abilities with the puck. However, these capabilities often come at the cost of his play defensively, as he can fall into the habit of pulling himself out of position in order to generate offense.
The Next Ones: 2017 #NHLDraft Prospect Profile – Timothy Liljegren https://t.co/fx4t9QYsHJ #THW pic.twitter.com/noZw40AWJ6

— The Hockey Writers (@TheHockeyWriter) February 21, 2017
Somewhat similar to P.K Subban when he first arrived in the NHL, Liljegren has the skating ability, skill, and energy level to excite fans with his offensive prowess, however, a lack of defensive awareness could see Liljegren's stock continue to fall.
Klim Kostin (#9)
A mean physical specimen with innate offensive skills, Klim Kostin is an interesting case simply due to the manner in which his 2016-17 campaign has unfolded.
Selected first overall by the Kootenay Ice in the 2016 CHL Import Draft, Kostin elected to forgo guaranteed WHL ice time to remain in Russia. The decision immediately failed to pay off, as Kostin garnered erratic playing time before hurting his shoulder, an injury which would require season-ending surgery.
A rough year just got tougher for top 2017 #NHLDraft eligible Klim Kostin https://t.co/7iscPBvb5L

— FutureConsiderations (@FCHockey) January 30, 2017
When healthy, Kostin has the ability to be one of the most dominating players in the building. His sheer strength allows him to protect the puck as well as generate a heavy, often overpowering shot which can blow by opposing netminders. Further, he can skate well despite his great size and has the willingness to go to the tough areas of the ice to produce offense.
If Kostin can find his health, as well as consistency when it comes to effort level and offensive production, we could have another Evgeni Malkin on our hands.
Nic Hague (#16)
One of the biggest, and meanest, blueliners available in the 2017 NHL Draft, Nic Hague's play this season can be defined as both consistent and stabilizing. Offensively, Hague has been a force, using his strong shot to score goals as well as produce points on the power play. His great size also makes him an intimidating force to opposing players.
However, despite Hague's strong all-around game, there remain areas which still require substantial improvement if the Kitchener, Ontario native wishes to develop into a sound professional.
Nic Hague and @KrRutherford talk about scouts and getting ready as a first-round prospect in the latest #DraftYear. https://t.co/WmeoiRadKT pic.twitter.com/yVpYprbQYu

— Sportsnet (@Sportsnet) March 7, 2017
Primarily, there is Hauge's skating ability. While he can move around the ice well for a player of his size, Hague's agility, as well as acceleration, both require attention. At the moment, players of notable speed are able to beat Hague wide, and especially so if he is caught flat-footed. If Hague can quicken his first step and lateral mobility, it will make him a much more difficult defender to play against.
This aspect of his game is of vital importance, as players will only get faster as Hague ascends through the professional ranks, which he surely will. However, just how fast Hague is able to progress remains dependent on improvement in the areas noted above.
March Madness Ranking
It's time to delve into March's Draft Ranking, which showcases the top-31 players available in the 2017 Draft. One aspect new to this month's ranking is the presence of a new column which highlights the movement of a given player in comparison to the January edition.
| | | | | | |
| --- | --- | --- | --- | --- | --- |
| Ranking |  +/- | Player | Position | Team | Height/Weight |
| 1 | – | Nolan Patrick | C | Brandon (WHL) | 6'3"/200 |
| 2 | +2 | Nico Hischier | C | Halifax (QMJHL) | 6'0"/175 |
| 3 | – | Gabe Vilardi | C | Windsor (OHL) | 6'2"/195 |
| 4 | +4 | Casey Mittelstadt | C | Eden Prairie High (USHS) | 6'1"/200 |
| 5 | – | Owen Tippett | RW | Mississauga (OHL) | 6'2"/205 |
| 6 | -4 | Timothy Liljegren | D | Rogle (SHL) | 6'0"/200 |
| 7 | +18 | Miro Heiskanen | D | HIFK (Liiga) | 6'0"/175 |
| 8 | +1 | Michael Rasmussen | C | Tri-City (WHL) | 6'5"/205 |
| 9 | -3 | Klim Kostin | RW | Dynamo Moskva (KHL) | 6'3"/195 |
| 10 | – | Callan Foote | D | Kelowna (WHL) | 6'3"/210 |
| 11 | +3 | Kailer Yamamoto | C/LW | Spokane (WHL) | 5'9"/160 |
| 12 | – | Juuso Valimaki | D | Tri-City (WHL) | 6'2"/200 |
| 13 | -6 | Eeli Tolvanen | RW | Sioux City (USHL) | 5'10"/180 |
| 14 | NR | Cale Makar | D | Brooks (AJHL) | 5'11"/180 |
| 15 | +6 | Elias Pettersson | C/LW | Timra IK (Allsvenskan) | 6'2"/160 |
| 16 | -1 | Nic Hague | D | Mississauga (OHL) | 6'6"/215 |
| 17 | +7 | Cody Glass | C | Portland (WHL) | 6'2"/180 |
| 18 | +1 | Martin Necas | C | Kometa Brno (Czech) | 6'0"/170 |
| 19 | -2 | Maxime Comtois | LW | Victoriaville (QMJHL) | 6'2"/200 |
| 20 | +6 | Nicholas Suzuki | C | Owen Sound (OHL) | 5'11"/185 |
| 21 | -8 | Urho Vaakanainen | D | JYP (Liiga) | 6'1"/190 |
| 22 | -12 | Kristian Vesalainen | D | HPK (Liiga) | 6'3"/210 |
| 23 | -3 | Ryan Poehling | C | St. Cloud State (NCAA) | 6'3"/185 |
| 24 | +4 | Ivan Lodnia | LW | Erie (OHL) | 5'10"/180 |
| 25 | -7 | Nikita Popugayev | RW | Prince George (WHL) | 6'6"/203 |
| 26 | +1 | Michael DiPietro | G | Windsor (OHL) | 6'0″/190 |
| 27 | -4 | Lias Andersson | C/LW | HV71 (SHL) | 5'11"/200 |
| 28 | +1 | Jason Robertson | LW | Kingston (OHL) | 6'2"/195 |
| 29 | NR | Jaret Anderson-Dolan | C | Spokane (WHL) | 5'11"/180 |
| 30 | -8 | Shane Bowers | C | Waterloo (USHL) | 6'0"/170 |
| 31 | – | Matthew Strome | LW | Hamilton (OHL) | 6'3"/200 |
Have a question about this ranking or a specific player? Comment below!