It's time to talk about goaltenders.
Yes, there are goaltenders available in the 2018 National Hockey League Draft.
Lost in the vast excitement surrounding the impending arrival of Rasmus Dahlin is this year's class of goaltending prospects. Although it is, truthfully, a weaker class than in years past, the 2018 crop of netminders still holds a bounty of incredibly talented and endlessly promising prospects eager to make their mark at the NHL-level.
Making this year's situation even more interesting is the fact that there is no single goaltender who stands out above the rest. In fact, of the top-five netminders available — all of which you will meet below — each goaltender boasts a unique playing style which has led him to a wealth of personal success.
So, who are these elite goaltending prospects? Let's take a look.
The Top-5 Netminders
Alexis Gravel
Height/Weight: 6-foot-3, 220-lbs
2017-18 Team: Halifax Mooseheads (QMJHL)
NHL Central Scouting's Mid-Term Ranking: 1st (NA Goalies)
Born in Berlin, Germany, Alexis Gravel is a Canadian goaltender whose massive frame and intimidating physicality combines to make him a dominating presence in-goal.
Boasting great size and strength, Gravel can traverse his crease with ease and makes powerful movements in order to deny lethal scoring opportunities. As a right-handed catching netminder, Gravel affords his opposition with little opportunity, as his ability to follow the play and track the puck stands as one of his best qualities.
Alexis Gravel stops Andrew Shewfelt of the Drummondville Voltigeurs during #QMJHL play #Halifax (for @xpress_local) #hockey #chl #Mooseheads pic.twitter.com/7ea5ZsSR02

— Christian Laforce (@Lafotoz) January 14, 2017
Currently protecting the pipes in his second season of play with the Halifax Mooseheads of the Quebec Major Junior Hockey League, Gravel has continued to establish himself as a goaltender of immense promise owing to his technically sound play.
Although his personal statistics have dipped slightly in 2017-18 in comparison to his rookie campaign — owning a 3.38 goals against average (GAA) and .890 save percentage (SV%) — Gravel's impressive size and natural abilities in the crease in addition to his showing at the CHL/NHL Top Prospects Game should lead to his selection in the third-round of the 2018 NHL Draft.
Jacob Ingham
Height/Weight: 6-foot-3, 180-lbs
2017-18 Team: Mississauga Steelheads (OHL)
NHL Central Scouting's Mid-Term Ranking: 3rd (NA Goalies)
It was an up-and-down season for Jacob Ingham, as the young goaltender struggled to attain consistency throughout his sophomore campaign with the Ontario Hockey League's Mississauga Steelheads.
Of substantial size standing 6-foot-3, Ingham is a sizeable and athletic goaltender who loves to challenge his opposition. Boasting quick lateral movement and lightning-quick reflexes, Ingham makes sensational desperation saves with remarkable frequency and has the unique ability to steal wins for his team.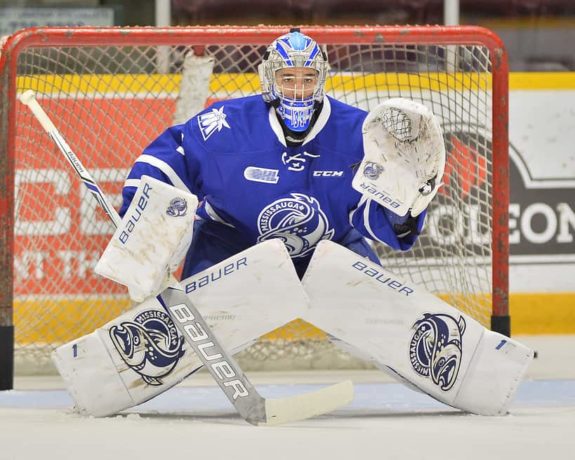 Unfortunately for Ingham, he became prone to allowing weak goals in his second season with the Steelheads. Following a combination of incredible saves, Ingham regularly allowed simple shots to beat him or spit out egregious rebounds which were quickly deposited into the back of the net by his opponents. Further, Ingham surrendered Mississauga's starting job this season — a role which he had claimed with authority during the Steelheads' impressive 2016-17 playoff run.
Now, with this being said, I must make it abundantly clear that Ingham could very well develop into the top goalie within the 2018 Draft class. Incredibly technical, calculated, and capable of reading plays as they develop, Ingham's raw talent will undoubtedly facilitate his selection by an NHL franchise this June.
Amir Miftakhov
Height/Weight: 6-foot, 160-lbs
2017-18 Team: Irbis Kazan (MHL)
NHL Central Scouting's Mid-Term Ranking: 2nd (EU Goalies)
Although he may be a relative unknown, Amir Miftakhov has continued to impress and develop throughout the 2017-18 campaign owing to his sound all-around game in between the pipes.
Playing for Irbis Kazan in the MHL, Miftakhov has become an impenetrable force. Founded upon calculated positional play, Miftakhov offers little opportunity for opposing shooters and is quick to deny any and all well-placed shots owing to his quick reflexes. What's more is that Miftakhov owns the unique ability to read plays as they develop as well as the tendencies of opposing shooters, allowing him to foresee where shots will be placed before they are directed his way.
Alexander Zybin, Amir Miftakhov and Dmitry Zavgorodniy were happy with the U18 victory against Canada! Read: https://t.co/Jfmuvk3lsB pic.twitter.com/AkfnoUmJw3

— Russia Hockey (@russiahockey_en) August 8, 2017
These innate goaltending qualities served Miftakhov well in his second season of play in the MHL, as the youngster set new career-highs across the board. In fact, throughout his 26 regular season contests with Irbis Kazan, Miftakhov achieved a minuscule 1.96 GAA and spectacular .936 SV% — statistics which stood as the league's second-best totals this season.
Olivier Rodrigue
Height/Weight: 6-foot, 160-lbs
2017-18 Team: Drummondville Voltigeurs (QMJHL)
NHL Central Scouting's Mid-Term Ranking: 2nd (NA Goalies)
Olivier Rodrigue could be the most athletic and competitive goaltender available in the 2018 NHL Draft.
Although he doesn't boast immense size, Rodrigue's fiery demeanour and determination to succeed more than compensate for this perceived deficiency. A true battler in the crease and desperate to win each and every time he graces the ice, Rodrigue denies opposing shooters through strong positional play and the ability to react quickly to well-placed shots and dangerous scoring chances.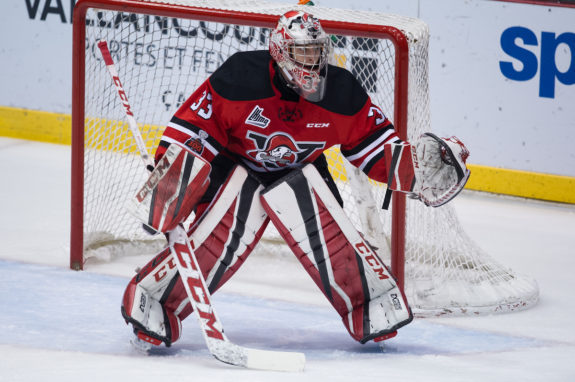 Since he can't rely on his size to simply block shots, Rodrigue works tirelessly to keep an eye on his opponents in possession of the puck in order to visualize how plays will develop and how he will need to react in order to deny developing high-percentage scoring opportunities.
Fortunately for Rodrigue, his wildly successful play throughout the 2017-18 season should lead to his high selection in the coming draft. Having played to a 2.54 GAA and .903 SV% in 53 regular season games, Rodrigue improved upon his play during his rookie season a year ago and has established himself as one of Canada's most promising young goaltenders.
Jakub Skarek
Height/Weight: 6-foot-3, 195-lbs
2017-18 Team: HC Dukla Jihlava (Czech Extraliga)
NHL Central Scouting's Mid-Term Ranking: 1st (EU Goalies)
Yes, Jakub Skarek made a name for himself during the 2018 World Junior Championship with Team Czech Republic, however, his stellar play in goal dates back much farther.
Since he was 15-years old, Skarek has been obliterating numerous developmental leagues within the Czech Republic. In fact, he first saw action at the Under-20 level at just 16-years-of-age, where he failed to allow a goal in his very first game played. Since, Skarek has developed into a formidable goaltender who offers his opposition very little in terms of scoring chances. Exceptionally athletic, agile, and energetic, Skarek never gives up on a play and makes seemingly endless high-lite reel saves as a result.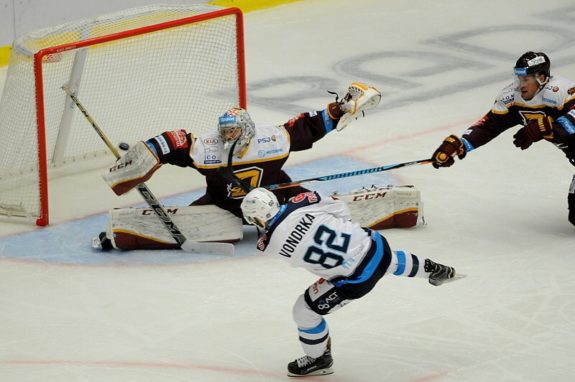 In his first full season of play with HC Dukla Jihlava in the Czech Extraliga, Skarek posted exceptional individual statistics. Through 21 regular season games played, Skarek posted a 2.41 GAA and .913 SV% — totals which stood amongst his league's best.
Of great size, strength, and power, Skarek is one of the more underrated goaltending prospects available for the 2018 NHL Draft. Widely projected to be selected in the third-round or later, Skarek's raw talent and overall upside could force an interested NHL franchise to nab the youngster much earlier, as his breadth of experience and history of success combines to make Skarek a legitimate talent in goal.