It's safe to say the New Jersey Devils' season is all but over. The offense has struggled to show consistent signs of life, while the defense and goaltending have sputtered out of control. Aside from draft position, it may appear that the team has nothing to play for. However, there is still reason for the team to finish the year at a high level and there is even more motivation for a select group of players who are playing for a new contract.
For three skaters, Jacob Josefson, Stefan Noesen, and Damon Severson, a good run of play in the last 10 games could be the difference in millions of dollars on their next contracts, in New Jersey or otherwise.
Jacob Josefson
Starting with the Devils' second-longest tenured forward, Jacob Josefson continues to be a mystery wrapped in an enigma. In John Hynes' first year in New Jersey, Josefson was pegged to make an impact in an increased role. The Swede ultimately failed to deliver in a middle-six role and found himself relegated to fourth line duty by season's end.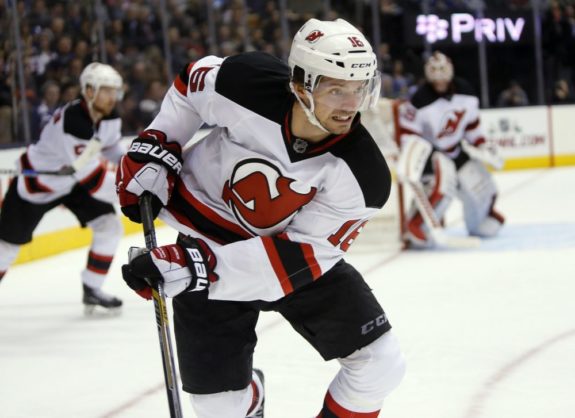 The narrative changed slightly when Josefson, after scoring just two points in 20 games (which projects to an eight-point season), was placed alongside Pavel Zacha in the lineup. The two of them, alongside Stefan Noesen, proved dynamic for a dozen or so games, with Josefson picking up six points in nine games. That hot streak brought his season outlook from 8 to 23 points, certainly passable for a bottom-six talent whose weakest trait is scoring.
As has been the case for his entire professional career, Josefson's progression was derailed when he left the lineup due to an upper body injury. Unfortunately for Josefson, his timetable for return is still uncertain. It would behove him to return by the end of the season but with a full lineup at the moment, he may miss his chance.
Not being able to return this year would be a shame for Josefson, whose season totals would be eight points in 35 games (translates to 19 points over 82 games). It's not spectacular but Josefson, if he returns, would likely be a fourth line center. In that role, Josefson would be able to take faceoffs – a skillset the Devils currently lack – rotate in on the penalty kill with Adam Henrique and Travis Zajac, and be a fixture in the shootout lineup. He also happens to be one of the team's best defensive forwards on a yearly basis.
Should Josefson rejoin the lineup before season's end and pick up where he left off, Shero could deem the Swedish center worthy of another chance. It's a stretch to say 10 games alone could earn a contract on its own, but it could tilt the scales given Josefon's already shown signs of improvement. If he fails to return, then Shero's final memories of Josefson will be a six-game pointless streak followed by a two-month absence. That could spell the end of Josefson's time in New Jersey and would hurt his chances of being signed by another team.
Beau Bennett
Another forward who has shown signs of becoming something more in New Jersey, Beau Bennett has been one of the Devils' better forwards this season despite his low point totals. His play in the next few weeks will play a crucial role in the length and salary for his next contract upon its expiry in July.
Drafted in 2010 by then-Penguins GM Ray Shero, Bennett looked to be an important piece to Pittsburgh's Stanley Cup aspirations, playing on lines with Sidney Crosby and Evgeni Malkin. That would not last, as Bennett would end up on the injury report time after time.
When Jim Rutherford and Mike Sullivan took over, Bennett fell out of favor and did not make many appearances for the Penguins. This relationship came to its culmination when Rutherford traded Bennett to New Jersey, a division rival, at the 2016 NHL Draft for a third round pick.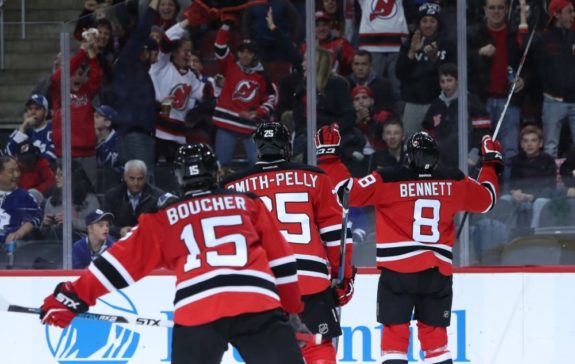 Since arriving in Newark, Bennett has tallied 15 points in 56 games, both career highs. Given that the Devils have scored more than 150 goals and have played more than 70 games 2016-17,  neither of Bennett's accomplishments are worth celebrating.
What is worth praising is Bennett's superb chance creation. He's having one of his best seasons in terms of creating scoring opportunities, even if they aren't finding the back of the net. He starts the majority of his shifts in the defensive zone – in stark contrast to his time in Pittsburgh – and is still a positive possession player on a team that struggles in that department.
NEW ARTICLE

Although his point totals may not indicate so, Beau Bennett has quietly put up consistent numbers… https://t.co/o6IzOIXCqh

— Devils Army Blog (@DevilsArmyBlog) March 13, 2017
Perhaps most encouraging for Bennett and the Devils alike is that the California-born winger has four points in his last seven games and seven in his last 18 appearances. Those are both adequate for a third line talent. It is up to Bennett to prove that this recent performance is the norm, if the Devils are to re-sign him.
A strong finish to the season could be the difference between another one-year "prove it" deal and a two- or three-year bridge contract, giving Bennett some career stability. On top of that, the Devils will have plenty of money to spend this summer and Bennett could see a raise if he can play out the string.
Damon Severson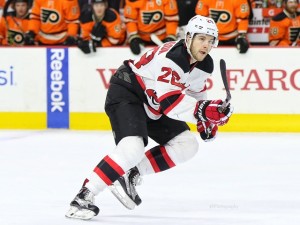 Unlike the other two, Severson is basically a lock to get another contract from the Devils, no matter how he plays. The question with Severson is how much money he will be able to command.
After a white-hot start to the season – 12 points in 15 games – Severson came back down to earth, with 19 points in the 57 games that have followed. On a positive note, four of those points have come in his last six appearances.
For a while, it seemed apparent that the Saskatchewan blue-liner was taking the next step and was going to be a blue-chip defender. His struggles in the defensive zone has continued to impede his progress but the scoring ability on its own is highly impressive. All About the Jersey's John Fischer recently laid out Severson's value to the team in an analytically-heavy piece.

If he can show a semblance of responsible two-way play and maybe add a handful of points, Severson could prove himself to be the team's most valuable defenseman. If that is the case, Severson is likely to command more than a simple bridge contract and the Devils would be foolish to deny his request.
As the Devils continue to stumble their way to the finish line, certain players have carried the load. With millions of dollars and future employment on the line, Josefson, Bennett, and Severson need to pick up the slack and finish strong.