The Anaheim Ducks will have themselves a merry little Christmas this year. Their troubles seem miles away, sitting pretty in third place in a grid-locked Pacific Division. Head coach Randy Carlyle will be able to sip on his egg nog with a good bit of satisfaction. Cam Fowler is a having an All-Star caliber season, Rickard Rakell can't stop scoring goals and Ryan Kesler continues to be a two-way force.
As good as those three have been, there's also some coal to go around on this team. Santa Claus will have to drop off some off in Orange County underneath the trees of the following three players, who are most certainly on the naughty list:
1. Kevin Bieksa
Bieksa has been a naughty, naughty boy this season. Carlyle has paired him with Korbinian Holzer as of late, to simply disastrous results. The Ducks have gotten caved in with those two on the ice, bleeding shot attempts against. Bieksa was just as bad before though, dragging down previous partners like Fowler and Hampus Lindholm.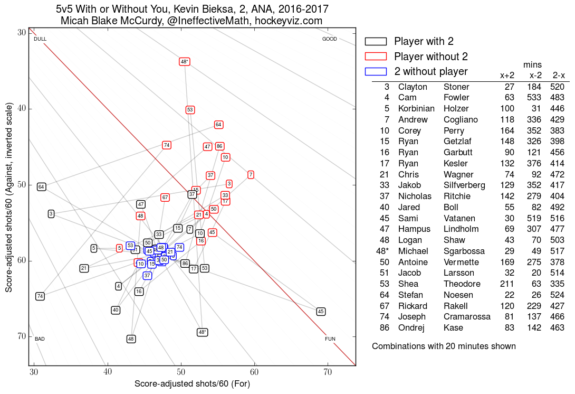 Carlyle seems to have figured out that Bieksa should play less, which is good news for Anaheim. Reduced ice time is one thing, but there's really no evidence that he should even be in the lineup to begin with. Yet, with a no-movement clause and a nice $4 million cap hit, the lump of coal under his tree probably won't bother him too much.
2. John Gibson
Gibson hasn't been quite as naughty as his pal Bieksa, but he still managed to make Santa's list. He's badly fell short of expectations, registering a paltry .907 save percentage in all situations through 23 starts. For whatever it's worth, he's only been slightly below average at even strength.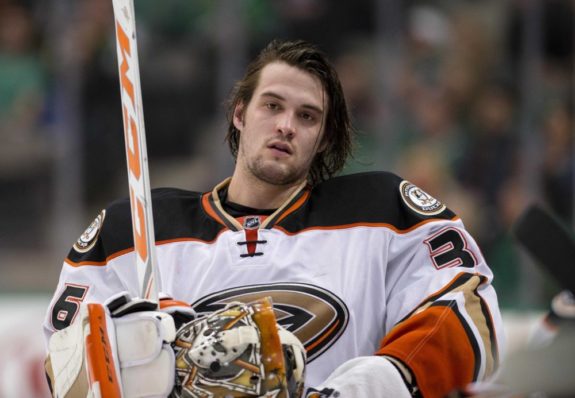 The play of the team in front of him hasn't completely been the issue. Anaheim ranks eighth in the league in expected goals against per 60 minutes, indicating that they've done a good job at limiting quality shots. Still only 23, Gibson has to be the man for the Ducks, as they don't have a Plan B. Maybe a good-old fashioned lump of coal will spur on a turnaround in his game.
3. Jonathan Bernier
No one really expected much from Bernier this year. After a disastrous stint in Toronto, he was seen as a reclamation project for the Ducks over the summer. He'd shown flashes of brilliance in the past, and the hope for Anaheim was that he could rekindle some of that while Gibson adjusted to the starter's role.
Though he's had a few nice starts, he's now sitting on a ghastly .897 save percentage in all situations. With that number in mind, his $4.15 million cap hit might have the lowest return on investment of any deal in the league. His career numbers suggest he's better than this, but for now, he finds himself squarely on the naughty list.
Honorable Mention
Logan Shaw hasn't really shown much of anything since being brought over from Florida in exchange for Michael Sgarbossa. He's not especially impressive on an eye-test level, while the numbers don't help his case either. Yet, because he's relatively new to the team and expectations of him are so low, he narrowly misses the cut. One might think Jared Boll deserves to be on this list, but he's actually second in the league in fighting majors with eight. At the very least, he's doing what he's paid to do.
Felix Sicard is the Anaheim Ducks' Lead Writer for The Hockey Writers. Now in his third season of covering the team, he writes previews and recaps for all Ducks' home games, as well as weekly analysis pieces.
In addition to covering the Ducks at THW, Felix co-hosts SB Nation's Anaheim Calling: The Podcast, as well as hosting The Garage Hockey Podcast.
For consistent Ducks' content, be sure to check out his Twitter @Felix_Sicard.