The Pittsburgh Penguins had a lot of problems during the 2015-16 regular season. Frightful defensive play from the superstars was the centerpiece of the early season disaster. Following that was a distinct lack of energy which painted the Pens with the scarlet letter of a borderline dysfunctional cast of characters. Thankfully, most of those problems were corrected when Mike Sullivan took over as head coach near the midseason mark. Even after winning the Stanley Cup, some issues remain unresolved. There were three notable players who continued to struggle through both coaching regimes and will look to 2016-17 to bounce back.
Eric Fehr
It's probably easiest to pick on Eric Fehr as the most obvious choice to need improvement in 2016-17. After getting a late start to the season due to an elbow injury, he dealt with a lower body injury at the beginning of February which kept him out of the lineup until March. And up until that point, he wasn't exactly lighting up the scoreboard. He posted only seven points in the thirty-nine games leading up to that lower body injury. Combine that output with only four points in twenty-three playoff games and his forecasted output for the upcoming season isn't all that impressive. In the three years prior to joining the Penguins, he was averaging twenty-seven points during the regular season. If he can come close to matching his career average of twenty-four points per season, he'll begin correcting a dismal trend.
Olli Maatta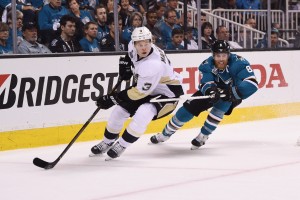 Though Olli Maatta scored a mere nineteen points during the regular season, his production isn't in question here. Maatta continues to show signs that he'll be a regular point-producing defenseman. Maatta's issue is with his durability. Yes, he played in sixty-seven games last season, but his play lacked a certain amount of energy as the regular season faded and the playoffs began. Being scratched for a portion of the playoffs isn't inspiring, either. I do not mean to be overwhelmingly critical of Maatta. He's battled back from both a serious shoulder injury and cancer in the past year. Whether he's aware of it or not, he's likely just now re-acquainting himself with the rigors of an extended season. Perhaps he hadn't had enough time to properly condition himself for such a long run of hockey. I fully expect that Maatta will re-ascend and prove that his six points during the Stanley Cup Final (three goals, three assists) are the norm, not the exception.
Ian Cole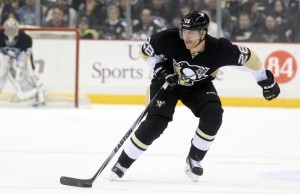 This may come as a surprise to many, but Ian Cole didn't have a fantastic regular season in 2015-16. He was slow-footed, lumbering and appeared out-of-place at times. He was so bad, at one point, he was made a regular healthy scratch from late January until early March. Yikes. Credit to Cole, though, as he made his way back into the lineup with a series of professional practices and hard work. Needless to say, he played admirably during the playoffs, blocking shots (he was fifth in the league in blocked shots during the playoffs with fifty-two) and maintaining good positioning throughout. Cutting down on the number of blocked shots would do well to reduce the risk of injury during the regular season. But nonetheless, if Cole were to continue his playoff caliber hockey style into the regular season, he'll already have a jump on his disappointing 2015-16 regular season.
Looking Ahead
If there's one thing about this upcoming hockey season which will help these three players, it's the opportunity that the season presents. Fehr's injuries will hopefully wane while he further acquaints himself with Sullivan's vision. Maatta, for the first time in years, will have a full offseason of conditioning and preparation under his belt. Cole can ride the high of his overall playoff performance into the regular season and can be further motivated by the competition other defensemen (like Derrick Pouliot) will undoubtedly bring. But more importantly, they each have the potential to improve their contributions to a Cup winning team. Fostering improvement in a championship environment will only serve to help escalate their individual performances. The table is set.
Penguins hockey enthusiast, journalist, poet and rec league roller hockey player.