After Monday's re-signing of Colin Wilson to avoid arbitration, the Nashville Predators' roster is set in stone for the 2015-16 season, barring any unforeseen moves. With the depth additions of center Cody Hodgson and defenseman Barrett Jackman, Nashville has a lineup built for winning a Stanley Cup. Of course, after falling short of expectations last season, losing in the first round of the playoffs to the Chicago Blackhawks in six games, the more experienced Predators are simply hoping to see a deeper run in the postseason this year.
Though the Preds' roster looks strong, there are a few questions that need answered.
Will Kevin Fiala Make the Team?
There is not a more ambitious 19-year-old in hockey than Fiala. In the team's annual end-of-the-year meeting with general manager David Poile, Fiala proclaimed that he would he will "be playing for Nashville next season."
"It's my dream [to play in the NHL]," Fiala said at Nashville's development camp. "Every hockey player wants that since we were small. I'm really close [to achieving] it right now. I don't want to stop. I want to make the team."
Fiala played two games last season, one in the regular season against the Montreal Canadiens and the other in the playoffs against Chicago, but was held scoreless with a negative-2 plus/minus. After being transferred to Nashville's AHL affiliate, the Milwaukee Admirals, halfway through the season, Fiala accumulated 20 points (11 goals, 9 assists) in 33 games.
Though making the opening night roster does not seem far-fetched for Fiala, he will be one of six prospects — Viktor Arvidsson, Steve Moses, Miikka Salomaki, Colton Sissons and Austin Watson — competing for a roster spot at training camp.
Realistically, however, Fiala will not make the team right away. He still needs time to develop and get accustomed to the North American game in the AHL. Expect Fiala to join the team full-time as the year progresses.
Can Cody Hodgson Bounce Back?
There is little dispute about how awful Hodgson's season was last year. In 78 games, the Buffalo Sabres' center scored just 13 points (six goals, seven assists), an all-time low in his NHL career. After being extremely underwhelming, Buffalo was forced to buy Hodgson out of the four remaining years on a six-year contract worth $25.5 million.
Looking for another chance to reestablish himself in the league, Hodgson signed a one-year, $1.05 million contract with the Predators, a team which has been known lately for giving players another chance. Last summer, Nashville signed free agents Mike Ribeiro, whose contract was bought out due to "behavioral issues," and Derek Roy, who was seeking to become relevant in the NHL again, to similar one-year contracts.
Hodgson was added to increase Nashville's scoring depth as a third line center behind Ribeiro and Mike Fisher. With that being said, if you are expecting Hodgson to score 40 points, you will be disappointed. Instead, expect him to tally at least 30 points for the fourth time since the 2011-12 season, which would be an upgrade from Matt Cullen's 25 points last season.
Will Carter Hutton Be A Sufficient Backup?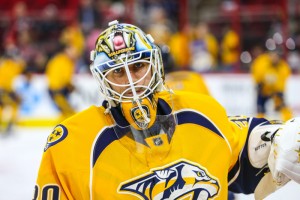 It is extremely tough for a backup goaltender to fill the shoes of an elite starter, and no one knows that better than Hutton. Last season, the 29-year-old was heavily scrutinized for being mediocre, going 6-7-4 with a 2.61 goals against average, a .902 save percentage and one shutout. Though Hutton's stat line is obviously not dazzling, it tells a false narrative since many of his losses were not his fault.
With one year remaining on a two-year contract worth $1.45 million, Hutton will be playing for an NHL contract since his time in Nashville is more than likely coming to a close with the rise of Marek Mazanec and Juuse Saros.
The good thing for Hutton, however, is he will be given plenty of opportunities to prove himself this season. In efforts to lighten Pekka Rinne's workload, Hutton will start approximately 20 games, according to Poile.
If Hutton can replicate his 2013-14 performance when he had 20-11-4 record with a 2.62 GAA, a .910 save percentage and one shutout, the Preds will be golden this season.
Colin Fitts is a Nashville Predators staff writer for The Hockey Writers. You can follow him on Twitter, @FittsTHW.