The Edmonton Oilers of 2015-16 are gaining an immense amount of hype, despite being in the midst of an off-season. Due to a number of major changes made not only to the Oilers roster, but also to the team's management core, significant improvement is expected this coming season in the "City of Champions."
However, major questions continue to surround the team; questions which will likely remain unanswered until the 2015-16 NHL season has reached its conclusion. Despite this, let's attempt to answer the three biggest questions surrounding the Edmonton Oilers this coming NHL season.
---
Will Leon Draisaitl Crack the Roster and, if so, in What Capacity?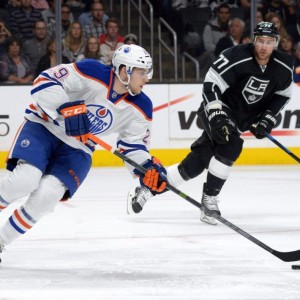 The arrival of Connor McDavid has truly altered the entire Oilers organization. Previously, and somewhat infamously known for their lack of depth at the center ice position, the Oilers now retain tremendous, albeit young skill down the middle.
Ryan Nugent-Hopkins appears a lock to open 2015-16 as the team's number one center-man, while McDavid will undoubtedly begin the season centering the Oilers' second line. So where exactly does Leon Draisaitl fit in, if anywhere?
Draisaitl, the third overall selection in the 2014 NHL Draft, simply has too much skill to ply his trade in a third line center-ice role. As a result, Draisaitl could see greater playing time as a winger rather than a center-ice man, a change which Draisaitl himself said he would welcome if it meant solidifying a role on a the team.
Otherwise, options for Draisaitl appear to be limited. Unless Draisaitl outplays one of McDavid or Nugent-Hopkins for a role at center, which is highly unlikely, it appears as though Draisaitl's first full NHL season could come as a winger.
---
How Significant a Role Will Connor McDavid Play?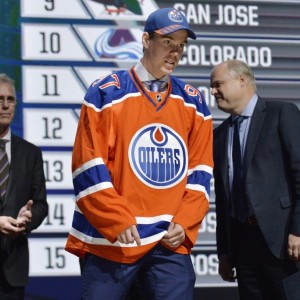 The hype and praise for Connor McDavid is off the charts. Having been endorsed by the likes of Wayne Gretzky, Mark Messier and Eric Lindros, it appears as though nothing short of greatness will be expected from McDavid in his first NHL season, yet just how significant a role will he play?
As previously discussed, the 18 year old is a virtual lock to begin the 2015-16 NHL season as the Oilers' second line center-ice man, most likely centering a variation of Nail Yakupov, Benoit Pouliot, Teddy Purcell or even Taylor Hall. With such strong linemates, McDavid will most likely be called upon to play anywhere from 16-20 minutes of ice time during the average game, a workload which could increase depending on how both he and the Oilers' season progresses.
As a result, barring any unforeseen injuries, McDavid should play a fairly significant role with the Oilers in 2015-16. Considerable time on the power-play, whether it be on the first or second unit, as well as general time on the ice alongside quality teammates could see Connor score approximately 20 goals in his rookie season. However, because the majority of his potential playing partners, such as Hall and Yakupov are primarily scorers, it would be safe to say that the 2015 first overall selection will register a significantly larger number of assists, as he is a play-maker first and a goal scorer second.
---
Is the Oilers' Defense and Goaltending Sufficiently Improved?
Quite possibly the largest question facing the current Oilers roster is whether the improvements made on defense and in goal, the Oilers' major areas of need, will allow for sufficient improvement in the standings.
Cam Talbot, a highly skilled, potential number one NHL goaltender has arrived from New York and appears poised to present the Oilers with confidence in goal. Anders Nilsson, a 6 foot 5, 25 year old goaltender from Sweden with NHL experience, has also been added in order to provide the Oilers with greater goaltending depth.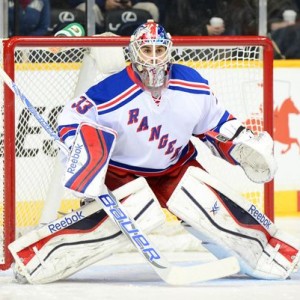 On defense, the Oilers added Andrej Sekera in free agency, acquired Eric Gryba from Ottawa and Griffin Reinhart from the New York Islanders.
Sekera's presence provides the Oilers with an aspect which they have long lacked: a legitimate number one defenseman. Although he is not known for elite offensive output, Sekera should provide the Oilers with stability on the back end. Gryba will add a greater physical dimension to an otherwise "soft" Oilers blue-line. Similar to Sekera, Gryba isn't an offensive force, yet will slot in nicely on the team's bottom pairing. Lastly, Reinhart, a fourth-overall selection in the 2012 NHL Entry Draft, adds an element of interest to the Oilers roster. Long considered a premier NHL prospect, Reinhart's development has been slow, yet he could blossom in Edmonton, the same City in which he enjoyed a fantastic junior career.
Ultimately, time, as well as game results will determine whether or not Oilers management has adequately upgraded the current roster's three biggest questions.
---
 What are your thoughts? Comment Below!