Tonight the National Hockey League hosts the 2015 NHL Awards ceremony in Las Vegas, Nevada.  NBCSN and Sportsnet will cover the event starting at 7 pm ET. Stars captain Jamie Benn will be in attendance for winning the Art Ross Trophy and for being nominated for the Ted Lindsay Award.
Benn, 25, is the first player in Dallas Stars history to win the Art Ross Trophy as mentioned in this article by THW's Tabatha Patterson. If he takes home the Ted Lindsay Award it will also mark the first time a Stars player has ever won it.
As referenced on nhlpa.com, The Ted Lindsay Award is presented annually to the "Most Outstanding Player" in the NHL for that season, as voted by the members of the National Hockey League Players' Association. The players take part in a secret ballot to select the player who best represents exceptional performance and leadership.
Benn has some challenging competition.  Also, nominated are Washington Capitals RW Alex Ovechkin (has 3 Ted Lindsay Awards) and Montreal Canadiens goalie Carey Price. While both Ovechkin and Price had fantastic seasons, there are several reasons why Jamie Benn should win the 2015 Ted Lindsay Award.
League's Leading Scorer: Jamie Benn
Though bittersweet, after missing the playoffs, the Stars' season ended on a positive note at the American Airlines Center when Benn scored 4 points against the Nashville Predators to clinch the Art Ross scoring title. The captain played in all 82 games this season. When Tyler Seguin went down with a knee injury, Benn raised his game to another level. He led the Stars on a furious late-season charge to make the playoffs but came up short. He had career highs in goals (35), assists (52) and points (87). His points per game average (1.06) was 3rd best in league. Only 10 NHL forwards played more minutes per game this year than Benn's 19:56.
Played Hurt Much of the Season
Shortly after the season ended the Stars announced Benn would be having hip surgery, on both hips. As GM Jim Nill shared with Mike Heika of the Dallas Morning News,"There were a lot of nights when we thought he wouldn't be playing, but he came to us and said, 'No, I'm a player.' That's Jamie Benn. We didn't hear about it all season. That's Jamie Benn. To gut it out the way he did shows we've got a great leader on this team."
"He had a hell of a year," Stars coach Lindy Ruff told Mike Heika. "He was hurting and got through it, he was hurting for most of the year. But he really grew as a captain. From a guy who wouldn't say too much, his leadership on the team really grew and that was a big positive from this year. When Benn was asked about the hip injuries he replied,""I played every game this year, and that's it."
Terrible Ted meets The Alpha Male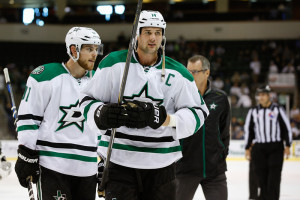 Lindsay will forever be linked to his longtime linemate "Mr. Hockey" Gordie Howe, another player known for his legendary toughness. Howe is regarded by some as the greatest player who ever lived. In 26 NHL seasons Howe recorded 801 goals and 1850 points. He also had 22 career fights according to this story on NHL.com. In 2014-15 the Stars had 30 fights. Benn accounted for 4 of the fights. The only Stars with more fights were Antoine Roussel and Curtis McKenzie.
When a player scores a goal, gets an assist and has a fight all in the same game it's known as a Gordie Howe Hat Trick. Jamie Benn already has more career Gordie Howe Hat Tricks (4) than Gordie himself (2). It would be most fitting for The Alpha Male to be the next Ted Lindsay Award winner.
Subscribe to our Stars stories to get email updates every time a new story is published.
Ed Sarno is a Dallas Stars staff writer for The Hockey Writers. You can follow him on Twitter @Edtexmass09