The inaugural NWHL Isobel Cup Final begins on March 11 as the regular season champion Boston Pride face-off against the upstart Buffalo Beauts. The Pride rolled through the regular season to the tune of a 14-3-1 and then dispatched the New York Riveters in the opening round, sweeping the two game series by a combined score of 13-4. They will enter the historic Game 1 on a nine-game winning streak, and the last team to beat them was – the Beauts, on January 3 in overtime (4-3). The last time they played during the regular season, Boston came away with a 3-2 road win on February 28.
The Pride finished the regular season series 5-0-1 against Buffalo, but the Beauts are playing with a boatload of confidence these days following their come from behind series win over the Connecticut Whale in the other semifinal. Both teams employ great goalies and in a short, three-game series, a hot goalie could very easily become the MVP of the weekend's matches. Buffalo has their share of stars too, but will they be able to keep pace with the streaking Pride?
.@Bdecker14 (3g, 2a) and @meganebozek (GWG) are your Players of the Series from the #IsobelCup semifinals! 🏆🌟 pic.twitter.com/8UDgRpRAgV

— NWHL (@NWHL) March 8, 2016
Here are three reasons why we think the Boston Pride could win the first Isobel Cup:
1) Dynamic Duo:
The Pride boast two of the most dynamic players in the NWHL in Hilary Knight and Brianna Decker, and if Buffalo has dreams of raising the Cup they will have to find a way to slow down this two-headed monster. Knight led the league in points (33), goals (15), assists (18) and game-winning goals (5), while Decker was second in the league in points (29), goals (14), assists (15) and led the league in shorthanded goals (3); Decker also had the league's first ever hat trick this season — against the Beauts. Both are Olympic silver medalists (Knight 2x) and Buffalo will have an olympic-sized challenge ahead of them in trying to contain this dynamic duo.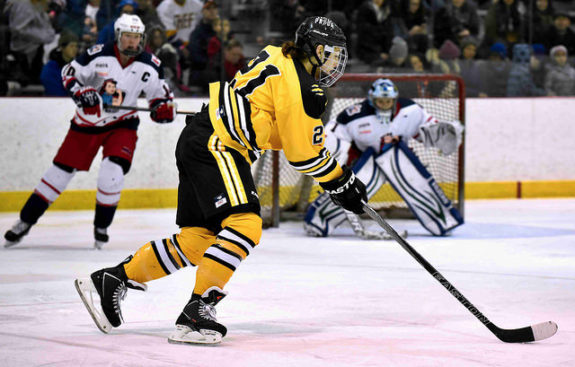 2) NWHL's Best Goalie:
Not only did Boston have the (two) best forward(s) this past season, but they also had the best goalie in Brittany Ott. She picked up right where she left off in the CWHL (where she won the Clarkson Cup) and dominated the NWHL from start to finish this season. While playing in 17 of the Pride's 18 games, Ott posted an ultra impressive 13-1-1 record, with a GAA of 1.94 and a .925 save percentage; also, she had the only regular season shutout in league history (against Buffalo) and added another one in Game 1 of the semis.
3) Denna Laing:
There were many ways to go here for option three, as Boston is a deep team and so much more than Decker and Knight — with a supporting cast of Jillian Dempsey, Gigi Marvin, Kacey Bellamy and Jordan Smelker to name just a few. But this team has been driven and inspired by Denna Laing and her immense strength following her injury at the 2015 Outdoor Women's Classic on December 31.
Happy #InternationalWomensDay to the strongest person we know, @dlaing14! Thank you for inspiring us everyday 💛 pic.twitter.com/UXBKF7XZZk

— Boston Pride (@TheBostonPride) March 8, 2016
The way the Pride have rolled through the other three NWHL teams since Laing went down, it seems that they are a team of destiny and will not be stopped. I don't know the girls in that room personally, but I have a pretty good idea that the entire Boston Pride team would like nothing more than to win that Isobel Cup for their fallen sister, who has not only inspired them, but hockey fans all over the world.
The #IsobelCup finals begin TOMORROW! Haven't gotten tickets yet? Take a spontaneous trip to NJ. You won't be sorry. pic.twitter.com/03syJihj7H

— Boston Pride (@TheBostonPride) March 10, 2016
The three-game series for the Isobel Cup will be held at the New Jersey Devils practice rink from March 11-13.
Dan Rice can be reached via Twitter: @DRdiabloTHW or via Email: drdiablo321@yahoo.com. 
Dan Rice is in his 9th year of reporting for THW & has covered NJ Devils home games for 15+ years at various websites. He began his journey working for legendary broadcaster/writer Stan Fischler from 2002-04 & completed an internship at the ECHL; he also has been writing features for the NWHL (nwhl.zone) website since 2016.