The Toronto Maple Leafs held their locker cleanout on Monday, and for a team that finally snapped a 19-year curse and advanced past the first round of the playoffs, there was a pretty somber vibe at the end-of-season press conference. You can tell that, despite the weight of that curse being lifted, there was the sense of a missed opportunity among the group, especially when listening to head coach Sheldon Keefe and general manager Kyle Dubas speak.
Related: Maple Leafs Risk Losing Matthews if They Let Dubas Depart
Obviously, you would hope that this is the vibe in that locker room right now. Breaking the curse is massive in its own right, but overall, winning two extra games in the playoffs is nothing to pop champagne bottles over. Still, it was the first time in recent memory that there wasn't really an optimistic angle to take.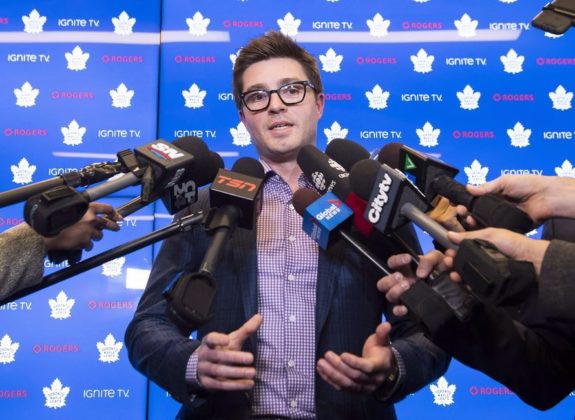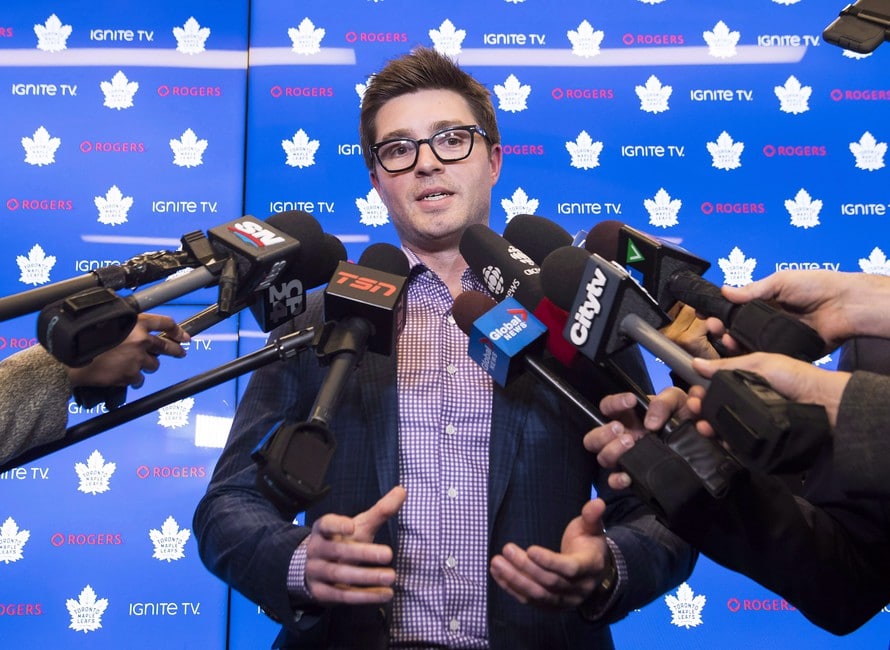 You could tell that nobody between the players, the coaches, and management really knows what to expect this summer, whether that means big changes or simply running it back again. If you missed the media availability, here are three takeaways to get you caught up.
1. Dubas: Toronto or Bust, Nothing Off the Table if He Returns
Within the first few minutes of Dubas' media availability, he answered the question people have been mulling over all season long. When asked about his contract situation for the upcoming season, he said that he couldn't make any commitments without speaking to his family and gauging their feelings on the situation. He mentioned that the season was a taxing one for them and that he couldn't bring himself to answer the question before getting their input. That said, he clarified near the end of the press conference that if he was working in hockey next season, it would be for the Maple Leafs and nobody else.
And that wasn't all – near the end of the press conference, he dropped a bit of a bomb. When asked if he would consider making any changes to the core, he essentially said that he'd be open to anything so long as it increased his team's chances of winning a Stanley Cup. He even went as far as to reference the blockbuster trade the Florida Panthers made this summer, acquiring Matthew Tkachuk in exchange for Jonathan Huberdeau and MacKenzie Weegar. 
Now, this obviously doesn't mean Dubas will be actively looking to shake up the team, just that if they were to, it would be done with the same due diligence as that Flames/Panthers trade. That being said, every other year, it seems like the message has more or less been "run it back". This is the first time I can remember him being so candid in a season-ending press conference. And this is all under the assumption that he even returns as general manager, which isn't set in stone itself. If nothing else, it sets up an exciting summer. 
2. Status of O'Reilly, Bunting, Others Still Up in the Air 
The fact of the matter is, when your team's season ends, a good chunk of the players are going to hit reporters with the classic "I want to be here" line. Or, "I'd love to stay". Something like that. Obviously, this won't be the case for all of the players, but you can tell based on the tone of certain players whether or not they appear to be heading to the open market. Ryan O'Reilly, acquired from the St. Louis Blues, says he hasn't put a lot of thought into his free agency plans. 
Obviously, you can't draw any conclusions from this quote. If I had to guess, I'd imagine the Maple Leafs would take O'Reilly back provided he's willing to take some sort of a discount. For as valuable as he was to the team this year, he's also 31, so locking him into a long-term deal probably isn't the smartest move for where the franchise is at right now. 
---
Latest News & Highlights
---
Like O'Reilly, Michael Bunting didn't provide much of an update on his contract situation or free agency plans. Given the fact that he's a Scarbrough native and gave the Maple Leafs such solid production for such a cheap price, the initial speculation was that they would be working out a long-term extension this season. That said, there wasn't much dialogue between him and the team, which makes me wonder if perhaps his relationship with the officials and controversy in the first round of the playoffs maybe put a damper on those conversations. Just my own speculation. 
On the other hand, other Maple Leafs with expiring contracts were asked about their plans, including Luke Schenn and Noel Acciari. The former said he "loved every minute" of his time back with the team that drafted him, and Acciari also dropped the L-word, saying he'd "love" to re-sign in Toronto. If they can get both of these players back at a cheap price, they should be taking every measure to make that happen given how valuable they were in the playoffs.
3. Matthews, Rest of Core Want to Stay in Toronto 
You might toss your head back and laugh upon reading that headline. Of course, Matthews is going to say he wants to stay. He's got one more year on his contract and he's facing a swarm of media members who would take any hint that he may not want to come back and run with it. That being said, there was something different about the way he addressed this issue. The only player to come to the press conference wearing Leafs gear, he not only reinforced that he wanted to stay in Toronto but expressed a desire for an extension to be done before next season.
William Nylander, who also has an expiring deal following next season, backed up Matthews with more of the same. Although he didn't seem to put a timeline on it, he did say that there was nowhere else he wanted to play. John Tavares, who has two years left on his contract, was asked if he would ever consider waiving his no-move clause, and promptly responded with "I signed here for seven years". Mitch Marner, who has the same amount of time left on his deal as Tavares, also expressed his desire to stay in Toronto, and when asked about his no-move clause kicking in on July 1, simply said, "I think that's above me. I can't control any of that."
---
---
It will be interesting to see how the Maple Leafs handle those contracts this summer. While I certainly wouldn't move Nylander given his consistency in the past few years, his contract is by far the easiest to move considering the value of his deal compared to his core counterparts. One thing I will say is that I vehemently agree with Dubas' take on how it would have to take the right deal, especially if it involves somebody like Matthews. As frustrated as the fans are, you aren't trading a Hart, Ted Lindsay, and two-time Rocket Richard winner just for the purpose of shaking things up. Remember when Tyler Bozak was the Maple Leafs' No. 1 centre?
Maple Leafs' Offseason is Wide Open 
If you couldn't connect the dots upon reading my three takeaways here, it would appear that the Maple Leafs' upcoming summer is wide open in terms of possibilities. In years past, the team generally stuck to its plan and looked to upgrades through off-season trades and free-agent signings. But now, there's a bigger question – what could this team even add to improve their odds of playoff success next season? They had the deepest centre depth they've ever had, a deep defensive corps, toughness at all positions, and a solid starting goalie. 
You May Also Like
If you want to get really nitpicky, perhaps the Maple Leafs were just missing a goalie who could stand on his head. But then again, they didn't score more than two goals in a game after Game 4 of the first round, so I don't know how better goaltending would fix that. Either way, this is why I'm simply writing about the team and you're reading about them. Dubas, if he returns, has a hell of a job ahead of him this summer, and all we can do until then is simply speculate, wait, and see.