The 2016-17 Top Prospects series continues with this final entry — a complete team-by-team listing of all 30 NHL franchises. For review, there have been four articles so far with a focus on each division. (links below)
Looking at the prospect lists as a whole, the Washington Capitals are the only team with a goaltender as their top prospect — that honor belongs to Ilya Samsonov who projects to become a solid number one for the Capitals down the road. Goaltenders are hard to predict, but it's the Pittsburgh Penguins that have arguably the deepest goaltender depth — both Filip Gustavsson and Tristan Jarry project to be NHL goaltenders.
There are many Calder Trophy candidates on this list as well. Auston Matthews and Patrik Laine seem to be the early favorites, but Dylan Strome, Mikko Rantanen and a real darkhorse like Esa Lindell could surprise.
Related: Top 10 Calder Trophy Candidates
Related: Matthews Named Swiss League Rookie of the Year
Continuing the theme of the other articles, players under Others may be more NHL ready than the listed top prospect, but the top prospect is considered the player with the highest ceiling in each team's prospect pool.
Related: Rantanen Top Euro Prospect in 2015
Related: 2017 Calder Trophy Dark Horses
Here are the previous articles if you're interested in a specific division. Continue reading for the complete league-wide team listing in alphabetical order.
LW Nick Ritchie | Age: 20
Acquired: 2014  – 10th Overall
Anaheim Ducks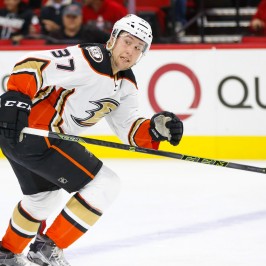 Analysis: Ritchie projects as a big bodied power forward and will undoubtedly get every opportunity to secure a top six role with the Ducks this season. He played in 33 games last season scoring just four points and averaging 11:45 TOI. Anaheim wanted their 2014 first rounder to take a better off-season approach this summer in hopes to get him ready for the long 82-game regular season.
He'll have pressure in the form of 2016 first rounder Max Jones who just signed his ELC. Both will get looks in training camp with Ritchie having the inside edge. Both play a similar game, and it's debatable which of the two has better long term upside. In the short term, Ritchie may get a chance to start the year on a line with Ryan Getzlaf and Corey Perry. However, he'll have to take a significant step forward offensively if that is to work out for the Ducks this year.
Others: D Shea Theodore, D Jacob Larsson, LW Max Jones, D Brandon Montour, C Sam Steel
Arizona Coyotes
C Dylan Strome | Age: 19
Acquired: 2015 – 3rd Overall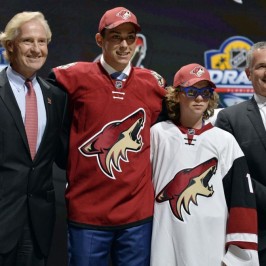 Analysis: After a dominating 111-point season with the OHL Erie Otters last year Strome will undoubtedly make the Coyotes opening night roster as a number two center. The sky is the limit with Strome who projects as a future number one NHL center. His biggest hurdle thus far has been his physical maturity using his 6'3", 185-pound frame. Strome put on extra pounds this summer but with other small weighted centers like Ryan Nugent-Hopkins being injury-plagued in the early parts of their career, Coyotes management has been cautious not to rush him.
The offense and playmaking abilities are there and with Max Domi and Anthony Duclair as potential linemates, this could be one of the fastest lines in the NHL.
Strome isn't the only rookie that might crack their opening night roster. Christian Dvorak will get a shot in a top nine role. Dvorak was a steal in the 2014 2nd round and brings solid two-way acumen to the Coyotes' offense. Defenseman Jakob Chychrun will get an extended look in camp as will forwards Lawson Crouse (newly acquired), Christian Fischer and Brendan Perlini. There are too many others to name, like defenseman Anthony Deangelo and right winger Nick Merkley. The future is bright in Arizona.
Others: C Clayton Keller, D Jakob Chychrun, C Christian Dvorak, D Anthony DeAngelo, LW Lawson Crouse
Boston Bruins
D Jakub Zboril | Age: 19
Acquired: 2015 – 13th Overall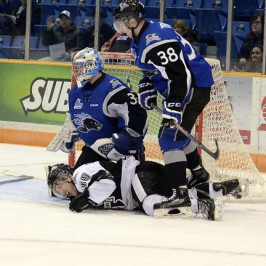 Analysis: Zboril has quite a few standout skills that make him more of a rounded defenseman, but the jury is still out. A lot of questions were raised last year regarding his decision-making abilities and offensive ceiling. His 20-points in 50 OHL games for Saint John wasn't exactly awe inspiring. GM Don Sweeney swung for the fences at the 2015 NHL Draft when he made a plethora of moves in an attempt to get into the top 10 selections. However, he was unable to swing that final deal to get into a spot to select the likes of Noah Hanifin, Ivan Provorov or Zach Werenski. Bruins management then took the next best defenseman on their draft board which was Zboril.
Zboril will get a look at cracking a Bruins blueline in transition. For all the questionable moves Bruins management has made, Sweeney and Asst. GM Scott Bradley has compiled some decent defense prospects that might turn the ship around in a few years time. Charlie McAvoy has some incredible offensive instincts. Brandon Carlo projects as a future 6'5″ 200-pound plus shutdown defender and Colin Miller will likely compete for a fifth or sixth spot in camp aiming to build off the 42 NHL games he played last year. Boston might not be a real cup contender, but the pieces are coming along for a brighter future in this transition.
Others: G Malcolm Subban, D Charlie McAvoy, C Jakob Forsbacka-Karlsson, RW Zach Senyshyn, C Trent Frederic
Buffalo Sabres
RW Alexander Nylander | Age: 18
Acquired: 2016 – 8th Overall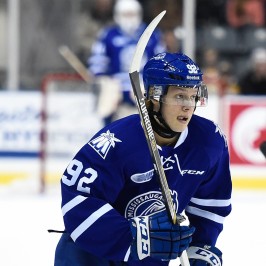 Analysis: Buffalo is going through the second wave of prospects if you will similar to what Edmonton has recently gone through after the graduation of many top prospects to the main roster and having to continue developing to replace them. The rest of the names on their list aren't the sexiest, but the Sabres have one of the deepest prospect pools in the league. Sitting at the top is Alexander Nylander, their 2016 top pick. Nylander plays a similar game to his brother William (Toronto Maple Leafs) and has tantalizing offensive skills. He's creative as he is fast and projects as a solid top-six winger the road, with some feeling he will be a first-line caliber talent throughout his career. Nylander put up 28 goals and 75 points in 57 OHL games last season.
Nylander will get an extended look in camp but may return to junior because of his size. He's eligible to play back in Europe or even the AHL this season because of the rules surrounding Euro-born prospects. GM Tim Murray will have some flexibility as to Nylander's development this year. Another wildcard is the Evander Kane situation which may open up a spot on the wing for Nylander. Beyond Nylander, there are some solid prospects like Justin Bailey who scored 45 points in the AHL last season that will get a long look in camp to crack the Sabres top nine as well.
Others: D Brendan Guhle, C Rasmus Asplund, RW Hudson Fasching, C Cliff Pu, RW Nick Baptiste
Calgary Flames
LW Matthew Tkachuk | Age: 18
Acquired: 2016 – 6th Overall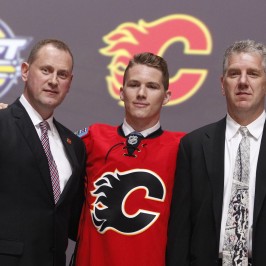 Analysis:
When Tkachuk made his way down to sixth overall, the Flames ran to the podium. In Tkachuk, the Flames have a future first-line sniper with a compete level that president of hockey operations Brian Burke dreams about. He'll have an opportunity to start the year, potentially, on a line with Sean Monahan and Johnny Gaudreau. If it clicks, this could be the Flames' top line for the next decade. Tkachuk will be sure to get a nine-game audition before the Flames have to send him back to junior but it's more likely he stays unless he fumbles the opportunity out of the gate.
Beyond Tkachuk, others who will get a shot in 2016-17 like Mark Jankowski, a big-bodied playmaking center who projects as a solid number three down the road. Forward Emile Poirier will likely get called up for a handful of games, as will defenseman Oliver Kylington who might be a future powerplay quarterback. There's also the Flames' top goaltending prospect Jon Gillies who projects as a future starter drawing comparisons to Ben Bishop because of his size. Calgary also signed Czech league scoring sensation Daniel Pribyl who will get a top-nine role with the main club.
Others: G Jon Gillies, C Mark Jankowski, D Rasmus Andersson, D Oliver Kylington, RW Emile Poirier
Carolina Hurricanes
RW Haydn Fleury | Age: 20
Acquired: 2014 – 7th Overall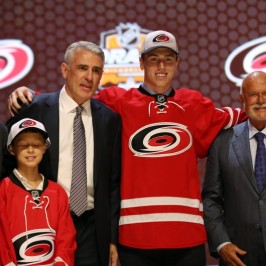 Analysis: Fleury was the Hurricanes top pick in the 2014 draft and has been slowly developing in the WHL. He played in the Memorial Cup with the Red Deer Rebels as their number one but struggled at times to live up to the hype of being a top 10 pick in the draft. He's been passed by several defense prospects like Noah Hanifin, Jaccob Slavin, and Ryan Murphy but he'll get a chance in camp to earn a No. 5/6 spot. A lot of it will come down to how well he outplays those others listed, namely Ryan Murphy who has been inconsistent at the NHL level. It's too early to shoot Fleury in the foot and say he's a bust, he's not, far from it. His place in the NHL might best be a number three in the Hurricanes system down the road behind Justin Faulk and Hanifin.
Beyond Fleury the Hurricanes have some tremendous prospects like Sebastian Aho who many believe will play a top six role for the Hurricanes this season. Aho tore it up in Finland last year with 45 points in 45 games. A smaller sized offensive skilled forward; Aho could very well score 40 points in his rookie year for the Hurricanes, especially if he clicks with a potential linemate in another Finnish forward Teuvo Teravainen. Defenseman Jake Bean and forward Julien Gauthier will likely return to junior, goalie Alex Nedeljkovic will play his rookie year in the AHL and projects as the Hurricanes future number one.
Others: D Jake Bean, RW Sebastian Aho, G Alex Nedeljkovic, RW Julien Gauthier, LW Phil Di Giuseppe
Chicago Blackhawks
C Nick Schmaltz | Age: 20
Acquired: 2014 – 20th Overall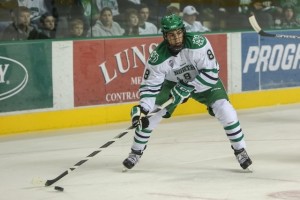 Analysis: If there's one NHL team that has consistently drafted and developed prospects without missing a beat as a contender it's Chicago. If there weren't a hard salary cap system, the Blackhawks would possibly still have multiple stars like Dustin Byfuglien, Andrew Ladd, Andrew Shaw and Brandon Saad. Chicago has drafted well and can replace those players, something that'll need to continue to stay on top. Schmaltz, who left college to sign an ELC in Chicago, will get the best shot at cracking the top six. A solid two-way playmaker who took huge strides forward in his defensive game with North Dakota almost brought teammate Drake Caggiula with him.
Schmaltz still has to build onto a slight frame, and it'll be interesting to see how he does adjusting to the pro game. Chicago still boasts other prospects like Ryan Hartman who had a decent year in the AHL to go along with three NHL games last year. He'll get a look at a top-nine role, as will Mark McNeill who is five years removed from his draft and projects as a solid fourth line option this season.
Others: RW Ryan Hartman, RW Alex Debrincat, D Chad Krys, D Ville Pokka, RW Mark McNeill
Colorado Avalanche
RW Mikko Rantanen | Age: 19
Acquired: 2015 – 10th Overall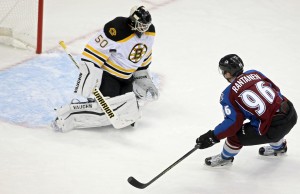 Analysis: Rantanen is arguably one of the top prospects in hockey right now. As a European prospect, he was AHL eligible and proceeded to carve his way through the league playing for San Antonio. Rantanen scored 60 points in 52 games before struggling through a nine-game stint near the end of the year with Colorado. A lot of blame for his NHL struggles were attributed to his usage by former coach Patrick Roy, where he averaged just 8:57 TOI with no powerplay time.
This year will be a different story. Rantanen will have a chance in a top six role and play with either Nathan MacKinnon or Matt Duchene and could very well win the Calder trophy if it all works out. Beyond Rantanen, there is Tyson Jost who projects as a top-six center down the road, goaltender Calvin Pickard who may become a future number one. Defenseman Chris Bigras who could breakthrough on the Avs defense this year and forward JT Compher who will get a chance to crack the top nine in camp.
Lastly, there's Andrei Mironov who could develop into a big bruising defenseman for the Avs.
Others: C Tyson Jost, G Calvin Pickard, D Chris Bigras, D Andrei Mironov, JT Compher
Columbus Blue Jackets
C Pierre-Luc Dubois | Age: 18
Acquired: 2016 – 3rd Overall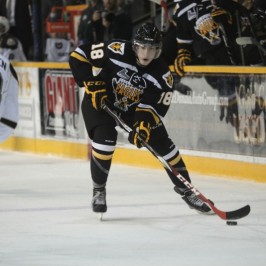 Analysis: Columbus finds itself in an enviable position having two prospects that could very well be the top prospects on any given NHL team. Both players project to be elite level talents, and the Blue Jackets future is brighter for it. Dubois was the surprise of the 2016 NHL Draft when GM Jarmo Kekelainen took him over consensus third-overall Jesse Puljujarvi. Kekelainen compared Dubois to Jamie Benn, and the player finds himself replacing the loss of Ryan Johansen as the team's number one center. In the short-term Dubois will get plenty of support with Brandon Dubinsky, Boone Jenner, and Alexander Wennberg also playing as centers. This gives Dubois time to adjust to the NHL game. Dubois plays a power game with an offensive flare coming off a 99 point season with the QMJHL Cape Breton Screaming Eagles.
The Blue Jackets have 49/50 contracts and might let Dubois slide a year after a nine-game audition to start the year which could free up space to bring in some veteran help. Then there is Zach Werenski who could develop into the team's number one defenseman in a few years time. The former eighth overall pick in 2015 is an elite puck-moving defender who plays a complete game. He chose to sign his ELC and leave college early and adds to what could be an incredibly deep Columbus defense down the road. That defense would also include Seth Jones, Ryan Murray, and David Savard.
Others: D Zach Werenski, LW Sonny Milano, RW Oliver Bjorkstrand, G Joonas Korpisalo
Dallas Stars
D Julius Honka | Age: 20
Acquired: 2014 – 14th Overall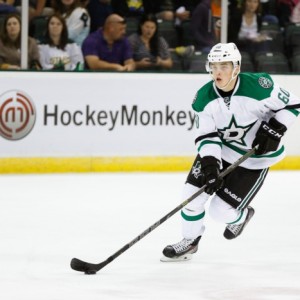 Analysis: It might be Esa Lindell who's more likely to make the big jump to the Stars main roster but don't let that fool you — Honka is the Stars brightest prospect. Lindell is set to explode this year with a spot on the Stars defense and with Finland at the World Cup of Hockey, and we haven't mentioned his gold and silver medals at the most recent World Juniors. Lindell will be expected to contribute and make up for the 37-point drop off from number one John Klingberg and the next defenseman in Dallas. It might be Lindell who is the most NHL ready, but Honka has the higher upside as an offensive defender with two-way acumen.
Honka skates well for a smaller defender and has strong mobility. He's been a great addition to the AHL Stars powerplay and often used as the triggerman from the point. Strength is his biggest area for improvement. There were times he was boxed out and had difficulty adjusting to the North American pro game, but he got better as the year wore on. If Honka can improve his defensive skills, the Stars have a scary top three on defense in development between Klingberg, Lindell, and Honka.
Others: RW Denis Gurianov, LW Riley Tufte, D Esa Lindell, RW Brett Ritchie, C Radek Faksa
Detroit Red Wings
LW Anthony Mantha | Age: 22
Acquired: 2013 – 20th Overall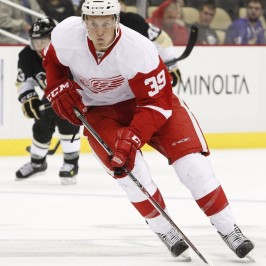 Analysis:
Mantha showed some steady improvement over his rookie year in the AHL where he put up just 33 points in 62 games. Last season he scored 21 goals and 45 points in 60 games and caught on for 10 NHL games with the Red Wings scoring twice. Mantha has developed slower than the Red Wings had hoped, but he was always considered a project forward. He has the potential to be a consistent goal scorer that'll fit into the Wings top six, but he's lost a step or two to some more NHL ready prospects in recent years. Hot on his tail is another left winger in Evgeny Svechnikov who scored 32 goals and 79 points in the QMJHL last year.
Like most prospects, Mantha is slower to develop consistency and learning the defensive game. He was a back-to-back 50 goal scorer in junior and the Wings hope that he takes another big step forward in his third-year pro. With the Red Wings additions in the off-season of veteran players like Thomas Vanek, Frans Nielsen, and Steve Ott, it's more likely the 22-year-old Mantha starts the year on the top line with the AHL Grand Rapids Griffins. Mantha will be a likely first recall candidate and will have to work his way into the main roster over the course of the year. The Red Wings have done a good job at drafting in this transition period and have maintained their 25th consecutive playoff appearance streak. Other prospects like Svechnikov, Bertuzzi make the Wings deep up front prospect wise. On the backend, Xavier Ouellet and Ryan Sproul have an outside shot at cracking the opening night roster. Dennis Cholowski committed to St. Cloud State in the NCAA next season and projects as an offensive puck-mover.
Others: LW Evgeny Svechnikov, D Xavier Ouellet, LW Tyler Bertuzzi, D Dennis Cholowski, D Ryan Sproul
Edmonton Oilers
RW Jesse Puljujarvi | Age: 18
Acquired: 2016 – 4th Overall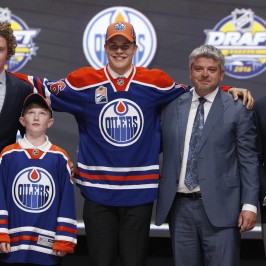 Analysis: Edmonton's management also ran to the podium when Puljujarvi was suddenly available at fourth overall. He projects as a big-time scoring forward with two-way abilities and speed. At 6'4", 200-pounds he protects the puck well and has a tremendous compete level. Though he missed a lot of the summer recovering from injury, Puljujarvi will challenge for a top nine role.
Puljujarvi gives the Oilers three capable scoring lines and cushions the blow of the Taylor Hall trade. Don't expect him to be a world-beater in his first year; he might settle in the low 40-point range. Not a bad thing when you think of the challenges fellow Finnish forward Aleksander Barkov went through in his rookie year, where he scored just 24 points before exploding with 59 points in the last year of his ELC. GM Peter Chiarelli has flexibility with where he will play Puljujarvi, who is eligible to play in the AHL or return to Europe.
A future top-line right winger isn't the only prospect Edmonton stole in the 2016 NHL Draft. If Tyler Benson hadn't struggled with injuries he would've been a sure-fire first round pick, instead the physical two-way forward fell to Edmonton 32nd overall. Drake Caggiula and Jujhar Khaira will challenge for bottom-six minutes, and Griffin Reinhart will look to build on last season. Reinhart, the fourth overall pick in 2012, finished the year with the Oilers but will find himself in a battle for a roster spot in training camp.
Others: D Griffin Reinhart, C Drake Caggiula, G Laurent Brossoit, LW Tyler Benson, C Jujhar Khaira, Matthew Benning
Florida Panthers
D Mike Matheson | Age: 22
Acquired: 2012 – 23rd Overall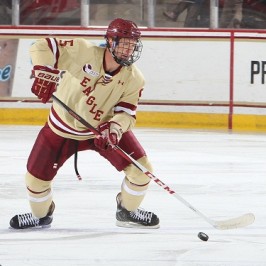 Analysis: The Panthers traded away one of their top prospects in Lawson Crouse to the Coyotes as part of the David Bolland salary dump. They still have a pretty decent prospects pool with Mike Matheson leading the way on defense. The Panthers overhauled their defense this summer, and one of the reasons was because of their belief in Matheson.
A 2012 first rounder Matheson represented Canada at the World Championships last year scoring six points in 10 games to go along with 20 points in 54 games in the AHL. He got into three games with the Panthers and will pencil into the Panthers opening night lineup. It's his spot to lose, but the offensive defenseman has come along well and shown an ability to quarterback a powerplay early in his career. He needs to add to his frame to survive the pro game and work on his play in the defensive end. Still, Matheson projects as a solid top-four defenseman in his prime.
Defenseman Ian McCoshen will likely start the year in the AHL, forward Henrik Borgstrom the Panthers first rounder will play for the University of Denver.
Others: D Ian McCoshen, C Henrik Borgstrom, G Sam Montembeault, C Jayce Hawryluk, LW Connor Brickley
Los Angeles Kings
LW Adrian  Kempe | Age: 20
Acquired: 2014 – 29th Overall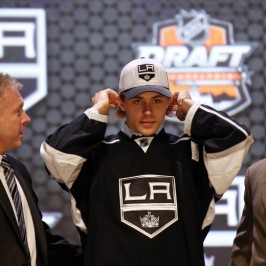 Analysis: At 6'2", 190-pounds, the Kings have a future power forward in Kempe who does some of his best work down low around the net. He's got a great shot and strong skating ability. Coming over from Sweden, he's had good numbers in consecutive years at the WJC but might need another full year in the AHL.
The Kings could fit Kempe into the bottom six to start the year, and it'll be interesting to see how he adjusts to the North American pro game, this being his second season over here. The Kings have some flexibility and can send him back down to the AHL or Europe as he falls under the European-born rules.
Michael Mersch will likely get called up throughout the year but needs to improve his skating. Kale Clague was a solid second round pick for the defense down the line. Derek Forbort, a 2010 first-rounder is running out of opportunities, and this could be it for him in LA if he fails to stick.
Others: LW Michael Mersch, D Kale Clague, D Derek Forbort, RW Justin Auger, C Nic Dowd
Minnesota Wild
LW Joel Eriksson-Ek | Age: 19
Acquired: 2015 – 20th Overall
Analysis: In Eriksson-Ek the Wild have the complete package. The Swedish forward can play all three forward positions, is a goal scorer with an elite-level shot, a playmaker and plays a full 200-foot game. Luckily for the Wild, he'll be coming to North America and will likely star for their AHL affiliate in Iowa this season.
It's not out of the question to see him go back and forth between the minors and the big club. Eriksson-Ek could develop into a consistent top-six member for the Wild down the road and has the abilities to be a leader as well. Minnesota has some decent prospects coming down the pipeline. There's hope that Mike Reilly will take another step forward and play the full year with the Wild on defense. Alex Tuch is also turning pro and like Eriksson-Ek will likely star in the AHL, and at 6'4 220-pounds he brings a different type of forward for the Wild.
Others: D Mike Reilly, RW Alex Tuch, C Luke Kunin, D Gustav Olofsson, LW Jordan Greenway
Montreal Canadiens
D Mikhail Sergachev | Age: 18
Acquired: 2016 – 9th Overall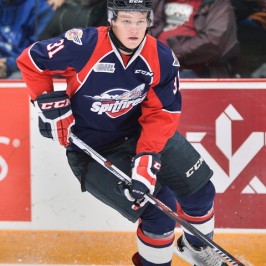 Analysis: The Canadiens were ravaged by injuries on the backend last year, and the trade of PK Subban for Shea Weber changes the makeup of the blueline. The Canadiens plummetted down the standings last year after the Carey Price injury and ended up drafting Sergachev ninth overall. The Russian defender has an NHL ready frame and if he stands his own at training camp will likely get a nine-game audition to stick for the year.
Lots of scouts are split on whether he'll be in Montreal or the OHL. However, he brings an all-around style with strong skating and shutdown abilities. Sergachev singlehandedly held the Russian blueline together at the WJC and was a star for the OHL Windsor Spitfires with 57 points in 67 games. At 6'2″ 220 pounds, he's a true difference-maker. Has the makings to be a top-pairing two-way defender for the Canadiens for the next decade once he develops.
Others: RW Michael McCarron, RW Nikita Scherbak, D Noah Juulsen, G Zach Fucale, C Jacob De La Rose
Nashville Predators
LW Kevin Fiala | Age: 20
Acquired: 2014 – 11th Overall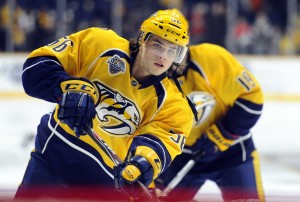 Analysis: Fiala has all the makings to be a top-end forward for the Predators in his prime. He's a smaller skill-forward but has the potential to be a major difference maker. Entering his second year as a pro, he's already one of the most creative puck handlers in the Predators system. They're are excited about his ability to make plays at top speed.
Fiala led the AHL Milwaukee Admirals in scoring with 50 points in 66 games and got into five NHL games with 11 shots and a goal to show for it. He has to get bigger for a long and healthy career, but his competitiveness fits well in the Nashville system. The Preds are deep on the left side, so unless there are injuries or he completely outplays the likes of Austin Watson, Viktor Arvidsson or Miikka Salomaki it'll be hard to see him cracking the opening night roster. Fiala will get into a handful of games again this season, but Predator fans might have to wait another year for him to join the team full time.
Others: C Vladislav Kamenev, D Dante Fabbro, G Juuse Saros, G Marek Mazenec, C Colton Sissons
New Jersey Devils
C Pavel Zacha | Age: 19
Acquired: 2015 – 6th Overall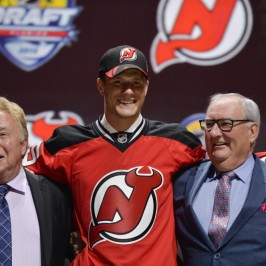 Analysis: The Devils are incredibly thin up front and far from contending for a playoff spot this season. This creates opportunities for younger talent to crack the roster will be aplenty. Pavel Zacha is going to be the biggest from a physical and impact standpoint. The Devils hope is that he develops into a prototypical big-bodied number one center.
Zacha had a good year with the OHL Sarnia Sting with 64 points in 51 games. When the season concluded he ended the year with one game with the Devils where he had two points and joined the AHL Albany Devils for their short playoff run. He skates well for a big guy and utilizes his body to generate scoring opportunities. Decent finishing skills will likely start the year in the Devils top nine.
Others: C Michael McLeod, LW Joesph Blandisi, D Steve Santini, G Mackenzie Blackwood, LW Reid Boucher
New York Islanders
C Mathew Barzal | Age: 19
Acquired: 2015 – 16th Overall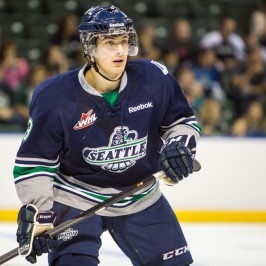 Analysis: When the Isles soured on Griffin Reinhart and traded him to Edmonton for a package of picks including the 16th overall pick they made the Oilers second guess themselves when they used the pick on a skilled forward like Mathew Barzal. The jury is still out on Reinhart who may never live up to the Shea Weber comparisons of his draft year, but Barzal has done everything right since that draft day. He had a solid camp last year, led the WHL Seattle Thunderbirds with 88 points in 58 games and has quickly developed into one of the faster prospects in the Isles system.
A solid skater, Barzal projects to be a top-six playmaker with great vision and hockey sense. He showed a lot of growth last year by shedding the idea he was a pure offensive player by getting in lanes, blocking shots and reading the play better on the defensive side. His two-way game is developing, and if it stays the course, the Isles could have a very well rounded player in a few years time. The NHL is getting faster, and Barzal will fit like a glove, especially in a system that allows him to maintain his offensive creativity.
Others: D Ryan Pulock, LW Michael Dal Colle, LW Kieffer Bellows, G Ilya Sorokin, G Linus Soderstrom
New York Rangers
LW Jimmy Vesey | Age: 23
Acquired: FA Signing – August 2016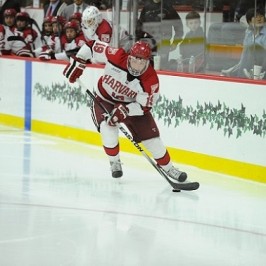 Analysis: It's was a toss up between Pavel Buchnevich and Brady Skjei for who the Blueshirts top prospect but the signing of free agent college forward Jimmy Vesey changes things. The prized college free agent signed with the Rangers after electing not to sign with Nashville who drafted him 66th overall in 2012. His stock has risen since the draft and after four seasons at Harvard in the NCAA and a spot on Team USA at the 2015 World Championships, Vesey is ready to break through the pro ranks.
A Hobey Baker finalist and ECAC champion, Vesey led Harvard in scoring in back-to-back years capping it off with 46 points in 33 games last season. A skilled playmaker with a dynamic hockey sense that can score as well, he has all the makings to be a solid top-six contributor to the Rangers offense for years to come. If he ends up in coach Alain Vigneault's doghouse, his defensive game is likely to be the reason why. It shouldn't be hard to expect a 40 point season out of the 23-year-old rookie.
Others: LW Pavel Buchnevski, D Brady Skjei, G Brandon Halverson, L Ryan Gropp, D Sean Day
Ottawa Senators
C Logan Brown | Age: 18
Acquired: 2016 – 11th Overall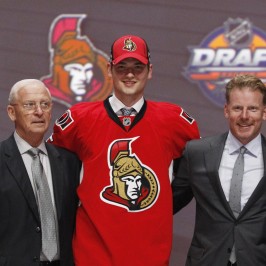 Analysis: This is an argument that can go either way for the Senators between Colin White and Logan Brown, both project to be major players for the Sens down the road. White, 19, will play his second year at Boston College and has the makings to be a solid two-way center with star potential. Brown, 18, is the big top six center teams desire. Think of a higher skilled version of Brian Boyle that can potentially put up 60-points per year. At 6'6″ 220 pounds, Brown protects the puck very well and skates surprisingly well for someone his size.
The knock is that he's not overly physical, but he's still a presence on the forecheck that finishes his checks and comes out on the winning end of a lot of puck battles. Brown put up 74 points in 59 games with the OHL Windsor Spitfires and along with teammate Christian Fischer (Arizona) they make a formidable one-two punch in junior. Expect a significant leap forward and a featured role with Team USA at the upcoming WJC. It might be a year or two before Brown makes a pro leap but a future one-two-three punch with Kyle Turris, White and Brown down the middle could stabilize the Sens in the future. Two rookies with the best shot at making the Sens team out of camp are Nick Paul in a top nine role and defenseman Thomas Chabot in a sheltered role on the blueline.
Others: C Colin White, D Thomas Chabot, LW Nick Paul, LW Matt Puempel, G Matt O'Connor
Philadelphia Flyers
D Ivan Provorov | Age: 19
Acquired: 2015 – 7th Overall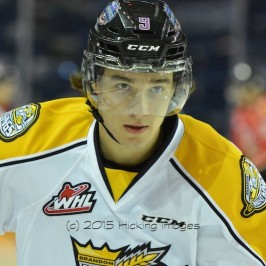 Analysis: The Flyers have added a plethora of defensive prospects in recent years, but none with higher expectations than Ivan Provorov. Provorov is expected to challenge for a roster spot at training camp. The Russian defender is an offensive dynamo and will help the Flyers powerplay for years to come.
Provorov was named CHL Defenseman of the Year and helped lead the WHL Brandon Wheat Kings to a Memorial Cup berth with a 21 goal 73 point regular season. He was a force for Russia at the WJC and looks ready to make the next step directly to the NHL. An all-around defenseman Provorov has the abilities to play on both special teams and is as agile as he is quick. With Shayne Gostisbehere, Samuel Morin, Travis Sanheim, and Provorov the Flyers have the makings of a tremendous blueline in a few years.
Others: D Travis Sanheim, D Samuel Morin, C German Rubtsov, C Travis Konecny, G Carter Hart
Pittsburgh Penguins
D Derrick Pouliot | Age: 22
Acquired: 2012 – 8th Overall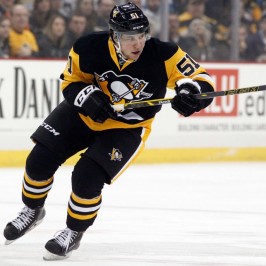 Analysis:
We've excluded Matt Murray from this list even though he's still Calder trophy eligible technically. It's a stretch to consider Derrick Pouliot a prospect at this point with him having 56 NHL games under his belt. The fact is Pouliot has struggled to stick with the NHL Penguins, instead finding himself developing with their AHL affiliate in Wilkes-Barre. Pouliot got into two playoff games en route to the Penguins cup win but this season once again finds himself in a similar position on the depth chart battling for the number six spot.
A strong skater that plays more of a run and gun style he averaged 15:27 TOI with the Penguins during his 22 NHL games last year but his defensive-zone coverage and lack of size have hindered his growth. He's the key piece along with Brian Dumoulin that the Penguins got from the Hurricanes in the Jordan Staal trade. So far Dumoulin has been the better of the two. Pouliot will get another shot but could find himself again playing double duty between the NHL and AHL. He'll start the year in Pittsburgh.
Others: RW Daniel Sprong, G Filip Gustavsson, G Tristan Jarry, RW Dominik Simon, C Jake Guentzel
San Jose Sharks
RW Timo Meier | Age: 19
Acquired: 2015 – 9th Overall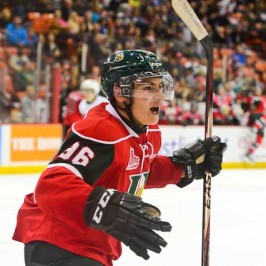 Analysis
: Meier fits like a glove into the new Sharks identity: big, fast and dangerous offensively. The 19-year-old Swiss forward was thought of very highly when the Sharks picked him ahead of forwards Mikko Rantanen (Colorado), Denis Guryanov (Dallas), Mathew Barzal (NY Islanders) and Kyle Conner (Winnipeg) at the 2015 NHL Draft. A power forward with great acceleration, he dominated the QMJHL en route to a Memorial Cup berth with Rouyn-Noranda. An impressive 34 goals 87 points in 52 games and captaining the Swiss team, averaging a point-per-game at the WJC capped an incredible year.
Meier could work his way into a top-nine role with the Sharks, but they'd be better off trusting him with the task of learning the pro game leading the AHL San Jose Barracuda where he'd be playing top-line minutes.
Others: D Mirco Mueller, RW Nikolay Goldobin, D Jeremy Roy, C Maxim Letunov, LW Adam Helewka
St. Louis Blues
C Ivan Barbashev | Age: 20
Acquired: 2014 – 33rd Overall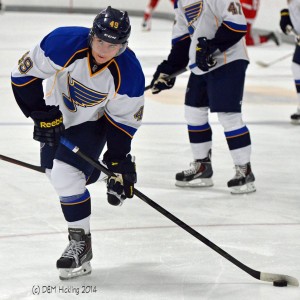 Analysis: The "playmaker" label is often thrown around with Barbashev but don't typecast him — this is a dynamic offensive player. Barbashev tore up the QMJHL the season following his draft with 45 goals and 95 points in 57 games. Last year he turned pro and played with the AHL Chicago Wolves and had a less than spectacular 28 points in 65 games. At 6'0 180-pounds he still has some room to mature physically but projects to be a solid top-six center when he puts it all together. In a few years, we could be talking about him and Christian Dvorak (Arizona) being the best second-round picks in the 2014 draft.
Consistency will be key in his development and playing top minutes with special teams in the AHL will do his development wonders. He's difficult for defenders to predict when attacking because he's also got a quick release. It'll be a few years until he's NHL ready but could develop into an excellent top six forward for the Blues. It doesn't end there, though. Goaltender Ville Husso, who had a tremendous year in Finland, is coming over for his first year in North America. Ty Rattie might finally make the jump to the NHL full-time and defenseman Jordan Schmaltz turned pro after three years with perennial college contender North Dakota.
Others: G Ville Husso, RW Tage Thompson, RW Ty Rattie, D Jake Walman, D Jordan Schmaltz
Tampa Bay Lightning
C Brayden Point | Age: 20
Acquired: 2014 – 79th Overall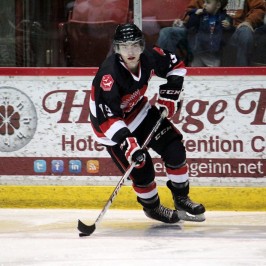 Analysis: It's hard to fathom a team like the Lightning that boasts several first round picks like Slater Koekkoek and Brett Howden not to mention some solid second rounders having a top prospect who was a third-round pick three years ago. But that's the case with Brayden Point who's development has skyrocketed since being drafted in June 2014. Listed generously at 5'11" and 160 pounds, Point has steadily improved his points-per-game average with the WHL Moose Jaw Warriors from 1.26 in his draft year to 1.83 in an injury-shortened final year in junior.
A solid point-producer the Lightning have an undersized forward that works as hard as he skates. A real competitor, he's a game-breaking playmaker that has NHL-calibre finishing abilities. He's impressed in junior and will turn pro this season joining the AHL Syracuse Crunch. He's listed as a natural center and displayed a good two-way game in junior, but he might be better off adjusting to the pros on the wing.
Others: D Slater Koekkoek, C Brett Howden, RW Mitch Stephens, LW Adam Erne, D Libor Hajek
Toronto Maple Leafs
C Auston Matthews | Age: 18
Acquired: 2016 – 1st Overall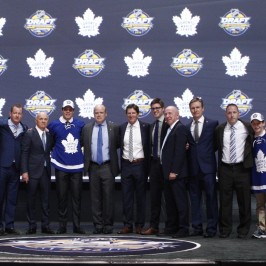 Analysis: What can be said about Matthews that hasn't already been stated? He's a game changer for the Leafs and gives them a franchise star to rebuild around. The Leafs offense is in change over, and the youth movement will be in full effect in Matthews rookie season. There has been a lot of fantasy arm chairing about a potential William Nylander, Mitch Marner, Matthews line that could be the fastest and most creative lines in hockey. Matthews is an early favorite to win the Calder Trophy. Expect a minimal 50-point season from Matthews if he struggles.
A generational talent that joins the recent influx of top tier young American players like Jack Eichel, Dylan Larkin, Seth Jones and Jacob Trouba to list a few. He's the future of USA Hockey, and a poster child similar to what other American first overall picks like Patrick Kane and Mike Modano are/were. Matthews top skills are his breakaway speed and quick release that will make him a top goal scorer in the NHL in a few years time. At 6'2 215-pounds he has an NHL ready frame and will immediately jump into a top-six role splitting the number one center duties with Nazem Kadri. The biggest adjustment is going to be having to face the opposition's top defensive pairings night in and night out but a year in the Swiss League proved he was more than ready when he scored 46 points in 36 games finishing as a top ten league scorer. With all the talent in the Leafs pipeline, the experienced managerial staff, having a world-class coach in Mike Babcock, not to mention their astounding 16 picks in the next two drafts, the future couldn't be brighter in Toronto.
Others: C Mitch Marner, C William Nylander, RW Kasperi Kapanen, D Travis Dermott, LW Brendan Leipsic
Vancouver Canucks
D Olli Juolevi | Age: 18
Acquired: 2016 – 5th Overall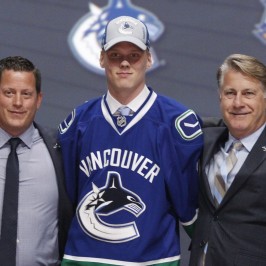 Analysis: Over the past few years the Canucks have been re-tooling in the hopes of getting younger and building from there. At one point the Canucks were one of the oldest teams in the league, but they've got some great pieces in place to turn this around. Thatcher Demko is the goalie of the future for the Canucks. A lot of hope is on Bo Horvat, Brock Boeser and Jake Virtanen who could turn into valuable secondary pieces; ditto for Jordan Subban on defense. They've now got a future top-pairing defender in Olli Juolevi who was the top defenseman drafted at the 2016 NHL Draft.
Juolevi was a stud for the Memorial Cup winning London Knights with 42 points in 57 games. A steady presence on the Knights' blueline, he reads the play well and makes great decisions with the puck. Vancouver forwards will enjoy his breakout, solid first pass and overall puck-moving abilities. A solid puck-mover out of Finland, he'll crack the Canucks' opening night blueline and possibly get a crack at meaningful minutes as the year goes on.
Others: RW Brock Boeser, G Thatcher Demko, LW Brendan Gaunce, D Jordan Subban, RW Cole Cassels
Washington Capitals
G Ilya Samsonov | Age: 19
Acquired: 2015 – 22nd Overall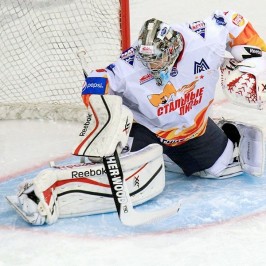 Analysis: The Capitals have one of the best starters in the NHL right now in Braden Holtby, and they also hold one of the best goaltending prospects in Ilya Samsonov. The 22nd overall pick in 2015 had a solid year backing up with KHL Metallurg Magnitogorsk but will get a shot to hold the crease to himself in 2016-17. It's hard to find that combination of size and athleticism in a goaltender, but Samsonov has both. He projects to be a No. 1 starter once he develops.
At 6'3 200lbs he could be the next Andrei Vasilevsky goaltending-type prospect to come out of Russia. He helped Russia to a silver medal at the WJC and held a 2.04 GAA and 0.925 SV% in 19 KHL games last year. Samsonov is the real deal, and it's a possibility he comes to North America as early as next season. The beauty of having a solid goaltender like Holtby in his prime is they won't have to rush Samsonov who will be around for the later years of the Ovechkin-era in Washington.
Others: LW Jakub Vrana, D Lucas Johansen, D Madison Bowey, RW Riley Barber, D Jonas Siegenthaler
Winnipeg Jets
RW Patrik Laine | Age: 18
Acquired: 2016 – 2nd Overall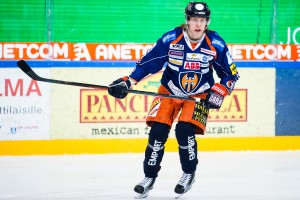 Analysis:
The Winnipeg Jets might have the best prospect pool in the league, and they added a future superstar in Laine at the draft. Laine has some Ovechkin-like comparisons with his shot and instantly gives the Jets a solid one-two punch on RW with Blake Wheeler. He was stellar for Tappara in their Liiga playoff run with ten goals and 15 points in 18 games, winning playoff MVP honors and the league championship. He won the Liiga rookie scoring race with 33 points in 46 games and was a dominant force at the WJC for Finland, leading them a gold medal with a tournament-best seven goals.
The Jets are building a very fast offensive group similar to the Pittsburgh-model. Getting a potential top-tier star can turn things around for a team that has made the playoffs just once since moving from Atlanta.
Laine is a natural goal-scorer and can play both wings. He'll need to work on his acceleration and tighten up when he doesn't have the puck but when he's got the puck his hands make him a game-breaker. If he develops as expected the Jets have a star to build around for the next decade.
Others: LW Kyle Connor, D Logan Stanley, RW Joel Armia, D Josh Morrissey, C Nic Petan