Peter Lenes would steal time in practice to work on, at the time, unconventional stick-handling techniques during his college days. Inspired by Mike Legg, whose famous goal in 1996 is now dubbed the "Michigan," Lenes looked to expand his hockey toolbox. He continuously took his creative appetite into practice. His ambition to master the legendary lacrosse move didn't go unnoticed. His coaches at the University of Vermont would catch glimpses of him trying to hone his niche craft. Rather than ribbing the young forward, they asked fair questions. Would the timing ever be suitable for a move like this? Is it too much? Was he trying too hard?

As each game on the schedule ticked away, Lenes' teammates figured the move would eventually come out. They were right.
"I tried to do the Michigan twice in college," Lenes said. "I hit the post one, and the puck came off my stick on the other."
Lenes fell into a "teeny bit of trouble" following his failed Michigan attempts. In the mid-2000s, failing the Michigan would receive mass disapproval from traditional hockey heads. After all, commentators deemed less-flashy moves like between-the-leg shots as 'hot dog' moves. Lenes' teammates admired the effort rather than ragging on him. While they would have perhaps preferred a pass, his commitment to the move earned the respect of his colleagues. While not upset or frustrated, his coaches continued questioning whether pulling off a move like the Michigan was Lenes trying too hard.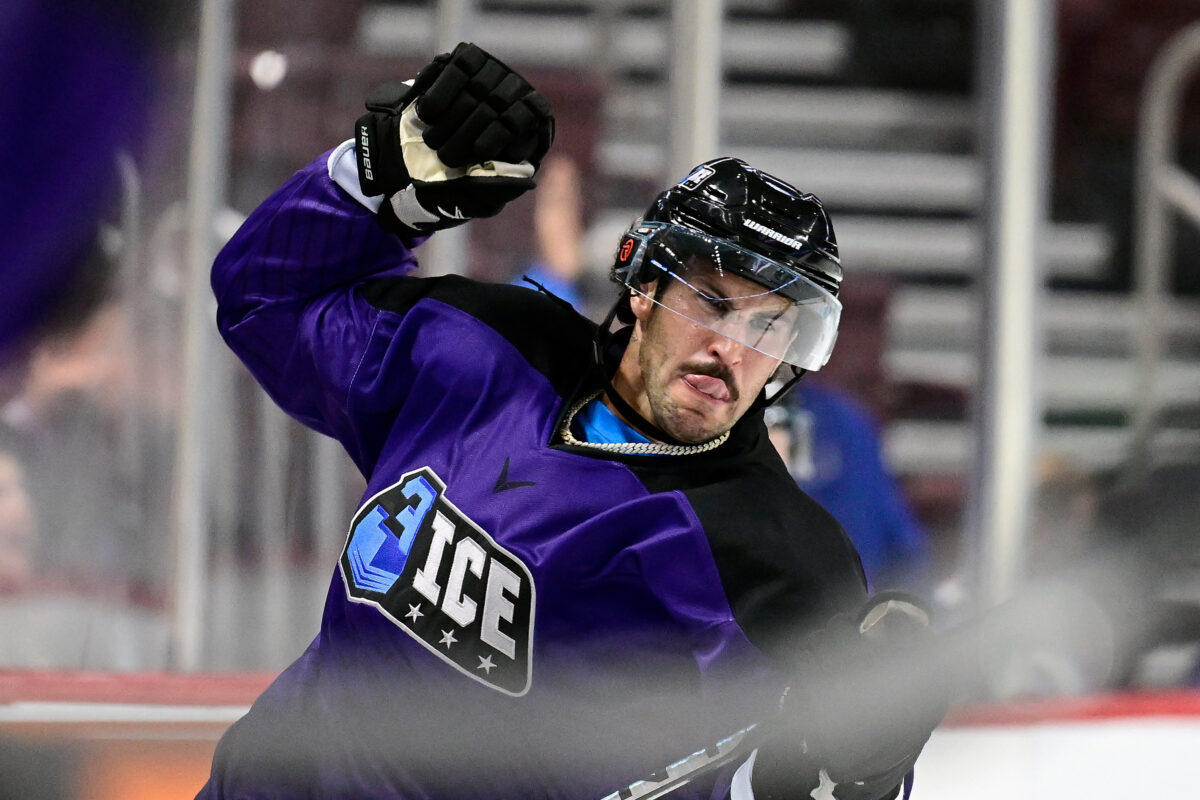 After college, Lenes bounced around different leagues living his dream, playing professional hockey for a living. While his professional career grew, he slowly earned a new nickname. Swaggy P, his now famous moniker, is representative of his fashion sense. Bestowed upon him by his close friends, Lenes was known for dressing well while hitting the town, owning an expansive shoe collection, specifically Nike Dunks, and wearing high-end streetwear that garnered attention from anyone familiar with clothing brands.
"I always try and dress nice," Lenes said. "I have a big sneaker collection; I always enjoyed Supreme and stuff like that, so the name (Swaggy P) just happened. My buddies gave it to me. They were just kind of joking around."
The name stuck. Lenes wanted a stage name once he created his Instagram account. He fully embraced Swaggy P. It's a fitting stage name, pairing well with the flashy dekes, creativity, and personality he brings to his social media platforms and on the ice. Soon he would find himself holding that nickname as he entered a new league that paired with the creativity, flashiness, and skill he was known for — 3ICE.
Swaggy P Takes On 3ICE
Lenes joined 3ICE to capitalize on its showcase of speed and skill. He capitalized quickly, scoring the first-ever goal in the league's history. Lenes' toned down the glitz and glamour of his game during his first go-around with 3ICE. Of course, his flair naturally came to light in small glimpses, but even he recognized the difference between this season to last.
"I tried to play good with a little bit of bad to it," Lenes said. "This year, I said I wanted to juice it up."
Lenes was true to his word. In his first 3ICE game of the season, he flashed a smidge of his incomprehensible skillset. Awarded a penalty shot, he barrelled down the ice. With both teammates and competitors racing after him, he pulled the puck onto his stick. The puck hugged his blade, swaying side to side as he made the goalie go cross-eyed, and whipped the puck into the net, scoring an unfathomably great goal. 3ICE plastered the goal on social media, with fans, commentators, and anyone who watched the clip raving at his skillset and creativity.
Impressive right? To him, it's like a walk in the park. 
"That's a pretty vanilla move for me."
That moment in hockey history was Lenes testing the field. He was dipping his toe in the water, seeing if fans, coaches, or media bit at the amazingly absurd nature of his goal. His head coach, Ray Bourque, a stoic Hall-of-Famer who watched his player turn a hockey puck into a lacrosse ball, could do nothing but laugh. The laughter was all the approval Lenes needed to keep pushing boundaries and grow the game.
"To make other people realize how cool of a sport hockey is, you might have to go out of the box a little bit," Lenes said. "Doing these crazy moves, people are like, wow, this is really fun to watch. And then interest pours in."
The vanilla move, as Lenes puts it, is anything but. The goalie, at the mercy of his shiftiness, approached Lenes later that week, admitting not knowing how to stop his shot. The inability to read the release and the atypical move made it a guessing game for the goaltender. Swaggy P's innovative move worked, and he continued scoring similar lacrosse goals, leaving 3ICE goalies wondering what they could do to prepare for a shot like that.
He continued scoring crazier and crazier goals, pulling off seemingly impossible moves that are second nature to him. Traditional hockey fans could find the dekes polarizing, but 3ICE is a non-traditional league. Despite the veteran faces behind the benches, 3ICE embraces the skill and speed evolution hockey is experiencing. Lenes is a forerunner of this evolution. He does the moves for himself, the league, the game, and the kids. He respects the standard goals, like a five-hole tuck or blocker side wrister, but the flashier the move, the higher the coverage.
"It's about getting out there," Lenes said. "It looks good for myself and the league. I think it gets attraction for everyone. So, I think that I will try to do something a little feisty each time."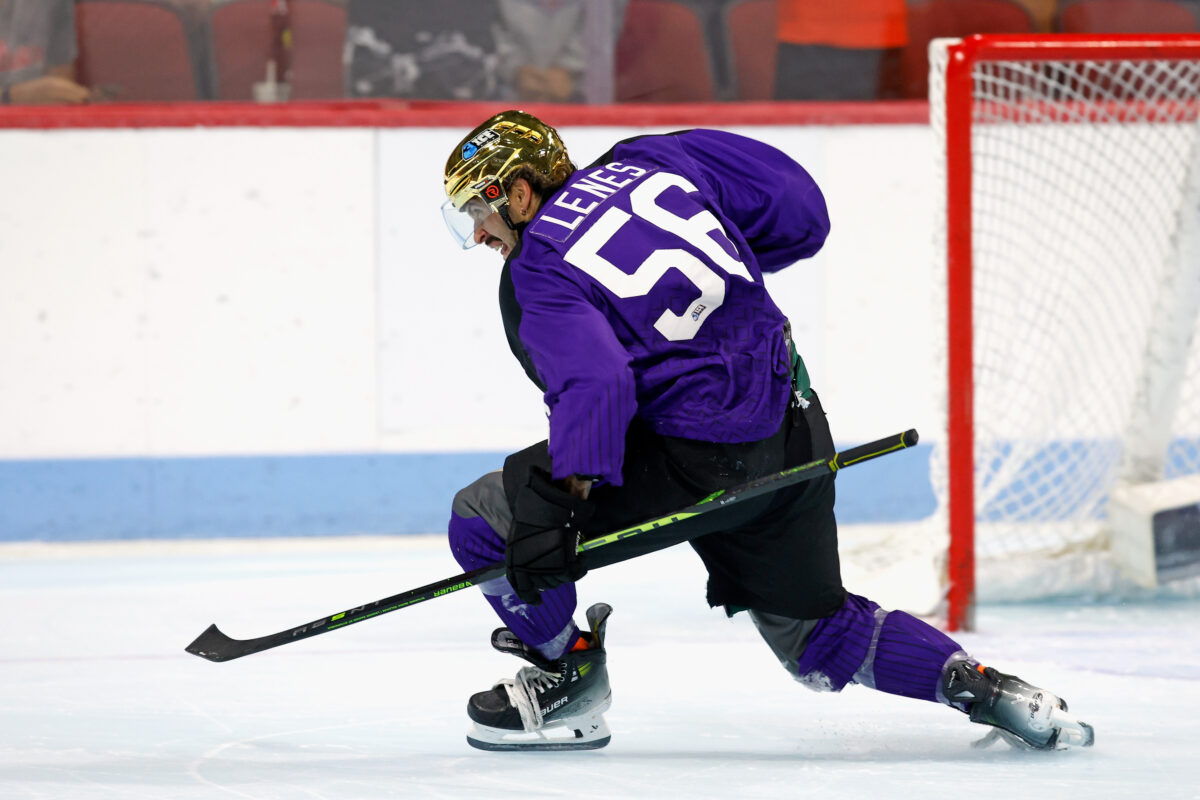 His feistiness got him in trouble in college, made him a star in 3ICE, and elevated his company, Elev802, to the heights it's at. With the 3ICE season over, his business once again takes center stage. Having already worked with Trevor Zegras, Jack Eichel, and Cole Caufield, among other hockey greats, Lenes is a leading force in skill development. Doing drills with the youth and current NHLers all ties back to his passion, hockey.
Lenes is a professional. While he oozes confidence and swagger, showcasing how hockey can be full of glitz and glamor to appeal to new audiences, he also recognizes that developing youth hockey needs to be fun. The weekly tournaments, strict diets, and hardcore training regimens, while important, need a mix of childlike fun. After all, they are kids.
"Some of these kids now, it comes to a point where it's sometimes too much," Lenes said. "I think they're going to a tournament every weekend. Some of the best skill and development is done when the kids are just having fun. When they're outside."
Peter 'Swaggy P' Lenes & Elev802
Realizing the fun is all in Lenes' upbeat nature. He speaks with enthusiasm and elation. It's easy to tell a smile on his face when he talks, even over the phone. His seemingly perfect personality for reaching the youth makes him an ideal candidate to be a leader in the skills coaching community. He takes pride in being a role model, helping develop the future and current stick wizards of men's and women's hockey. Through his business, Elev802, run by Lenes and his two business partners, ex-NHL Players Torrey Mitchell and Scott Gomez, they are influencing a generation, helping them succeed in the sport they love.
"A lot of these kids are so used to the iPhones and the iPads," Lenes said. "They want to see things firsthand. I think that's a huge drive to why we have social media and getting into these kids' heads when you're out there putting in time 30 minutes a day, some skill development will come."
Aside from the heaps of social media content they produce, Elev802 is also an in-person skills camp. One of their major camps over the summer, a three-week camp in his home state of Vermont, took place in July. The first two weeks saw 200 different boys hit the ice, with a 40-girl session rounding out the final week. The craftiness and skill level of the participants are impressive. Toe drags, between-the-legs mastery, lacrosse moves, and more occur regularly before Lenes, but it's the kids he's coaching pulling them off.
"I've worked with some eight and nine-year-old kids, and they're just mind-blowing," Lenes said. They're where our skill level was when we were 14 or 15 years old."
Related: 3ICE Commissioner Craig Patrick: From Concept to Coaching
Lenes' built up his repertoire and knowledge to teach through extensive training. His college days were a precursor to the influence he would have over the sport. Although, Lenes has a similar start to how most hockey players find their passion for hockey, just as a kid in their driveway with a hockey stick and a tennis ball.
"I had a little driveway as a kid," Lenes said. "I had a little garage with some pretty smooth concrete, and it was just an obsession."
Lenes' youthful obsession with hockey resembles most kids' desire to feel like one of the greats. Grabbing any wooden stick within their garage, finding a ball that would substitute as a puck, and either using nets or, if unavailable, raggedy sweaters that serve as makeshift posts is a core memory for most hockey fans growing up. While Lenes and many other professional players made do with the limited technology at their disposal through their childhood, the new generation of hockey players are stronger, faster, and flat-out better at the same age.
"Could you imagine if we actually knew how to train back then?" Lenes said. "There's something to be said about the direction of the sport."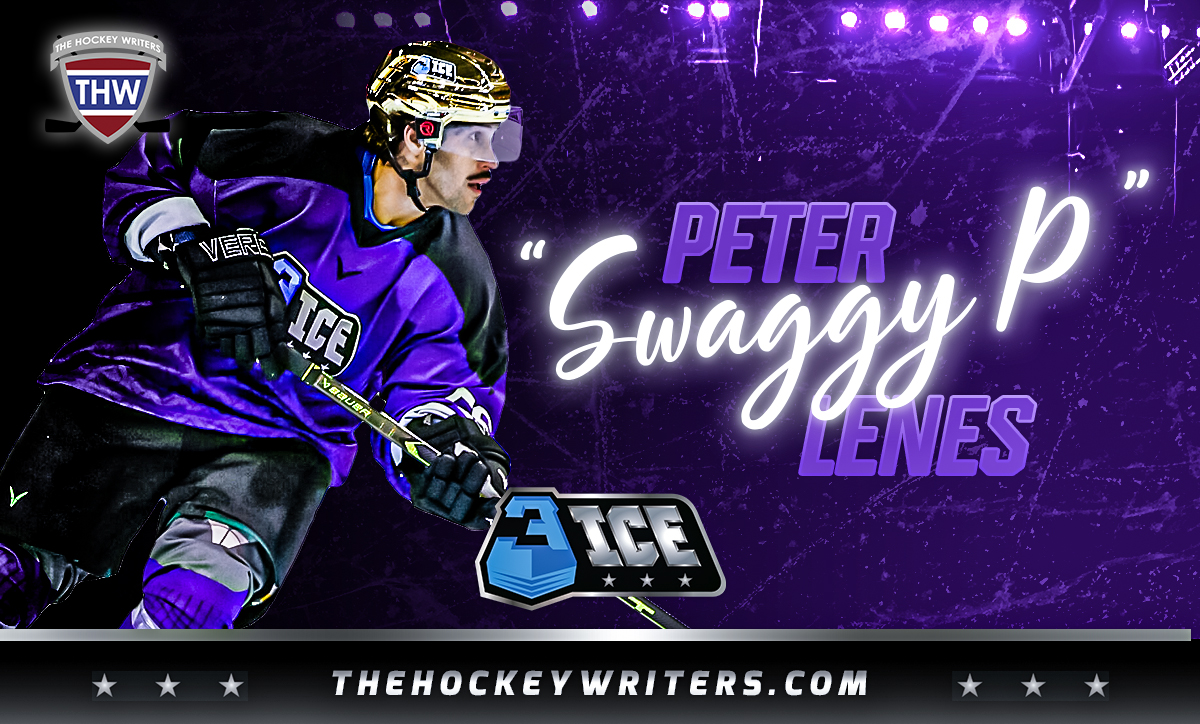 Lenes pushed boundaries throughout college. At the time, his Michigan attempts were often met with some resistance, trying to refocus his attention to the 'fundamentals' hockey practice is stereotypically centered around. Fast-forward nearly two decades, and he is running a company that includes developing skills once considered show-boating and unnecessary side-by-side with old-school fundamentals traditional in hockey. Elev802 blends the old and new school seamlessly. Swaggy P has and will continue to contribute to hockey becoming a higher-end, skill-focused game — a game where kids should never settle for anything less than the unthinkable.
"The Michigan was really cool when you saw it years ago," Lenes said. "Now nine-year-olds are pulling it at our camp all the time. It's just a testament to the skill level of these kids. They have everything at their fingertips."