Mike Babcock is expected to eventually lead the Toronto Maple Leafs back to not only playoff contention, but Stanley Cup contention. That is still a long ways off however. In the short-term, he is expected to develop the system the Leafs will use and make sure they stick to it.
There are certain players that need to improve a lot under Babcock. Certainly everyone is expected to play well, but there will be more of a need for improvement on four players. They either need to improve in order to be useful for the Leafs in the long-term or to increase their trade value. Here are those players.
Dion Phaneuf
Entering the off-season, it was apparent that the Leafs needed to make changes. It was expected that both Phil Kessel and Dion Phaneuf would be dealt if they could find trading partners. In the case of Kessel, they did find one in the Pittsburgh Penguins. Phaneuf obviously remains a Maple Leaf.
Phaneuf will likely have less ice time as the Leafs give Morgan Rielly more of it. That should help Phaneuf escape the spotlight that has been placed on him because of his captaincy. Whether or not he's traded later in the season or later is another thing. For now, he needs to show that he can be a better player under his new coach.
Joffrey Lupul
Lupul carries a $5.25 million cap hit, the highest of any Leafs forward not named Nathan Horton. Now, if he wasn't so injury prone and played the way that earned him that contract, that wouldn't be such a bad contract.
The hope is that Lupul, who will now be depended upon to produce offence even more with Kessel gone, will break the streak of injuries he's had and will have a good season. Good enough that he could be traded at the trade deadline or, more likely, next off-season.
Jake Gardiner
Gardiner was expected to develop even before Babcock was brought in. He should be helped, but the young defenseman that could be helped most is Gardiner. In the first year of his new five-year contract, he only registered 24 points, the lowest point-total he's had in a season that wasn't lockout shortened.
He'll be expected to improve upon that total under Babcock. The Leafs signed Gardiner long-term because they believed he would fulfill his potential within that time frame. Now, he still has four years left on the contract so he still has time. Babcock should help him with fulfill that potential.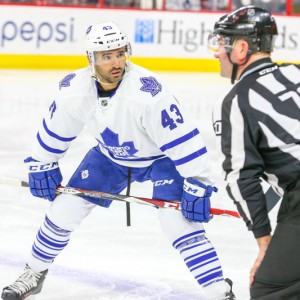 Nazem Kadri
How much trust do the Leafs have in Kadri? Well, the fact that they only re-signed him to a one-year contract should speak volumes. He's had good seasons, his 50-point season in 2013-14 season being his best. However that was followed up by an 11-point drop in 2014-15. Of course, there was also the team-given suspension during the season that mired his season.
If Kadri is to remain with the Leafs past this season, he needs to show that not only can he put up the points but more importantly, that he can mature. If he produces offense but doesn't mature, the Leafs would probably trade him at the deadline so the Leafs younger prospects would not be influenced.
Toronto Maple Leafs Writer At The Hockey Writers.