Although the offseason hasn't even started for some teams, the Florida Panthers have wasted no time with theirs, making numerous front-office changes, as well as changing their logo and redesigning their uniforms.
The one part of the Panthers that will show very little change from last season is their forward corps.
The top-six is set with Jonathan Huberdeau, Aleksander Barkov, Jaromir Jagr, Reilly Smith, Vincent Trocheck and Jussi Jokinen, and the third line will have Nick Bjugstad and Lawson Crouse on it.
So really, there's one vacant spot in the Cats' top-nine.
I'll break down my options for the right wing spot on the third-line, as well as who I believe should get the spot.
Rocco Grimaldi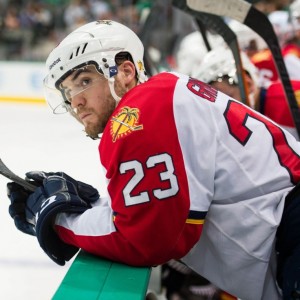 Grimaldi has been one of the more polarizing prospects in the Panthers organization since Dale Tallon took over in 2010.
Plenty of scouts believed he had the skill to be a first rounder in the 2011 draft, but he fell to the Panthers at the 33rd pick due to his size.
Grimaldi stands at just five-foot-six, and weighs in at 180 pounds. At 23-years of age, he has yet to consistently impress the Panthers or their fans in the numerous chances he has been given.
In 20 games this year, Grimaldi scored three goals and five points, and had a minus-four rating. In two playoff games, he got zero points and just two penalty minutes.
In another article that I mentioned Grimaldi, I stated that I believe he will be traded as a part of a package, or will be dealt to a team looking for a project at the cost of a late pick, but Grimaldi could have an incredible training camp next season and force the Panthers to give him an extended look.
If Grimaldi makes the Panthers' opening night roster it will come as a surprise to many, but it is still a possibility and thus, was worth a spot on the list.
Teddy Purcell
The Panthers traded for Purcell just before this season's trade deadline in February and I'd say they got almost exactly what they paid for.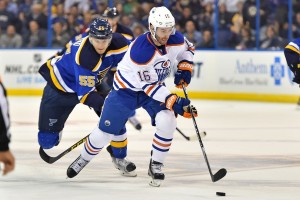 Purcell was far from spectacular, but he was certainly not a bad acquisition, and they should at least consider bringing him back.
Away from the puck Purcell leaves a lot to be desired, and Panthers fans caught him failing to clear the puck out of the Panthers' defensive zone on numerous occasions. He was brought in, though, to add scoring and to buff up a very weak powerplay, and that's what the 30-year-old did.
In 15 regular season games with Florida, Purcell had 11 points, five of them coming on the man advantage.
Then in the playoffs, he added two points, one of which was scored on the powerplay.
Again, Purcell didn't light the world on fire, but if he plays 70 or more games, he's a virtual lock for 40-50 points and would be a good option for the Panthers second power play unit.
If the Panthers don't feel comfortable giving the third-line wing spot to a rookie, Purcell could be brought back on a two-or-so year contract.
He is an extremely safe bet when all things are considered.
Lawson Crouse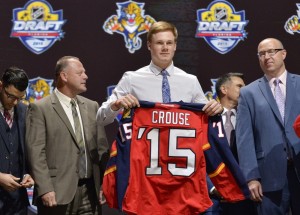 Like I said at the start of the article, Crouse is a lock to start the season with the Panthers and it will likely take a lot of catastrophic errors for him to be sent back to the OHL.
He has nothing left to prove at the junior level and will not be eligible to play in the AHL next year.
Before the McCann/Gudbranson trade, it was pretty much set in stone that Crouse would play on Bjugstad's left side, on the Panthers' third line.
Now, after adding another left shooting centre/winger in McCann, Crouse could be asked to move to the right side if the Panthers want to keep Bjugstad at centre and McCann on his comfortable side.
Though we do not know what wing Crouse will play on, we do know that his size, speed, grit and skill will be a great addition to the Panthers' middle-six, powerplay and possibly the penalty kill.
I expect Crouse's impact to be felt immediately – no matter where he slots into the lineup (I looked at Crouse more in-depth in this article).
Nick Bjugstad
For years I have wanted Bjugstad to be shifted from centre to wing, just to see if it would work.
With McCann likely making the Panthers' opening night roster, I think now is the time to try it out.
The main reason being that Bjugstad's biggest assets are his size, speed and shot, not his faceoff ability or defensive play, although they aren't bad either.
If the Panthers tried Bjugstad on the wing, it could allow him to focus on just scoring goals, which is what he has shown capable to do, scoring 24 goals in 72 games in 2014-15.
As of today, the Panthers don't actually have a right handed winger in their top-nine.
Huberdeau, Jagr, Smith, Jokinen, Crouse and McCann all shoot left, having one right-handed winger playing on his natural side may benefit the Panthers.
Seasoning Bjugstad into a winger could also be important for the future of the franchise.
As of now, the Panthers do not have a replacement for Jagr, the team's current top-line right winger.
In a year or two, a first-line of Huberdeau, Barkov and Bjugstad would make a lot of Panthers' fans happy. All three players are big, fast, strong and skilled and with Huberdeau and Barkov known for their playmaking abilities, Bjugstad's heavy shot could be the perfect fit for the line in the not so distant future.
Bjugstad is six-foot-six and 220 pounds and off the top of my head, I can't name very many wingers of his size, that can skate, stick handle and shoot the puck as well as him.
If McCann can play centre at the same level as Bjugstad, it could allow the Panthers to utilize a weapon that almost no other NHL team has.